Read more about this program on the institution's website
Program Description
Earn U.S. Credits Virtually This Summer
Get ahead! Earn extra credit through a globally recognized U.S. education program this summer on our Virtual World DiscoverIES program.
Just picture it: one day you're exploring business ethics with a professor in London and the next it's Japanese pop culture from Tokyo, studying alongside classmates from the U.S.'s highest-ranked colleges and universities. This is what it's like to take a course or two (of your choosing!) from IES Abroad's most popular centers around the world this summer.
Learn more about how you can discover the world through IES Abroad.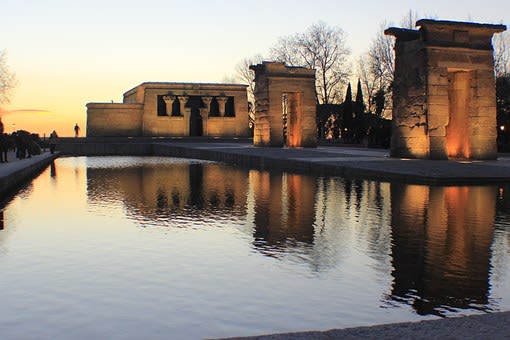 Why Madrid?
As the leading center of industry, commerce, and technology research in Spain, Madrid is an ideal city to study engineering, math, and science and its applications in the professional world.
This program is designed for engineering, math, and science students who want to take courses taught in English or Spanish at a prestigious and academically-challenging university — Universidad Carlos III de Madrid.
What You'll Study
Specialize your studies with a range of engineering courses, from aerospace to mechanical. Science courses provide you with the chance to study pharmaceutical science as well as food sciences, with courses in biology and chemistry, too. Mix disciplines or focus on a single field for more concentrated studies.
Daily Life
Madrid will also be your classroom. Take an architectural walking tour to see Madrid's many beautiful buildings, churches, and structures. Enjoy trips to research centers. Visit the city's famous museums like the Prado and Sorolla to inspire your coursework.
We want you to feel at home in Madrid, so we do everything we can to help you integrate into life in the city. From an informational orientation to cultural activities, our job is to make sure you have the most authentic study abroad experience possible. Enjoy one of our many field trip opportunities to explore your Spanish surroundings, too.
Academics
Our mission is simple: to provide you with the best study abroad program possible—which includes the highest quality academic and cultural experiences.
We offer unique courses that explore engineering, math, and science, as well as other topics, through an in-depth and hands-on approach. World-class professors and course options at the prestigious Universidad Carlos III enhance your academic experience and provide you with new perspectives each day in class.
You must take 15-19 per semester (16 credits recommended). All courses are taught in English except for the language courses.
Craft your own academic experience by selecting from the following required and optional components:
IES Abroad Spanish language course (required, 4 credits)
IES Abroad English-taught engineering elective courses (up to 8 credits)
IES Abroad Spanish-taught elective courses (up to 9 credits)
Universidad Carlos III engineering courses (up to 15 credits)
Universidad Carlos III English-taught elective courses (up to 15 credits)
Some courses are available in Spanish for students with advanced language skills. You must meet the program's specific requirements, including a GPA of 3.0 or above, and, in certain university courses, prerequisites, and junior or senior standing.
Because of the high academic rigor of these courses, we recommend you take the following courses at your U.S. home institution:
Thermal Engineering
Fluid Mechanics
Courses
This is a list of planned course offerings. A final list of course offerings will be made available to you in your MyIESabroad account.
Spanish Art And Architecture
The Iberian Peninsula: Cultures and Religions Through the Arts
Spain and the Americas
Internship Seminar: Leading Across Cultures
Linear Algebra
The Iberian Peninsula: Cultures and Religions Through the Arts
Spanish Language in Context: Novice Abroad
Spanish Language in Context: Emerging Independent Abroad
Spanish for Science and Engineering
Spanish Language in Context: Independent Abroad
Creative Writing Workshop
Partner Institution(s)
Universidad Carlos III de Madrid
Although the Universidad Carlos III de Madrid (UC3M) is a relatively new institution, it has already established leading programs in the areas of Economics, Business Administration, and Law, while its efforts in Engineering and research are becoming quickly recognized internationally. In addition, it is among the first universities in Spain to comply with the new European Higher Education Area requirements (part of the Bologna Process). Faculty and students come from around the world to join UC3M in its role as a truly global institution.
Courses
Local university courses are available in the following disciplines and most are taught in English. Spanish is an option for some. In addition to attending the standard class sessions at Universidad Carlos III, IES Abroad students will also participate in a required weekly tutoring program that provides additional academic support and practice for each class. The tutoring program is managed by Universidad Carlos III and is factored into the overall number of credits; the student's performance in the tutoring program forms part of the overall final grade of the course. NOTE: Partner university courses are not guaranteed to be offered in the coming semesters as IES has no control over the courses offered by partner institutions.
Available Disciplines include:
Aerospace Engineering
Audiovisual System Engineering
Biomedical Engineering
Communication Systems Engineering
Computer Science and Engineering
Electrical Power Engineering
Energy Engineering
Industrial Electronics and Automation
Industrial Technology Engineering
Mechanical Engineering
Telecommunication Technology Engineering
Telematics Engineering
Not available to IES Abroad Students:
Applied Math and Computing
Engineering Physics
First Year (Primer Curso) Courses Available only in:
Data Science and Engineering
Location & Commute Time
The Universidad Carlos III de Madrid has three campuses, with its Engineering school located on the campus in Leganés, a cozy suburb just south of Madrid's city center. The campus is easily accessible by public transportation. The commute time from IES Abroad Madrid Engineering housing to UC3M is approximately 45 minutes by train.
Internships
Interning abroad as part of your study abroad experience will help distinguish your application for graduate school or a job opportunity in today's competitive market. It's an exhilarating challenge, and we're here to help guide you in securing your placement and succeeding in your internship.
Participating in an internship abroad helps you:
Add international experience to your résumé
Gain real work experience and skills
Build your confidence
All of our engineering internships are supervised and earn IES Abroad credit. You participate in a seminar to complement the practical experience you gain during the internship.
Field Trips & Events
Even though your adventure starts in Madrid, our field trips take you beyond the city to discover the culture and traditions of your host country. Some of these one to three-day trips are subsidized by IES Abroad, while other trips are available and may be subsidized by IES Abroad. Here are a few possible destinations.
Alcalá De Henares
1 Day | Fall
Famous for being the birthplace of the illustrious Miguel de Cervantes, author of "Don Quixote," and home to one of the most prestigious universities in Spain. It has been declared a World Heritage Site by UNESCO due to its monuments, historic churches convents, and university buildings.
El Escorial
1 Day | Fall & Spring
Visit this royal site that was once the residence of the King of Spain, as well as a monastery for the Roman Catholic Church. The palace is also the burial site for nearly every king and queen since the 16th century.
Córdoba-Almagro
2 Days | Spring
Córdoba has the World Heritage designation: it is a living legacy of different cultures that settled here throughout its history. The most important symbol of the city is the Mosque-Cathedral, it is one of the most beautiful examples of Muslim art in Spain. A visit to the Medina Azahara, the city of the Caliphs, is included.
Segovia
1 Day | Fall & Spring
Segovia is known for its Romanesque and Gothic architecture, and for having one of the longest and best-preserved Roman aqueducts in all of Europe.
Toledo
1 Day | Fall & Spring
Known as the "city of three cultures"— Christian, Muslim, and Jewish—Toledo preserves an artistic and cultural legacy that makes the city an open-air museum.
Alarcón-Valencia
2 Days | Fall
Visit Spain's third largest city, rich with delicious cuisine, excellent weather, and countless cultural outlets, including the Ciutat de les Arts i les Ciències (the City of Arts & Sciences), one of Europe's most unique cultural and scientific complexes.
Note: IES Abroad field trip destinations, activities, and lengths of stay may vary according to term and availability.
Daily Life
Part of making you feel at home in Madrid is doing our best to help you feel safe and cared for. Whether it is an orientation program that makes you feel prepared, housing that is well-located and comfortable, or the field trips that take you places off the beaten path—we're all about our student services.
Orientation
The program begins with an orientation that introduces you to the IES Abroad Madrid staff, your fellow students, and the city of Madrid.
Additionally, CORE™, IES Abroad's Comprehensive Orientation & Re-entry Experience, begins during orientation and continues throughout the semester with activities focusing on cultural adjustment, goal achievement, and preparing for the return home.
Take course-related excursions to high-tech companies throughout Madrid to become familiar with the Spanish work culture. Participate in intensive Spanish language classes throughout your first two weeks.
Housing
We want to make sure that your greatest challenge is deciding which landmarks to see first or discovering the best café-not finding a place to live where you feel comfortable. We do our best to locate housing that is reflective of how the local students are living. Our goal is that when you leave Madrid, it will feel like home.
Homestays – Live in Spanish homes with señoras or families and eat breakfast and one additional meal per day (either lunch or dinner) with your hosts when the program is in session. In many cases, more than one IES Abroad student is placed with a señora or family.
Homestays with Kitchen Privileges – If you are interested in a homestay but prefer to purchase your own food and prepare your own meals, you may wish to consider this option. With this option, you receive a meal credit. A very limited number of these placements are available.
Apartments– Share apartments located in residential areas in Madrid. Apartments are furnished and feature fully-equipped kitchens. Utilities, regular cleaning, and wireless Internet access are included, as well as the support of a Spanish compañero. Space is limited, and meals are not included.
Colegio Mayor - Colegios Mayores are dorms located on the Complutense campus and throughout the city. This housing option includes up to 20 meals per week in student cafeterias.
Colegios Mayores are ideal for outgoing students with a high level of the Spanish language who want to integrate into local, more traditional student culture, participate in Colegio activities, and are willing to abide by the rules of the Colegio. This housing option is limited and requires an additional fee.
Extracurricular Activities & Cultural Events
Redefine the way you live and learn in Madrid through our cultural activities, such as:
Language intercambios and bilingual debates with Spanish students
Volunteer opportunities
Lessons in Spanish cooking and dance
sports activities such as soccer games
Weekend activities with Spanish students
University Clubs & Events
There are many opportunities for you to participate in the life of the city alongside local Spanish students at the Universidad Carlos III de Madrid (UC3M). We encourage you to take advantage of the many extra-curricular activities open to you at UC3M. More information will be given on-site.
Cost
Consider these prices as a starting point. We encourage you to contact your study abroad office to determine the actual cost to you when factoring in financial aid, scholarships, your home school policies, and other factors.
Spring 2020
| | | | | |
| --- | --- | --- | --- | --- |
| Term | Tuition | Housing | Insurance | Total |
| Spring 2020 | $15,050 | $3,820 | $230 | $19,100 |
Academic year
| | | | | |
| --- | --- | --- | --- | --- |
| Term | Tuition | Housing | Insurance | Total |
| Academic year | $26,915 | $7,640 | $455 | $35,010 |
Scholarships & Aid
Program-Specific Scholarships
Robert McNeill Need-Based International Business Scholarship
Up to $3,000; awarded to 2 students each year.
This scholarship is named in honor of Robert McNeill, a member of the IES Abroad Board of Directors for 25 years (6 years as Chairman). Open to students who have an interest in international business. Majors might include management, marketing, economics, finance, international relations, and social and behavioral sciences.
William E. & Mary M. Dwyer Need-Based Spanish Scholarship
Ranges up to $1,000; awarded to 4-6 students each year.
These scholarships are intended for students interested in studying in a Spanish-speaking country.
Study Abroad Scholarship for Future Engineers
Up to $10,000; awarded to 6 students each year.
The Study Abroad Scholarship for Future Engineers was established by an anonymous donor to encourage more engineering students to have the enriching, life-changing experience of study abroad.
Our Center
The IES Abroad Madrid Center is located in the heart of the Universidad Complutense's main campus, inside the Colegio Mayor Nuestra Señora de Guadalupe. There are two museums — the Museo de América and the Museo del Traje - within walking distance of the Center. Features include:
High-speed wireless internet and printer access
A student lounge and garden
A small gym
A library, classrooms, and offices
Last updated May 2020
About the School
Everything we do is about the IES Abroad student. Our profoundly passionate team of study abroad professionals believes in creating once-in-a-lifetime educational adventures that transcend expectation ... Read More
Everything we do is about the IES Abroad student. Our profoundly passionate team of study abroad professionals believes in creating once-in-a-lifetime educational adventures that transcend expectations. Our goal is to rock the world of some 6,000 study abroad students every year.
Read less
Chicago ,
Amsterdam ,
Arles ,
Auckland ,
Barcelona ,
Beijing ,
Berlin ,
Buenos Aires ,
Cape Town ,
Christchurch ,
Dublin ,
Freiburg ,
Granada ,
London ,
Madrid ,
Milan ,
Nagoya ,
Nantes ,
New York ,
Nice ,
Paris ,
Oxford ,
Quito ,
Rabat ,
Rome ,
Salamanca ,
Santiago ,
Shanghai ,
Siena ,
Sydney ,
Tokyo ,
Puerto Ayora ,
Vienna ,
Hong Kong ,
Puerto Baquerizo Moreno ,
Cambridge
+ 35 More
Less