MSP (Managing Successful Programmes) Foundation Certification - (INCLUDES EXAMS)
Home ›
MSP (Managing Successful Programmes) Foundation Certification - (INCLUDES EXAMS)
Program Description
Included in the Course
Online Training Class for both MSP (Managing Successful Programmes) Foundation & Practitioner
E-Books
2 Exams Included (taken online)
98% Exam Pass Rate
Exam support and preparation
Pass Guarantee* If you don't pass, the 2nd attempt is Free
Participation Certificate
MSP Certifications mailed to you
Overview
MSP - HELPING YOU ACHIEVE SUCCESSFUL OUTCOMES FROM TRANSFORMATIONAL CHANGE
Organizations are increasingly recognizing their need for programme management. The adoption of MSP has grown across the world as it has been established as the standard for programme management. Large, complex deliveries are often broken down into manageable, inter-related projects. For those managing this overall delivery, the principles of programme management are key to delivering on time and within budget. Managing Successful Programmes comprises a set of principles, governance themes and a transformational flow to provide the route map for the programme lifecycle. It is founded on best practice though it is not prescriptive. It is very flexible and designed to be adapted to meet the needs of local circumstances
Benefits
Support business outcomes
Enable business change
Manage risk in line with business needs
Optimize customer experience
Show value for money
Continually improve
Creates a vision and blueprint for transformational change
Designs the programme to deliver the blueprint
Identifies the right outcomes and benefits and plans for their delivery
Delivers on time, to budget and desired quality
Breaks down initiatives into clearly defined projects and offers a framework for handling them
Defines responsibilities and lines of communication Involves stakeholders
Manages risk and ensures the programme responds to change
Audits and maintains quality.
Users of MSP include:
London Olympics
BP
BT
GlaxoSmithKline
Ministry of Defence
Who Should Attend
Project Managers
Programme Managers
Managers and team leaders
Those in the PMO or related functions
MSP certification is aimed at current and aspiring programme managers. It is also highly relevant to those who require an understanding of the terminology, principles and themes of MSP, including project managers, business change managers, senior responsible owners and portfolio/programme office personnel
Course Model
Managing Successful Programmes (MSP) offers a best-practice framework for delivering complex programmes in accordance with long-term strategies and objectives.
MSP is a pragmatic approach to programme management which ensures that a strong leadership and governance structure is established and maintained. It comprises a set of principles and processes for use when managing a programme.
Founded on international best practice, it is designed to be flexible and adapted to a range of circumstances. The emphasis is on stakeholder engagement and benefits realization management. MSP has been implemented in the public and private sectors because it provides a number of benefits to the organizations undertaking programmes, including:
A common framework for all key parties (client, contractors and stakeholders) within which to work
Strong emphasis on the identification and realization of measurable benefits
Strong stakeholder engagement focus ensuring that stakeholders have the opportunity to participate at key stages throughout the life of the programme
Clear communication links between governance, the delivery team and the operational teams
Good governance throughout the lifecycle of the programme.
Advantage with Adept
Adept is a global training company with offices around the world, certifying over 100,000 professionals since 2004. We are a fully-accredited training and certification company specializing in Information Security, Information technology, Governance, Project Management, & Skills Training. Some of our clients include Ernst & Young, Deloitte, HP, IBM, GE, Symantec, Etisalat, Tata Communications, Abu Dhabi Police, and many more. In addition, we can cover a wide range of training requests, including custom and corporate training, with multilingual trainers all over the world.
11 Years of Expertise
100,000+ Certified Professionals
300+ Support Staff
Accredited Training Organization
Accredited Examination Institute
Accredited Courseware Provider
Accredited Faculty
100% Test Pass Guarantee
Efficient pre- and post-training support
Global presence
Adept is a global training company started in 2004 which has now expanded across the globe, certifying over 100,000 professionals! We have been conducting MSP Training & Certifications for 11 years, and are full training institutes, courseware providers, and examination centers. The exam can be taken from your computer, with our full support in preparing you. The official Certificate will then be mailed to you.
If you choose an online course : After registration, you will receive a unique access code to enter our online training platform. From there, you can access our own MSP lectures, at your own pace. E-Books will also be provided to help you study – and our tutors are available at any time for any questions you may have.
Once you're ready for the exam, just let us know, and we will conduct it virtually from your own computer. It's that simple. And if you don't pass on the first try, we give another exam voucher FREE of charge! After passing, you'll be MSP Certified and will receive your official certification in the mail.
Exam Format: The exam for FOUNDATION (multiple-choice) & PRACTITIONER (objective-testing)
Miscellaneous
Will be for BOTH Foundation & Practitioner Level
Accredited by EXIN / AXELOS
We are a Certified Training & Exam Center
Online, At Your Own Pace with 1 Year Access
Both Exams Included!
Tutor Support to help you study
All-Inclusive Course; No Hidden Fees
Last updated Nov 2017
About the School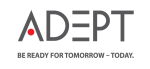 Adept Technology Dubai is a fully accredited training center and examination provider for IT security. Since 2004, Adept Technology Dubai has certified over 100,000 professionals and been a leading t ... Read More
Adept Technology Dubai is a fully accredited training center and examination provider for IT security. Since 2004, Adept Technology Dubai has certified over 100,000 professionals and been a leading training provider for several Fortune 500 companies, governments, and SMEs.
Read less