Program Description
Hospitality Programs
A semester abroad is more than an academic adventure, it's an experience that can enrich your life and change your career path. Many students, particularly from Canada and the US, come to Les Roches Marbella for their Semester Abroad. In this program, students of hospitality management or business programs can be based here for 20 weeks and learn the Swiss approach to hospitality by taking up to five academic courses. One of the courses involves working in the different hospitality departments of Les Roches.
Other benefits:
Learn from highly-qualified and experienced international faculty
Develop industry-relevant practical skills through experiential learning
Develop cross-cultural communication skills: over 60 nationalities on campus
Develop independence and leadership skills
Improve foreign language skills
Live abroad: experience a new environment
RANKING
Les Roches is ranked by industry hiring managers of luxury hotels among the top 3 hospitality management schools in the world for an international career (TNS, global research, 2013). It is accredited at university level by the New England Association of Schools and Colleges (NEASC), one of the leading US accreditation bodies.
A UNIQUE PLACE TO STUDY HOSPITALITY MANAGEMENT PROGRAMS
Spain is one of the most welcoming places in the world, not surprisingly we find it's ranked: 1st holiday destination, 2nd most visited country and 3rd with most hotel rooms, in the world. So when it comes to Hospitality Management, Spain knows how to do it! At Les Roches Marbella you will find a unique experiential-learning approach, rigorous educational methods, and multicultural learning environment to instill a sense of excellence in our students. Our state-of-the-art campus in the beautiful Mediterranean city of Marbella (one of Europe's top luxury destinations), is home to students from more than 60 countries who all share a common passion for hospitality.
Last updated Nov 2017
About the School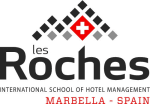 Les Roches Marbella, branch campus of Les Roches Switzerland, is a co-educational hospitality management school offering higher education programs. It is accredited by the Commission on Institutes of ... Read More
Les Roches Marbella, branch campus of Les Roches Switzerland, is a co-educational hospitality management school offering higher education programs. It is accredited by the Commission on Institutes of Higher Education (CIHE) of the New England
Read less