International Study Tour Experience at HSE University
Home ›
Courses ›
International Study Tour Experience at HSE University
Program Description
The Study Tour Experience is a unique worldwide project intended for undergraduates who are keen on finding new discoveries and ready for taking part in experiments, as well as willing to expand their horizons through new opportunities. This project offers a wide range of interdisciplinary courses with a particular focus on obtaining in-depth expertise in such fields as economics, international relations, business and management, law and finance, communications, design and computer sciences.
Those who have already graduated as well as students in the senior years of Bachelor's studies based in Russia (visa support is not provided for international students) are welcome to participate.
Languages of instruction: Russian and English
Terms and conditions for taking part in the Study Tour Experience
Studies are free of charge
Candidates shall be selected on a competitive basis.
The programme includes:
a two-week instruction in one of the selected fields
Costs for transport, food and accommodation shall be covered by participants.
Fields of study
Business and Management
Business Development Strategies: Management and Consulting
The Business Development Strategies: Management and Consultingprogramme has been upgraded to offer a multifaceted approach to analyzing business processes and engage leading business players to teach courses to students.
Communications and Design
Psychology of creativity
The course focuses on psychological aspects of creativity which are presented on physiological, cognitive, emotional, and motivational levels. In the course, attention will be paid to each of these levels of creativity. Students will get familiar with a number of methods that are used for the assessment of individual creativity. One more important factor of individual creativity is an encouraging environment that enhances individual creative abilities. In this context, some forms of group creativity will be considered within this course.
The Synsemic approach to the design of information visualization
The main goal of this course is to guide students through a theoretical and methodological perspective that will enable them to conceptualize and sketch visual artifacts to communicate effectively information.
This perspective, recently introduced but based on consolidated theories and analysis, is defined as "synsemia" and it sees the domain of words, graphics, and images as an integrated system of expression.
The course brings a theoretical paradigm to the ground and provides design principles and analytical tools that can be, and have been extensively applied in multiple kinds of information visualization projects.
The History of Technological Development in Society
The course studies how technological and societal development have influenced and nourished each other. The lectures cover episodes of mechanization, communications, electronics, computers, power & energy, or military technology.
Journalism and International Environment
This course gives the main information about the role of journalism as profession and practical activity in international relations and the international environment (mainly focused on international relations and international policy). The objective of this course is to solidify the skills of the students that they acquired during the courses that give them an overview of modern international trends in various topics. This course mostly focuses on the development of various media platforms and modern media outlets. The course gives students an opportunity to track media development in social networks and alternative platforms. Special attention will be paid to the development of the story ideas in various English-speaking outlets.
World Economy and Politics
International Business
The International Business programme is a unique blend of business and international affairs for students looking to pursue a career in a global firm or create their own business with a global perspective. A wide and diverse set of courses allows students to gain knowledge in various areas of business and international relations. Moreover, the offering of elective courses ensures flexibility for learners in drawing up their own academic trajectories.
International Relations in Eurasia
International Relations in Eurasia programme is aimed at preparing students to work in international business, politics and science. The programme teaches methods in integrated analysis of political and economic problems and trends in international relations, as well as the study of political and economic problems in some of the most important regions in the world. A special focus is placed on the correlation between economics and politics in contemporary international affairs.
Russian Studies
The Russian Studies programme provides students with a rich foundation in Russian history and culture, while also equipping them with the critical tools for exploring its contemporary reality, with its achievements and problems, successes and challenges.
Finance and Law
Law of International Trade, Finance and Economic Integration
The Law of International Trade, Finance and Economic Integrationprogrammeis aimed at training a new generation of lawyers, who are able to work as professionals in international economic relations. It offers courses on the laws of the Eurasian Economic Union, the WTO and free-trade zone legislation, regulation of the international financial system, foreign investment protection, etc. Furthermore, the programme seeks to meet the growing demand for lawyers from export-oriented and transnational companies, governmental bodies, and international organizations.
Economics and Finance
Strategic Corporate Finance
The Strategic Corporate Finance programme provides a unique combination of extensive knowledge of the latest financial theories and essential practical skills, thereby equipping our graduates with a competitive advantage in the market. At the same time, the programme is built in such a way that it allows students to gain a broad spectrum of knowledge in other areas of finance and economics as well. Aside from corporate finance, our students study macroeconomics, microeconomics, econometrics, asset pricing, venture capital, value-based management, behavioural finance, and much more.
Applied Economics
The main focus of the Applied Economics programme is to train specialists capable of engaging in complex analytical activities while working in state agencies, private firms, and applied economic research centres, relying on their extensive knowledge in economic theory and ability to forecast and analyze the possible consequences of state or corporate policy. The programme relies heavily on global best practices and experience with respect to economic and state policy.
Last updated Feb 2020
About the School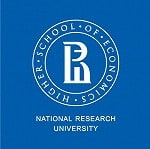 Consistently ranked as one of Russia's top three universities, the National Research University Higher School of Economics (HSE University) sets itself apart by its internationally-minded, research-dr ... Read More
Consistently ranked as one of Russia's top three universities, the National Research University Higher School of Economics (HSE University) sets itself apart by its internationally-minded, research-driven approach to higher education. Based in the vibrant centre of Moscow, with campuses in St. Petersburg, Nizhny Novgorod and Perm, HSE offers outstanding academics at all levels and includes more than 40 English-taught Master's programmes and 8 English-taught Bachelor's degree programmes.
Read less