International Foundation in Mathematics and Actuarial Sciences
Home ›
International Foundation in Mathematics and Actuarial Sciences
Program Description
Preparation for direct entry to year one of an undergraduate degree in mathematics, actuarial science, finance and accounting, or economics at UEA.
Why apply for the International Foundation programme?
A guaranteed route to Year 1 of an undergraduate degree at UEA (subject to meeting the specified entry requirements).
You are a student of the University from day one, on a quality-assured, UEA-validated programme.
Course options available
International Foundation (3 terms) -this is the standard option, suitable for most students.
Extended International Foundation (4 terms) - this option incorporates an additional term of intensive English language tuition at the beginning of the course, and English language entry requirements are lower.
Where will this programme take me?
Successful completion of the International Foundation leads to the award of International Foundation Certificate (RQF Level 3) from UEA.
Our progression guarantee:
We guarantee to find you a place to study on an appropriate degree and university if you successfully complete your International Foundation programme, follow professional advice offered by INTO staff and meet minimum attendance requirements.
As a successful pathway student, you'll have access to a number of university progression options. Each progression option will follow a specific pathway and specific requirements for both English/study skills and overall grade. You'll also find some courses have specific requirements, such as:
successfully completing an interview;
having previously studied a relevant discipline;
having previously completed a degree; or
having IELTS 6.0 or equivalent in English language.
18th in the UK for Accounting and Finance
(The Times and The Sunday Times Good University Guide 2017)
What is special about the programme?
The INTO UEA International Foundation programme is designed to improve your academic theory, intensive English language skills, and study and research abilities to prepare for undergraduate study at the University of East Anglia.
It offers:
university-style teaching with high contact hours and small class sizes
a campus-based programme with access to world-class university facilities
degrees taught by expert academics, research scientists, and practising actuaries
UEA's Actuarial Science degree provides exemption from the first eight professional examinations set by the Actuarial Profession
You will receive advice and feedback during seminars and tutorials. Regular one-to-one meetings with your personal tutor will help you plan for future effective study, and answer any questions to ensure your academic success.
We also have an International Progression team, who will help with your application to the University of East Anglia and arrange visits to your future school of study so that you can learn more about your chosen degree programme.
Teaching methods
Learn problem-solving and project planning and management skills and have the opportunity to put these into action through team projects, such as designing and programmming robots.
Through practical laboratory classes and a three day residential field trip you can put theory into practice by collecting and analysing your own data.
Benefit from carrying out your own independent research project with tutorial support, supervision and feedback on your assignments throughout the programme.
Who should apply for the International Foundation programme?
If you have completed secondary school education in your home country, the International Foundation programme provides academic preparation for first year entry and ensures that you meet the minimum English language requirement for entry to your chosen undergraduate degree programme.
In some circumstances you may be able to enrol on the International Foundation programme in order to change your specialist subject.
Key course facts
Course length: 3 - 4 terms (9 - 12 months)
Start dates: July, September, October, January
Fees: From £17,495
Entry requirements
Age: 16 years and above
Academic: Completed 12 years of schooling with good grades
English language: IELTS 5.0 - 5.5 or equivalent
Don't meet the entry requirements? We also offer an Academic English course.
Last updated Jul 2019
About the School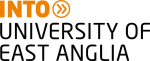 The University of East Anglia is home to everything you need to have a great living and studying experience. And as an INTO student, you'll have full access to everything that UEA students enjoy. You ... Read More
The University of East Anglia is home to everything you need to have a great living and studying experience. And as an INTO student, you'll have full access to everything that UEA students enjoy. You can take advantage of UEA's fantastic library, award-winning sports and leisure facilities, and one of the best Student Unions in the UK. You can also book study rooms, take part in guest lectures, access careers talks, join Student Union clubs and societies, and access all facilities open to UEA students.
Read less