Intensive English for Academic Purposes Course
Program Description
Year-Round Intensive English Program
The intensive English program operates year-round. It serves students who are interested in studying English intensively (20 hours per week) and want to improve their English skills for academic or professional purposes.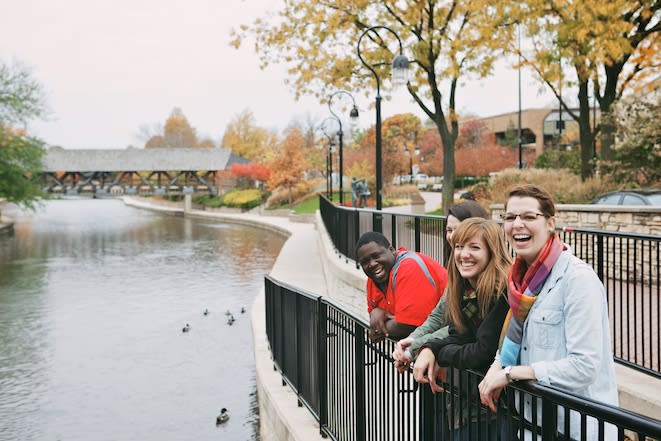 The Intensive English Program at the English Language Institute
The English Language Institute (ELI) is a full-time intensive English program designed to prepare international students for admission to a U.S. college or university by developing academic, professional and social English language skills.
The institute is located on the campus of North Central College, a four-year comprehensive liberal arts university in Naperville, Illinois.
As a student of the English Language Institute, you will experience:
20 hours per week of classroom instruction
Full access to North Central computer, recreational, cultural, and health facilities
Free campus Internet access
Participation in the International Club, one of the most active clubs on campus
Friendship family program
Special culture courses and area excursions
Convenient housing in campus residence halls with U.S. undergraduate students
Daily opportunities to interact with U.S. undergraduate students
Walking distance to downtown Naperville and to the commuter train to Chicago
When looking for an intensive English program, it is important to choose the program that best fits your needs.
Why choose the ELI?
High-Quality Classes and Programming
Classes are taught by professional ESL instructors with advanced degrees in teaching English as a second language. As a student in the ELI, you will be immersed in classes that will help you develop the academic and cultural knowledge and skills you need for undergraduate or graduate school in the United States.
Small, Personalized Classes
In the ELI, most classes have less than 10 students. Having small classes enables our highly trained instructors to get to know you not just as a student, but as a person. We care about your success, and we work to create classes that are challenging and help you meet your academic goals quickly.
Safe, Accessible Location
All ELI classes are held on the North Central College campus in Naperville, Illinois, just 45 kilometers from Chicago, Illinois. Naperville is one of Money Magazine's "Best Places to Live" and has easy access to Chicago O'Hare International Airport. We are also walking distance to the Chicago train station and to downtown Naperville. Students enjoy easy access to the big city while living in a safe, beautiful town.
Academic Excellence
North Central College has a history of excellence in academics. Forbes magazine recognized North Central as one of "America's Top Colleges" and Princeton Review ranked North Central as one of the "Best in the Midwest."
Founded in 1861, the College is committed to developing leaders who are prepared for the global workforce. Similarly, the ELI is dedicated to student success and preparing students to be leaders in the classroom and beyond.
A Pathway into North Central College Undergraduate Degrees
The ELI is an excellent pathway into an undergraduate degree at North Central College. If you apply to your degree program and meet all academic requirements except English language proficiency, you may be eligible for conditional admission. Students in the upper levels of the ELI may also start North Central College classes. This option enables you to adjust to College culture, develop your English, and work your degree at the same time.
Outstanding Staff and Student Services
As an ELI student, you have full access to all North Central services, and there are many ways for you to be part of the campus community. We hope that you take advantage of our library and tutoring services, clubs, gym and recreational facilities, and the health and wellness center.
The staff in the ELI, Center for Global Education, and Admission are all dedicated to your success. We work together to ensure you are able to transition from the ELI into your undergraduate, graduate degree, or next professional stage.
We are also here to help you answer questions and solve problems. We want to help you succeed, and we want your time at North Central to be happy, productive, and memorable.
Calendar & Costs
The English Language Institute (ELI) offers intensive English courses year-round. In all ELI programs, students are accepted on a rolling basis - there are no official application deadlines. We recommend that ELI applications are sent at least eight weeks before the start of each term so students have enough time to complete the visa application process.
Calendar
The English Language Institute has five 8-week terms during the calendar year. Students have five entry points at which they can start their studies. Our academic year terms align with the North Central College semester calendar.
Students have full-time and part-time study options.
For more information, please see our calendar and cost estimates listed below.
Calendar Overview for ELI Terms
| | | | | |
| --- | --- | --- | --- | --- |
| Term | Length | Airport Pick-Up Day | Orientation | Class Dates |
| Spring A 2020 | 8 weeks | January 2, 2020 | January 3, 2020 | January 6-February 28, 2020 |
| Spring B 2020 | 8 weeks | March 5, 2020 | March 6, 2020 | March 9-May 1, 2020 |
| Summer 2020 | 8 weeks | June 4, 2020 | June 5, 2020 | June 8-July 31, 2020 |
English Language Institute Cost Estimates: Fall 2019-Spring 2020
Costs: Fall A 2019-Spring B 2020 (8 week terms)
Tuition
$3,000.00
Room & Food
$2,945.00
Activity Fee & Books
$145.00
Personal Expenses
$225.00
Medical Insurance
$240.00
Total (per 8 week term)
$6,555.00
Fall A 2019-Spring B 2019-2020 Per Course Fee (8 week term)
Tuition
$750.00
Book Fee
$25.00
Total Cost Per Course
$775.00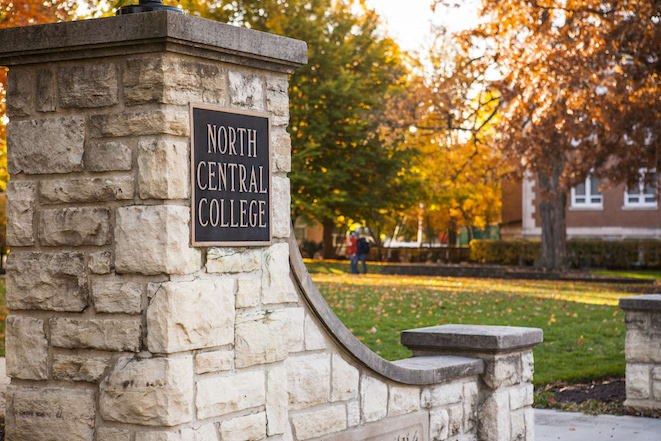 Last updated Nov 2019
About the School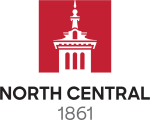 Founded in 1861 and home to 2900 students, North Central offers a safe, affordable, hands-on, campus-based American university experience in a terrific location. Our career-focused liberal arts educat ... Read More
Founded in 1861 and home to 2900 students, North Central offers a safe, affordable, hands-on, campus-based American university experience in a terrific location. Our career-focused liberal arts education - with particular strengths in business, global studies, and STEM fields - offers critical thinking and communication skills, deep subject knowledge, and life skills learned in small, faculty-taught classes and practical experiences in Naperville/Chicago, Illinois. A Bachelor's degree from North Central is your first step to a challenging, fulfilling career.
Read less