Intensive English Program (ESL) - 25 hours per week
Program Description
Intensive English (ESL) Day Program - 25 hours per week
12 English levels, plus TOEFL preparation
Monday-Friday, 25 hours per week
ILI's offers intensive English day classes in two locations: Dupont Circle in Washington, D.C. and Gaithersburg in Maryland. In Washington, D.C. we offer 12 different 4-week levels, ranging from beginner to university level, plus an 8-week TOEFL preparation course. Each class includes instruction in the following areas: Listening, speaking, grammar, reading and writing.
Schedule
Intensive English classes in Washington, D.C., including the TOEFL preparation class, meet 5 class hours per day, Monday through Friday, from 9:00 am to 2:10 pm, including a 15 minute morning break and a 45 minute lunch break.
Start Dates
New classes begin officially every 4 weeks. However, students may actually enter the program any Monday. A placement test allows us to place the student at the appropriate level.
The remaining official 2016 start dates are: November 21, December 19. We do not have application deadlines.
The official 2017 start dates are: January 17 (Tuesday), February 13 , March 13, April 10, May 8, June 5, July 3, July 31, August 28, September 25, October 23, November 20, December 18. We do not have application deadlines.
Enrollment
To enroll in any of our English or Test Preparation Programs, the student needs to complete an application and pay a $50 application fee. The minimum age is 14. The application can be completed online by going to our Online Application page, or the completed paper Application Form can be emailed or faxed. Prospective students may also come to our school and apply in person. We do not have application deadlines however if the F-1 visa is required the application should be submitted 6-8 weeks before the requested start date. Housing is optional and requires a separate Housing application.
I-20 Form/F-1 Student Visa
The International Language Institute is authorized, under Federal law, to enroll individuals with F-1 student visas. The International Language Institute, however, does not require students to have student visas. The I-20 form for an F-1 student visa can be issued for students in our Intensive English Day Program, including TOEFL, GRE and GMAT Preparation courses who are at least 16 years of age and enroll for a minimum of four weeks. For more information on obtaining a F-1 Student Visa and the requirements for obtaining an I-20 form, please go to our F-1 Visa Information page.
Placement Testing
All new students are required to take a placement test at the institute to determine their level. This test is not given online. Preferably, it should be taken before the first day of class at the institute.
Payment Policy
New students: Tuition for the first cycle (4 weeks) in the amount of $780 (or $850 for GRE or GMAT) has to be paid entirely before the student is allowed in class. If the student is enrolling for less than 4 weeks, all tuition has to be paid before student is allowed in class.
Advancement
At the end of each four week cycle, a student may pass to the next level if he/she has a grade average of 70% and an attendance average of 80%. If the student's grade average is below 70%, he/she will need to repeat the level. If the student's attendance is below 80%, he/she will need to repeat the level. The student's grade is determined by averaging five skill areas: an average of the grammar chapter test grades, the final listening assessment, the final speaking assessment, the final reading assessment and the final writing assessment.
Certificates & Evaluations
All students who complete their program are awarded a certificate of attendance at the end of their studies upon request. All students are continuously evaluated and an evaluation report is available at the end of their studies. In order to qualify to receive a certificate of attendance or an evaluation from ILI, a student must maintain attendance of at least 80%.
Questions?
Please contact our Admissions Office at +1-202-362-2505 or ili@ilidc.com.
Last updated Nov 2018
About the School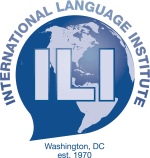 The International Language Institute (ILI) was founded in 1970 when it began its operations with four English as a Second Language (ESL) teachers and about 15 students. Over the past 45 years, our com ... Read More
The International Language Institute (ILI) was founded in 1970 when it began its operations with four English as a Second Language (ESL) teachers and about 15 students. Over the past 45 years, our company has seen steady growth and developed a strong reputation around the world and locally for quality language training and academic preparation at a superior value. Today, we have hundreds of new students every year and the following two locations:
Read less