Program Description

English Language + Academic Preparation
Whatever your goal, Saint Michael's has a program for every level of English language proficiency.
Intensive English Program
One of the oldest English-language programs in the USA
Located in beautiful Vermont USA
The Intensive English Program (IEP) is for students who wish to improve their English skills in a university setting. Many IEP students intend to study at the undergraduate or graduate level when their English improves. Others come for short-term language training as individuals or in groups. Saint Michael's assesses each student's level, strengths and weaknesses and provides appropriate instruction.
Five (5) Program Levels from Beginner to Advanced. Placement tests are given upon arrival and throughout the program to determine which level is appropriate for the student. Each session typically requires two sessions (16 weeks), though some students in the upper levels may complete a level in just one session.
Classes are Small, usually 6 to 15 students per class. The programs include about 23.5 classroom hours/week plus extracurricular activities.
Faculty and Instructors are highly experienced instructors with advanced degrees in Linguistics or TESOL.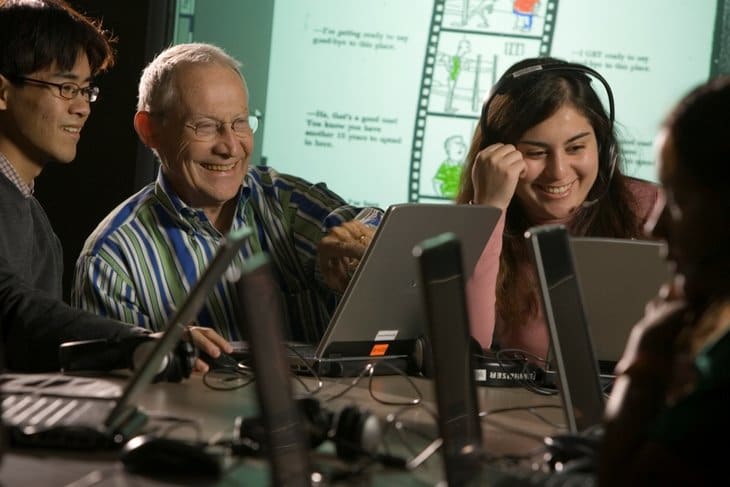 Costs & Calendars
Eight-week sessions are available throughout the year (August-July). Shorter sessions are available during the summer (May to August). Students may stay for as many sessions as they wish.
Core Subjects include Reading, Writing, Vocabulary, Grammar, Listening, Speaking, and Pronunciation.
Included with Program are Tutors, Conversation Partners, Extra Curricular Activities, Cultural Activities, Academic Advising, Volunteer Opportunities
Special Classes offered include TOEFL Preparation, Advanced Conversation, US Culture & History, Vocabulary & Idioms, and Current Events.
Upon Completion, students receive a certificate for their work during the program. Those who complete 16 or more weeks of study in the IEP qualify for six credits (the equivalent of 1½ university courses) toward the undergraduate degree program at Saint Michael's College
Requirements
Must be 17 or older during academic year (16 or older for summer session)
No TOEFL/IELTS score required for admission
Copy of Passport
Financial Certification
Conditional Admission to Degree Programs
Students intending to study in an undergraduate or Master's program may apply for conditional admittance prior to or after arriving on campus. If successful they will be considered a Pathway Student.
Accommodations & Meals
IEP students up to about 25 years-old are housed in Ambassador Housing, where they fully experience university life in one of our most modern residence halls. Students have a single room located in a 4-person or 8-person suite that they share with American students. Students also have the option of living off campus on private rooms or apartments, or in local hotels. The Office for International Student Services will assist in this. Limited on-campus housing is available on a first-come, first-served basis for students older than 25.
Campus Life
Full access to all university facilities including the library, technology, and sports facilities is included. IEP students are welcome to participate in all university clubs and all activities that are available to undergraduate students.
Last updated Jan 2018
About the School
Saint Michael's College, founded in 1904, delivers a compelling, world-class liberal arts education in a beautiful Vermont setting. Our connected community allows students to form close relationships ... Read More
Saint Michael's College, founded in 1904, delivers a compelling, world-class liberal arts education in a beautiful Vermont setting. Our connected community allows students to form close relationships with each other and accomplished faculty members, providing an ideal learning environment where they have the space and support to challenge themselves and their peers. As a college located minutes from Burlington, one of the country's top-rated college towns, Saint Michael's offers an unparalleled mix of academic, spiritual, cultural, service and wilderness experiences. To learn more, visit smcvt.edu.
Read less