Program Description
Our Academic English Program is designed to prepare students for academic success at Diablo Valley College.
6 levels from beginners to advanced learners
Each level is 8 weeks
24 hours of in-class instruction
New students are given a placement exam and placed in the appropriate level
Classes begin on the following Monday
Advanced English Learners
Do you already have experience studying English? If your goal is to succeed at Diablo Valley College (DVC) or to get a bachelor's or master's degree from a top university in the United States, the Advanced B level at the International Education Center can help you accomplish this.
Getting great grades requires more than an advanced level of English, you will need excellent academic and study skills to compete with American students and feel competent with the American style of university education. The Advanced B level English program at IEC will assure that you have these skills and the confidence to start your academic career. The intensive 8-week program will focus on:
Persuasive speaking
Strategies for writing research papers and note taking
Presentation skills
Critical analysis
Pronunciation and fluency
Perfecting your grammar
Increasing your vocabulary
Maximizing your listening comprehension
Additional benefits:
Enroll early in your courses at DVC
Sit in on classes at DVC
Meet with DVC advisors before the academic term begins
Make friends first at IEC. Over 90% of students at IEC go on to DVC.
Take advantage of a full calendar of fun cultural and social activities
Look at a typical weekly schedule-pdf Each level has a set of books which students purchase at the DVC Bookstore. Students are required to purchase those books on the list.
Last updated Nov 2018
About the School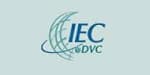 The International Education Center at DVC is a proven program with highly qualified, professional teachers who provide just what you need to succeed
The International Education Center at DVC is a proven program with highly qualified, professional teachers who provide just what you need to succeed
Read less