Higher Diploma in Psychology with Counselling
Home ›
Diploma ›
Higher Diploma in Psychology with Counselling
Program Description
Psychology is a science which answers questions about human and animal behaviour and cognition. The Higher Diploma in Psychology with Counselling provides students with a comprehensive theoretical background and research skills relevant to studying mental processes and human behaviour. The programme covers a broad range of empirical and practical areas of psychology and offers the students an opportunity to begin the development of basic counselling skills.
TMC Psychology students are entitled to Singapore Psychological Society (SPS) membership under our Student Chapters.
Full Time: 12 months
Part Time: 21 months*
*can be completed in 14-16 months in the intensive mode.
Course assessment
Assessment of the modules includes examinations, assignments, projects, presentations, class tests, and/or practical tests.
Mode of Delivery
Lectures, tutorials and independent learning are employed. To make sure that students have a clear understanding of the concepts, tutorials are used to re-emphasize the key areas.
Independent learning involves pupils taking the initiative in recognizing learning requirements and undertaking activities to meet them. These activities could take the form of research, tutorial exercises, review questions and coursework.
Modules
Level 1 Modules:
Foundations of Psychology 1
Foundations of Psychology 2
Research Methods 1
Industrial and Organisational Psychology
Introduction to Counselling
Level 2 Modules:
Biological Psychology
Cognitive Psychology
Developmental Psychology
Social Psychology
Abnormal Psychology
Individual Differences and Psychological Measurement
Research Methods 2
A module that is currently not offered:
Psychological Practice (Placement)
Entry Requirements (International)
Age
17 years old
Academic Qualification
Completed High School or Year 12
English Proficiency
Any of the following or equivalent:
IELTS 6.0 or TOEFL (Paper) ≥ 547 or TOEFL (Computer) ≥ 210 or TOEFL (Internet) ≥ 78 or TOEIC ≥ 780
Other qualifications equivalent to High School or Year 12 where the medium of instruction is English
Attend and pass Certificate in English up to Academic English level
Mature Candidates N.A.
GCE 'O' Level/NITEC/Higher NITEC holders may consider the following programmes: Foundation Diploma for Tertiary Studies, Diploma in Hospitality and Tourism Management or Certificate in Tertiary Foundation
GCE 'N' Level holders may consider our GCE 'O' Level Preparatory Course.
Attendance Requirements
It is important to achieve regular attendance and meet the attendance requirement stipulated by the authorities (eg. Immigration and Checkpoints Authority of Singapore) and TMC. Failure to meet the requirement will lead to the following:
Rejection of Student Pass on re-application/renewal for international students.
Expulsion where students do not make any improvement in their attendance rate and/or consistently absent from class despite warnings and counselling given in accordance with the school policy
Attendance Requirement is as follows:
Module Attendance
For all propriety students, module attendance is required to be eligible for work to be assessed and sit for examination:
The minimum module attendance is normally 80% for full-time, 60% for part-time (75% for SSG-funded part-time students)
Special consideration will only be given to students with valid reasons.
Monthly Attendance:
All full-time international students must meet a monthly attendance of 90%. Student pass shall be subjected to cancellation if the monthly attendance is not met continuously.
Full-time local students enrolled in Hawthorn English courses, TMC College preparatory courses and external degree courses must meet a monthly attendance of 75%. Local students enrolled in external degree courses shall be subject to relevant university's regulations regarding attendance.
Course Fees
Local fee: $10,400; International fee: $20,900
Last updated Mar 2018
About the School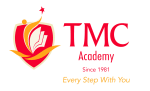 TMC Academy was established in Singapore in 1981. It offers courses in various disciplines including Accounting, Business and Management, Infocomm Technology, Hospitality/Tourism Management and Psycho ... Read More
TMC Academy was established in Singapore in 1981. It offers courses in various disciplines including Accounting, Business and Management, Infocomm Technology, Hospitality/Tourism Management and Psychology/Counselling. It also offers language and bridging courses for international students to enter the Singapore education system. TMC Academy was one of the first six Private Education Institutions to obtain the 4-year prestigious EduTrust Certification awarded by the Committee for Private Education (CPE).
Read less