Graduate Diploma in Creative Technologies
Home ›
Media ›
Graduate Diploma in Creative Technologies
Program Description
Think of this programme as the bridge between undergraduate and postgraduate study. In this course you'll have one year to refine your craft - you'll have the opportunity focus on your interests, based on your own research project in 3D, interactive and web design, graphic design, or VFX & motion graphics. That means when you are ready to pursue your chosen career, your raw talent will be finely tuned and raring to go.
Careers & Industry
Creative technologies is an ever-developing space, and post-graduate studies allows you to focus on new ways of doing things and become highly specialized. Like any Media Design School course, you'll be immersed in a studio-like environment thereby gaining practical industry skills that are important to employers. As you choose your own research topic, you may opt to work across multiple disciplines, to broaden your skill base and increase your career options.
Graduates from this program go on to work in a diverse range of fulfilling careers depending on what interests them and the focus of their research project. Some examples include:
Business owner or freelancer lifestyle
Web designer, mobile and front end developer
Ad agencies
Design studios
High end production houses
Film post production and animation
When you apply, you'll need to let us know your preferred discipline, either:
Advanced 3D
Interactive & Web Design
Graphic Design, or
VFX & Motion Graphics
Course Outline
Students develop and deepen their skills and understanding in an open studio-based programme where they investigate, propose and produce a project (or series of projects) determined by their own interests within the broader creative technologies domain.
Students can choose to either work within a particular creative technologies discipline, or across disciplines, and can work towards either professional, academic, exploratory or experimental learning outcomes.
The course is student-centered with students being proactive independent learners, responsible both for what they learn and how they learn. The course provides a flexible framework, supportive environment and collaborative learning culture. Faculty guide students through their learning as mentors, with the focus on developing students' critical thinking, problem-solving and research skills. This enables them to become effective life-long learners.
Entry Requirements
Open to applicants with a degree qualification, or relevant professional experience in a creative technologies domain.
All applicants need to provide evidence to support the level of skill required for a self-directed investigation. There are several opportunities to do this when applying, in these documents:
Your portfolio
Your letter of intent
Additional relevant qualification transcripts (optional)
Additional statement from employer and your resume (optional)
Last updated Jan 2018
About the School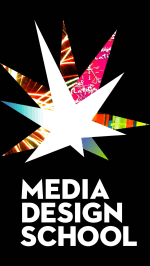 Media Design School is New Zealand's most-awarded tertiary institute for digital and creative technology qualifications
Media Design School is New Zealand's most-awarded tertiary institute for digital and creative technology qualifications
Read less