Graduate Certificate Program in Penetration Testing & Ethical Hacking
Home ›
Graduate Certificate Program in Penetration Testing & Ethical Hacking
Program Description
Designed for working professionals in information security, information technology, and audit, the graduate certificate in Penetration Testing & Ethical Hacking is a highly technical 13-credit-hour program focused on developing your ability to discover, analyze, and understand the implications of information security vulnerabilities in systems, networks, and applications in order to identify solutions before others exploit these flaws.
"My career advanced at a rate not achievable through other graduate programs," said Terry Holman, CI/KR Advisor at TeamWorx Security. "Earning a graduate certificate in pen testing from the SANS Technology Institute, and the GIAC certifications along with it, gave me an edge – and opportunities."
In this hands-on graduate program, you'll begin with a foundational course, progress through three advanced courses, and have the opportunity to test real-world techniques in NetWars Continuous, a graded, online range exercise.
Applications are accepted monthly on the 15th of the month.
Please note that the SANS Technology Institute's programs are non-residential. Although the college is based in Maryland, USA, its in-person trainings take place across the United States and around the world. The college's online study options can be completed from anywhere you have access to the Internet. At this time, the SANS Technology Institute does not issue I-20s or support F-1 student visas.
Learn How To
Conduct vulnerability scanning and exploitation of various systems and applications using a careful, documented methodology to provide explicit proof of the extent and nature of IT infrastructure risks, conducting these activities according to well-defined rules of engagement and a clear scope.
Provide documentation of activities performed during testing, including all exploited vulnerabilities and how those vulnerabilities were combined into attacks to demonstrate business or institutional risk.
Produce an estimated risk level for a given discovered flaw by using the amount of effort the team needed to expand in penetrating the information system as an indicator of the penetration resistance of the system.
Provide actionable results with information about possible remediation measures for the successful attacks performed.
Curriculum
Core Courses | 10 credit hours:
Hacker Tools, Techniques, Exploits, & Incident Handling | GCIH certification
Web App Penetration Testing and Ethical Hacking | GWAPT certification
Network Penetration Testing and Ethical Hacking | GPEN certification
Certificate Program Capstone | Core NetWars Continuous
Elective Course | 3 credit hours:
Students select one of the following courses.
Mobile Device Security & Ethical Hacking | GMOB certification
Wireless Penetration Testing & Ethical Hacking | GAWN certification
Automating Information Security with Python | GPYC certification
Advanced Penetration Testing, Exploit Writing, & Ethical Hacking | GXPN certification
The SANS Technology Institute Advantage
Live and Online Study Options
The graduate certificate program can be completed entirely online, through immersive weeklong live courses, or in combination.
Flexibility for Working Professionals
Monthly admissions windows mean you can start on your schedule and earn the graduate certificate in roughly two years.
Credentials that Showcase Your Skills
Earn industry-recognized GIAC certifications that validate your skillset in critical, specialized areas of InfoSec.
World-class Faculty
Learn skills you can use immediately on the job from some of the world's best cybersecurity instructor-practitioners.
Pathway to a Master's Degree
Credits earned in the certificate program may be applied directly toward the master's degree program should you later apply and be accepted.
Last updated Jan 2020
About the School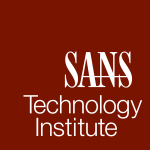 The SANS Technology Institute prepares the next generation of cybersecurity professionals for what they will face in the field. Our programs are distinguished by our world-class faculty; our emphasis ... Read More
The SANS Technology Institute prepares the next generation of cybersecurity professionals for what they will face in the field. Our programs are distinguished by our world-class faculty; our emphasis on hands-on learning in SANS courses that are continually updated for real-world relevance, most of which lead to industry-recognized GIAC certifications; our innovative in-person and online course delivery options; and the proven success of our alumni. Cybersecurity is all we teach and nobody does it better.
Read less