Graduate Certificate Program in Industrial Control Systems Security
Home ›
Graduate Certificate Program in Industrial Control Systems Security
Program Description
Designed for working professionals in information security, information technology, and audit, the graduate certificate in Industrial Control Systems Security is a highly technical, hands-on 12-credit-hour program focused on teaching the applied technologies used to defend and secure industrial control systems, operations technology, and cyber-physical systems.
You'll be empowered to understand your networked industrial control system environment, monitor it for threats, perform incident response against identified threats, and use the knowledge gained from interactions with the adversary to enhance network security and maintain the safety and reliability of operations.
"Enrolling in the SANS Technology Institute graduate program helped propel my professional journey, growing from an asset-based ICS Security Specialist to a global ICS Security subject matter expert," said Mike Hoffman, Principle ICS Security Engineer at Shell.
Applications are accepted monthly on the 15th of the month.
Please note that the SANS Technology Institute's programs are non-residential. Although the college is based in Maryland, USA, its in-person trainings take place across the United States and around the world. The college's online study options can be completed from anywhere you have access to the Internet. At this time, the SANS Technology Institute does not issue I-20s or support F-1 student visas.
Learn How To
Develop and reinforce a common language and understanding of Industrial Control System (ICS) cybersecurity as well as the important considerations that come with cyber-to-physical operations within these environments.
Understand secure architecture design and defense-in-depth strategies to secure ICS environments that are increasingly integrated with the industrial Internet of things (IIoT) and traditional business systems.
Deconstruct ICS targeting attacks and malware, understand normal ICS network baselines, and leverage active defense strategies that ensure safe and reliable operations.
Explore multiple approaches to NERC CIP compliance and how these standards can be used as the model for establishing strong management and governance controls and examine a series of architectures, strategies, and difficult compliance questions in a way that highlights the reliability and cybersecurity strengths of particular approaches.
Identify segmentation techniques that separate control traffic from other non-trusted traffic and methods to actively monitor ICS environments and respond to ICS incidents.
Curriculum
Core Courses | 9 credit hours:
ICS/SCADA Security Essentials | GICSP certification
ICS Active Defense and Incident Response | GRID certification
Essentials for NERC Critical Infrastructure Protection | GCIP certification
Elective Course | 3 credit hours:
Students choose one of the following.
Technical Elective Course | GIAC certification
Graduate Writing Practicum | Hosted Course, Whitepaper
The SANS Technology Institute Advantage
Live and Online Study Options
The graduate certificate program can be completed entirely online, through immersive weeklong live courses, or in combination. View course delivery options.
Flexibility for Working Professionals
Monthly admissions windows mean you can start on your schedule and earn the graduate certificate in roughly two years.
Credentials that Showcase Your Skills
Earn industry-recognized GIAC certifications that validate your skillset in critical, specialized areas of InfoSec.
World-class Faculty
Learn skills you can use immediately on the job from some of the world's best cybersecurity instructor-practitioners.
Pathway to a Master's Degree
Credits earned in the certificate program may be applied directly toward the master's degree program should you later apply and be accepted.
Last updated Jan 2020
About the School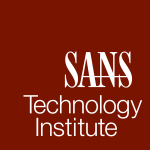 The SANS Technology Institute prepares the next generation of cybersecurity professionals for what they will face in the field. Our programs are distinguished by our world-class faculty; our emphasis ... Read More
The SANS Technology Institute prepares the next generation of cybersecurity professionals for what they will face in the field. Our programs are distinguished by our world-class faculty; our emphasis on hands-on learning in SANS courses that are continually updated for real-world relevance, most of which lead to industry-recognized GIAC certifications; our innovative in-person and online course delivery options; and the proven success of our alumni. Cybersecurity is all we teach and nobody does it better.
Read less