Program Description
20 lessons per week, 4 lessons daily from 9 am to 12.15 pm, Monday to Friday. The morning course offers a complete programme: reading, writing, listening, speaking… This course is designed for students who, while wishing to learn the French language in group lessons with other students of the school, wish to have as much free time as possible outside the school in order to absorb the French culture going to theaters, cinemas or who wish to participate in the activities organised by the school team.
Prices
205 EUR - 1 week
390 EUR - 2 weeks
580 EUR - 3 weeks
770 EUR - 4 weeks
190 EUR - Extra week - 5-11
2220 EUR - 12 weeks
170 EUR - Extra week 13-23
150 EUR - Extra week + 24
Accommodation
When you come to Marseille, where you stay is very important. We'll guide you through a wide range of accommodation choices. We'll also help you when you decide to change where you live. You can choose a residence, hotel, a welcoming host family. Wherever you stay, you'll mix with lots of people and be able to practice your French. A wide range of accommodation options are available. Our In-School Accommodation Teamwork to assure that we can offer the best selection of accommodation choice.
Last updated Feb 2018
About the School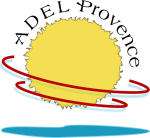 Adel Provence offers various prices and ways of motivating young people to speak French and of giving them the self-confidence and means to do so. By using the methods of knowledge gained in France
Adel Provence offers various prices and ways of motivating young people to speak French and of giving them the self-confidence and means to do so. By using the methods of knowledge gained in France
Read less