GAME DESIGN & PRODUCTION - Advanced Diploma of Professional Game Development
Home ›
GAME DESIGN & PRODUCTION - Advanced Diploma of Professional Game Development
Program Description
Game designers are the visionaries and evangelists for a game development project. They thrive on new ideas and are always thinking about how users will interact and enjoy the experience that they've created. A great game designer possesses a combination of technical knowledge, artistic skill and most importantly, the ability to communicate and understand people.
Game designers spend significant amounts of time writing detailed documents specifying game mechanics, environments, playable characters and the game's nemesis. This detail extends right down to how a particular item might behave, be animated and sound.
The Game Design stream of the Advanced Diploma of Professional Game Development is a two year, full-time course written by experienced game designers, in consultation with local and international studios, to produce innovative graduates who will lead the next generation of game development.
Course Content
Year One
The first year of the course begins by covering grounding in terminology and mechanics and roles of designer. Students will work on visualising ideas, prototyping, learning the fundamentals of 3D content creation and game programming as well as designing game levels, creating user interfaces and crafting game play experiences. Towards the end of the year, game design students will work with programming students to develop projects with game design, production and quality assurance.
Year Two
Second year focuses on the psychology of games, market research, exploring thinking and decision making processes along with understanding the producer's role in managing and coordinating game projects. Students will be making more game prototypes around a range of different game types, genres and platforms.
During the major game project, game design students will collaborate with game art and game programming students to create an innovative original game to showcase their capabilities.
Students graduate at the end of Year 2 with an extensive portfolio with several games they have designed and produced, mechanical prototypes, large amounts of documented design ideas expressed in visual and written form.
Major Game Project
In second year of this course game design students will work together with game art and game programming students in development teams to design and produce a playable game. This project closely mirrors the real-world production cycle in an industry development studio, covering the entire process from pitching the game idea, through writing game design documents, evaluating technical requirements, managing workload, meeting deadlines, delivering commercial quality artwork and animation, bug-fixing, QA testing and market analysis of the game.
The subjects for each year
Year One
Designing Your Own Game
Art & Design
Code & Design
The Science of In Game Story
Testing Games
Production Teams
Practice Production
Year Two
Inside the Players Mind
Time to Make a Game
Ideas & Implementation
Delivering a Game
Proof of Concept
Major Production
Online Professional Portfolio
Students utilize industry standard software and resources such as:
Game Engine and Development Frameworks — Unreal Development Kit, Unity Game Engine, Custom game Systems based on OpenGL ES;
3D Content & Animation — Maya
Project Management & Version Control — Perforce, Asana & Project
Design Visualisation — Photoshop and Visio
Desktop Office Applications — Microsoft Office Suite
Last updated February 2018
About the School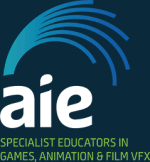 The Academy of Interactive Entertainment (AIE) is Australia's most awarded 3D animation, game design and visual FX educator. Created as a non-profit organisation to grow the creative digital sector, A ... Read More
The Academy of Interactive Entertainment (AIE) is Australia's most awarded 3D animation, game design and visual FX educator. Created as a non-profit organisation to grow the creative digital sector, AIE pioneered the development of specialist game qualifications and continues to innovate through industry partnerships and dynamic teaching.
Read less
Sydney ,
Melbourne ,
Canberra ,
Adelaide ,
Australia Online ,
Lafayette ,
Seattle ,
USA Online ,
Campbellsville ,
Perth
+ 9 More
Less