Read more about this program on the institution's website
Program Description
Earn U.S. Credits Virtually This Summer
Get ahead! Earn extra credit through a globally recognized U.S. education program this summer on our Virtual World DiscoverIES program.
Just picture it: one day you're exploring business ethics with a professor in London and the next it's Japanese pop culture from Tokyo, studying alongside classmates from the U.S.'s highest-ranked colleges and universities. This is what it's like to take a course or two (of your choosing!) from IES Abroad's most popular centers around the world this summer.
Learn more about how you can discover the world through IES Abroad.
Why Freiburg?
The environmental movement took root in Freiburg long ago—and now it's a way of life. Known for taking the lead in the development of eco-friendly technologies and architecture, Freiburg also attracts researchers and environmental organizations from around the world. Come study Freiburg's many unique contributions to this important movement.
What You'll Study
This English-taught program allows you to explore topics in disciples like Environmental Studies, Forest Ecology, and Sustainability while living in Freiburg, located near the beautiful Black Forest and Rhine River Valley.
All courses except German language courses are organized as three-week modules so you can focus on each topic you study, and faculty can take you and your classmates on extended course-related trips in and around Freiburg. Most courses are taught at IES Abroad by faculty affiliated with the Albert-Ludwigs-Universität Freiburg. Students may be able to take some modules in the Department of Environment & Natural Resources at the University, depending on availability. Optional University modules and research assistantship opportunities are offered after the regular term, through February for the fall term, and through late July for the spring term.
In addition to Environmental Studies topics, you can study the German language at the beginning, intermediate, or advanced level at the SprachLehrInstitut (Language Teaching Center) of the Albert-Ludwigs-Universität Freiburg.
Daily Life
Freiburg and the surrounding regions will be your classroom. Imagine traveling to the Rhine River to take samples and observe local ecology, or to the forests of the Swiss Alps to further your discussions on forest management and tourism. Wherever possible, your courses take you outside the classroom to give you hands-on experience and to take advantage of all that your study abroad location has to offer.
We want you to feel at home in Freiburg, so we do everything we can to help you integrate into life in the city. From housing to cultural events, our job is to make sure you have the most authentic study abroad experience possible.
Academics
Our mission is simple: to provide you with the best study abroad program possible—which includes the highest quality academic and cultural experiences. We offer unique courses that explore environmental studies and sustainability and other topics through an in-depth and hands-on approach. Our world-class professors enhance your academic experience and give you new perspectives each day in class. A limited number of course options are available at the prestigious Albert-Ludwigs Universität Freiburg, as well.
You take 15-19 credits per semester. Environmental Studies courses are worth 3 credits each and are taught in English. Language courses are 3 or 4 credits each and are taught in German. Courses are held Monday through Friday.
Create your own academic experience by selecting from the following required and optional components:
German language course (required, 3 credits; optional extension for 1 additional credit)
Four consecutive Environmental Studies courses (required, 3 credits each)
Optional post-program module or research assistantship (3 credits)
Academic Structure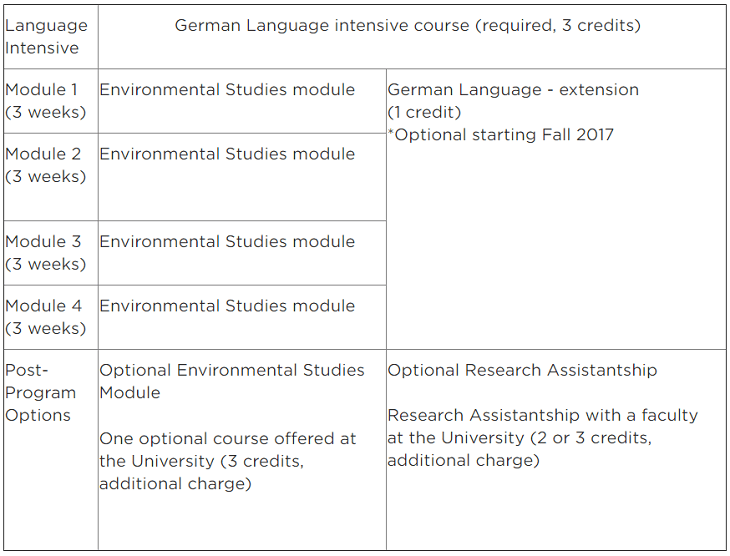 German Language Course
The program begins with an orientation and a required three-week intensive German course at the University for 3 credits. You continue your German study for three hours per week during the regular university semester to earn an additional 1 credit of German.
Four consecutive Environmental Studies courses
The Environmental Studies courses are "modules," where you take one course at a time for three weeks. Courses are taught in English, and most courses are taught by IES Abroad. A limited number of modules may be offered in the Master's degree program in the Department of Forestry and Ecology Management at the Albert-Ludwigs- Universität Freiburg. Modules at the University are taught at a first-year graduate-level but are appropriate for undergraduate IES Abroad students. Tutorial support is available. Students from the same department at Albert-Ludwigs-Universität may enroll in IES Abroad-taught Environmental Studies courses.
Please note that many of the ESS modules utilize Freiburg as a classroom and offer out-of-classroom excursions; these experiential learning opportunities may require additional physical demands. Course syllabi provide more detail on the experiential learning opportunities. Additionally, once on-site, the IES Abroad Freiburg academic advising team can provide more detail as to the physical requirements and expectations of these excursions as you finalize your course selections. For further clarification on course-related physical demands or requests for accommodation, please reach out to your IES Abroad Advisor.
Program Extension Options
Optional Post Program Module
After your program ends, you can spend three weeks furthering your academic experience in Freiburg by participating in an additional 3-credit module in the Department of Forestry and Ecology Management at the University of Freiburg. A separate cost applies and placements are limited. Information about specific post-program modules is available after you arrive in Freiburg.
Research Assistantships
You can apply for a research assistantship to work with a University faculty member on a research topic in the field of Environmental Studies. Assistantships are three to six weeks long and take place after the end of the term. All placements are supervised and offered as academic options earning IES Abroad credit. Students participating in the research assistantship cannot participate in the additional optional module. An additional cost applies. Research topic areas and placements may be limited.
Securing an assistantship is a competitive process and placements are not guaranteed. Placements depend on availability, on a student's background and skills, and on the quality of a student's CV/résumé. Language requirements may apply. Final placements are determined by an on-site interview.
Examples of assistantships in various departments at the University of Freiburg include:
Department of Forest Biometry: Focusing on a Forest Resources Inventory, this placement introduces students to forest inventory methods, including the measurement of trees and forest stands. Students may survey with optical and laser instruments; measure Black Forest stands, tree diameters, tree heights, and tree volume; and conduct an analysis of the inventory data.
Department of Vegetation Science: Students may participate in the current work of various projects such as an overview of the current work in vegetation science, including aims, methods and expected results; development of questionnaires, consultation with Ph.D. students on data analysis and English language, and writing of short reports and literature summaries on selected topics in vegetation science; and participation in excursions in and around Freiburg.
Institute of Forest Growth: Students may choose a topic of research related to environmental effects on tree growth, including dendroecology, production ecology, and forest management. Students' tasks may include fieldwork such as the collection of material and field data, and laboratory work such as the measurement of tree-ring parameters, cross-dating, and statistical data analysis.
Institute of Silviculture: Students may participate in year-ring analysis and near-infrared reflectance spectroscopy (NIRS) with the overall aim to find out if thinning can help to increase drought tolerance of crop trees in stands of Norway spruce (Picea abies). Or students may participate in a year-ring analysis of stem discs of spruce trees from a stem density trial in Southern Germany, including cross-dating and identifying drought events of existing year-ring scans using special software for dendroecological analysis. Additionally, students may collect NIRS of wood samples, including both preparation and analysis of wood samples from spruce stem discs.
Institute of Forest Zoology: Students may study the use of nitrogen in insect nutrition in a study that measures the digestive efficiency of herbivorous lepidopteran larvae.
Partner Institution(s)
Albert-Ludwigs-Universität
One of the oldest and most respected universities, the Albert-Ludwigs-Universität Freiburg consistently ranks as one of the top institutions of higher education in the country.
German Language Courses
The university does not provide syllabi for their German language program. They teach Beginning, Intermediate, and Advanced language courses according to the Common European Framework of Reference for Language (CEFR).
Field Trips & Events
In addition to your course-related trips, you also have the opportunity to participate in an optional recreational field trip. You share the cost of this field trip with IES Abroad. In past terms, the destination was:
Vosges Mountains
2 Days | Fall & Spring
Travel to France and explore the Vosges Mountains. Hike up and down haut Vosges, enjoy fantastic views of the Rhine River valley, try out the real pain au chocolate with a café au lait. You'll stay overnight in an alpine hut, and dine on delicious Alsatian food with wine from the region. This field trip is optional and requires an additional cost.
Course-Related Trips
Even though your adventure starts in Freiburg, our course-related trips take you to other great destinations in Germany and beyond to further your learning. Course-related trips are included in the program fee. During these trips, you will gather data and participate in academic research. Destinations may include:
Black Forest
3-5 Days | Fall & Spring
Study the flora and fauna on a series of day trips through this famous forest, located just outside of Freiburg. The length of the trip varies with course enrollment.
Swiss Alps
3 Days | Fall & Spring
Hike through the Swiss Alps as you study forest management, forest education, climate, and regional climate, and their impact on vegetation.
Rhine River Valley
1 Day | Fall & Spring
Explore the ecology of this fertile river valley, learn about waterway management, and explore the floodplains of the Rhine River. You'll also walk across the Rhine into bordering France.
Daily Life
Part of making you feel at home in Freiburg is doing our best to help you feel safe and cared for. Whether it's the orientation program that prepares you for what's ahead, your housing that is well-located and comfortable, or the field trips that take you to places off the beaten path—we're all about our student services.
Orientation
The program begins with a mandatory orientation that introduces you to the IES Abroad staff, your fellow students, the Albert-Ludwigs-Universität Freiburg, and the city of Freiburg. During the orientation, you also take the German language for three credits. You have the option to continue your German course throughout the term for one additional credit.
Our Comprehensive Orientation & Re-Entry Experience (CORE™) begins right when you arrive and continues through the semester with activities focusing on academic and cultural adjustment. Detailed information about housing, public transportation, culture, health and safety, and other important topics are also covered.
Housing
We want to make sure that your greatest challenge is deciding which landmarks to see first or discovering the best café—not finding a place to live where you feel comfortable. We do our best to locate housing that is reflective of how the local students are living. Our goal is that when you leave Freiburg, it will feel like home.
Shared University Apartment - You live in a single or double room in a co-ed suite with a shared kitchen and bath. Suites are shared with German and international students and have Internet access.
Single Studio Apartment - You will have your own studio apartment with a single bath and pantry kitchen. The Internet is also provided. The complex houses other German and international students. Spots are limited and may include additional fees.
Students usually prepare meals in their housing or dine in Freiburg's affordable student cafeterias. Meals are not included in the program fee.
Extracurricular Activities & Cultural Events
Redefine the way you live and learn in Freiburg through our cultural events, such as:
Tour of the Soccer Stadium. with its impressive photovoltaic roof
Tour of the Green District of Vauban
Visit the Ökostation - a center for heightening environmental awareness
University Events and Cultural Activities
A number of events and activities are available to you at the Albert-Ludwigs- Universität Freiburg, such as sports teams, social clubs, and partially-subsidized trips to destinations in Germany, France, and Switzerland.
Language Partners
IES Abroad staff in Freiburg can assist you in finding the German language "tandem" partner, with whom you can practice German. Having a language partner in Freiburg also gives you unique insight into local student life.
Cost
Consider these prices as a starting point. We encourage you to contact your study abroad office to determine the actual cost to you when factoring in financial aid, scholarships, your home school policies, and other factors.
Spring 2020
| | | | | |
| --- | --- | --- | --- | --- |
| Term | Tuition | Housing | Insurance | Total |
| Spring 2020 | $15,950 | $3,810 | $230 | $19,990 |
Academic year
| | | | | |
| --- | --- | --- | --- | --- |
| Term | Tuition | Housing | Insurance | Total |
| Academic year | $28,135 | $7,460 | $550 | $36,145 |
Scholarships & Aid
Program-Specific Scholarships
Adelyn Dougherty Leander Need-Based Urban Issues Scholarship
Up to $3,000; awarded to 4-6 students each year.
Open to students who have an interest in urban studies (a major in urban studies is not required).
Black Forest Environmental Studies Scholarship for Liberal Arts Students
Up to $5,000 each; awarded to as many as 10 students each year.
The Black Forest Environmental Studies Scholarship is awarded to students studying on the Freiburg Environmental Studies & Sustainability program who are interested in Environmental Studies and are majoring in the liberal arts fields of economics, urban studies, international business/affairs/relations, humanities, public policy, political science, philosophy, or geography.
Our Center
Located in the heart of Freiburg, the IES Abroad Center is within easy walking distance of Albert-Ludwigs-Universität Freiburg, the Freiburg Theater, and the main shopping district.
Features include:
Classrooms
Student lounge
High-speed Internet and printer access
A small library of books and DVDs
Photocopier/Scanner
Last updated May 2020
About the School
Everything we do is about the IES Abroad student. Our profoundly passionate team of study abroad professionals believes in creating once-in-a-lifetime educational adventures that transcend expectation ... Read More
Everything we do is about the IES Abroad student. Our profoundly passionate team of study abroad professionals believes in creating once-in-a-lifetime educational adventures that transcend expectations. Our goal is to rock the world of some 6,000 study abroad students every year.
Read less
Chicago ,
Amsterdam ,
Arles ,
Auckland ,
Barcelona ,
Beijing ,
Berlin ,
Buenos Aires ,
Cape Town ,
Christchurch ,
Dublin ,
Freiburg ,
Granada ,
London ,
Madrid ,
Milan ,
Nagoya ,
Nantes ,
New York ,
Nice ,
Paris ,
Oxford ,
Quito ,
Rabat ,
Rome ,
Salamanca ,
Santiago ,
Shanghai ,
Siena ,
Sydney ,
Tokyo ,
Puerto Ayora ,
Vienna ,
Hong Kong ,
Puerto Baquerizo Moreno ,
Cambridge
+ 35 More
Less