Program Description
Fashion Photography
Classes will be taught both Italian and English
Fashion photography is definitely one of the most exciting and fascinating areas of the fashion world. Fashion photography requires knowledge of certain processes, not only technical but also creative and commercial. Without these processes it would be impossible to compete with other professional and aspiring photographers.

Fashion photography is without a doubt one of the most important presentational tools. Uptodate Fashion Academy offers an updated version in style and form. Its evening course proposes an enriched syllabus for passionate fashion photographers - a passion which when associated with specific techniques will produce talented professional fashion photographers.

Through fieldwork and hands-on simulation activities in the form of shoots and digital work, you
will be able to apply successfully a wide range of technical photographic skills.
Course Program:

- The camera
- The optic bank
- The correct exposition
- The film and its digital support
- The quality of lights and filters
- Support, static lights and electricity
- Fundamental techniques for external photo shoots
- Image analysis created and edited
- Focus on the evolution of photography throughout the years
- Selection of photography, assistants, stylist, make- up artist and hair stylist, selection of the model
- International photography agencies and photographers
- Creating your own personal portfolio


Fashion Photography is a one month course
Attendance:
Monday, Wednesday and Friday
09:30 - 12:30
Tuesday and Thursday
09:30 - 12:30 and 14:00 - 17:00
144 hours
(102 h. classroom and project work)



Available date:
07/01/2013
We can provide you all the necessary documents to get student visa.


We can offer our help to find accommodation


Fundamental prerequisite to attend the course is to have already turned 18 years old


Last updated Dec 2017
About the School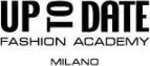 Uptodate Fashion Academy - besides being the first international Academy to offer qualified, innovating and formative paths of undisputed value, it is a place where Fashion & Beauty find their per ... Read More
Uptodate Fashion Academy - besides being the first international Academy to offer qualified, innovating and formative paths of undisputed value, it is a place where Fashion & Beauty find their perfect fusion, guaranteeing qualification and updating on trends and aiming at the complete customer satisfaction. Uptodate is a veritable case of Italian excellence. Uptodate Fashion Academy is the leader in the world of fashion and beauty studies. Founded on a newconcept incorporating creativity, professionalism, and trend research. Uptodate Fashion Academy is the heart of MIlan, the fashion capital of the world, established in 2001 with a mission of providing the highest level of trend knowledge and training to guide the emerging professionals into the world of Fashion and Beauty. Method and Vision The trend-setter - in fashion, beauty, design and style - is confronted with the "prevailing" currents, but sets his own goal which becomes attractive for the trend already following these currents. Certificates ISO 9001/2000 Quality Certificate
Read less