Program Description
Fashion Make-up Specialist
Classes will be taught both Italian and English
The Fashion Make-up specialist course is a natural evolution of a profession and of an art that expresses aesthetic values aimed at completing a fashion concept.

The course is comprehensive and complete; it consists of three parts; fundamental, advanced and Trend make-up.
This program is highly specialized for students to learn the technique of immediate impact.

The objectives of the course are to provide the tools and to enhance the skills necessary for the preparation of the actual trend of make-up and the construction of a portfolio for own presentation to agencies and editorials.
Course Program
- Fashion Fundamental Make-up
- Advanced Fashion Make-up
- Fashion Make-up Trend Portfolio


Fashion Make-up Specialist is a three months course.
Attendance:
Monday, Wednesday and Friday
09:30 - 12:30
Tuesday and Thursday
09:30 - 12:30 and 14:00 - 17:00
324 hours
(228 h. classroom and project work)


Available dates:
02/04/2012
01/10/2012
07/01/2013
We can provide you all the necessary documents to get student visa.

We can offer our help to find accommodation

Fundamental prerequisite to attend the course is to have already turned 18 years old


Last updated Jan 2018
About the School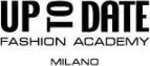 Uptodate Fashion Academy - besides being the first international Academy to offer qualified, innovating and formative paths of undisputed value, it is a place where Fashion & Beauty find their per ... Read More
Uptodate Fashion Academy - besides being the first international Academy to offer qualified, innovating and formative paths of undisputed value, it is a place where Fashion & Beauty find their perfect fusion, guaranteeing qualification and updating on trends and aiming at the complete customer satisfaction. Uptodate is a veritable case of Italian excellence. Uptodate Fashion Academy is the leader in the world of fashion and beauty studies. Founded on a newconcept incorporating creativity, professionalism, and trend research. Uptodate Fashion Academy is the heart of MIlan, the fashion capital of the world, established in 2001 with a mission of providing the highest level of trend knowledge and training to guide the emerging professionals into the world of Fashion and Beauty. Method and Vision The trend-setter - in fashion, beauty, design and style - is confronted with the "prevailing" currents, but sets his own goal which becomes attractive for the trend already following these currents. Certificates ISO 9001/2000 Quality Certificate
Read less