Program Description
Our 2-and-half-year full-time inspiring program in English introduces students into different fields of fashion, design and various area of art including: fashion design, jewelry design, fabric design, fashion illustration, sewing and pattern making, sales techniques, visual identification, painting, composition, conceptual design, history of art, fashion photography, computer programmes.
The graduates receive the diploma with title: Fashion Designer.

The number of places is limited. There are no entrance exams. The order of applications determines the admission.
The school is approved by the Polish Ministry of Culture and is listed in the Ministry's Art School Directory.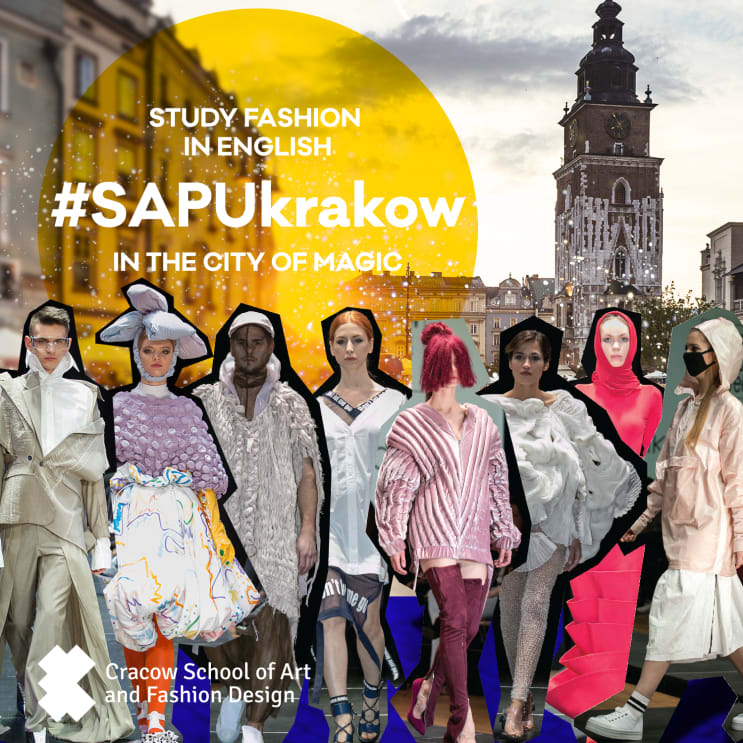 The program ends up with a diploma collection of 8 silhouettes. Cracow School of Art and Fashion Design is organizing a prestigious diploma show – Cracow Fashion Awards, which opens Cracow Fashion Week and attracts major media representatives and fashion celebrities from Poland and Europe.
In Cracow School of Art and Fashion Design students are in the heart of a vibrant, alive community. They are surrounded by people who love what they do, who have ideas and talent, plans and passion. Our school is for self-motivated fashion enthusiasts, informed and mature enough to commit to a course that is demanding in both its breadth and depth. Students receive an intensive education with individual attention. The school, in a single location, allows students to interact freely and often, encouraging an exchange of ideas and debate. The informal, lively atmosphere creates a community of working artists.
The school is located in a pleasant and historic part of the city, an area characterized by its 19'th-century buildings. Its location is both central (less than one mile from the Wawel Castle) and convenient – a two-minute walk from public transport.

The school has two modern buildings.
Teachers
Our staff, all specialists in different areas of art and design, provide a program of study that enables a student to release his full potential. After over 30 years of experience, the Cracow School of Art and Fashion Design has achieved a high standard and an excellent reputation. We have been able to place many students in Polish fashion companies, ranging from cutting-edge boutiques to the largest industrial enterprises listed on the Polish Stock Exchange. Some students have also found employment with international companies operating in a diverse range of countries. We invite also international experts in various fields of fashion and art: Carol Morgan, Martin Pegler, Landiana Yolo, Mark Fast, Margareth Larmuth, Maria Cristina Rigano and more.
Graduates' career prospects
Our graduates work in all areas of fashion and within a wide variety of fashion companies, both manufacturers and retailers. Job descriptions include design entrepreneurs, freelance designers and consultants, pattern cutters, fashion journalists, stylists, photographers, illustrators, personal shoppers, merchandisers, and public relations representatives. Some graduates set up their own business selling their unique skills and works. During five semesters of study at SAPU, you can prepare an outstanding portfolio of artwork, paintings, design, and photos which will open many doors and career opportunities.
Language requirements
Classes will be held in English and command of the English language on an intermediate level is required. Polish classes are held for the first year of education.
For our perspective students who decide to study Polish in Krakow, we are opening a one-month language course in September.
Duration
Full time: 2,5 year (5 semesters)
Weekly attendance 25-27 hours per week.
Fees
Education fees for European Union Citizens and citizens of Belarus, Bulgaria, Croatia, Czech Republic, Estonia, Georgia, Kazakhstan, Lithuania, Latvia, Moldova, Slovakia, Ukraine, Hungary, Russia
Education at our school entitles you to a Polish visa.
Education fees in the school year 2020/2021:
Students are liable for bank charges and must instruct your bank accordingly.
Registration fee: 150 Euro

Education fees: 780 Euro per Semester
Fees must be paid by transfer in Euro. Payment before the 15th of September and 15th of February.
Education fees for non-EU Citizens
Education fees in the school year 2020/2021
Students are liable for bank charges and must instruct your bank accordingly.
Registration fee: 250 Euro

Education fees: 1500 Euro per Semester
Fees must be paid by transfer in Euro. Payment before the 15'th of September and 15'th of February.
Last updated Feb 2020
About the School

Cracow School of Art and Fashion Design was established 30 years ago in Krakow, a cultural capital of Poland. The School offers tuition in English in the following fields
Cracow School of Art and Fashion Design was established 30 years ago in Krakow, a cultural capital of Poland. The School offers tuition in English in the following fields
Read less