Program Description
Entrepreneurship Summer School
3 August 2019 – 13 August 2019
Slovenia - Piran and Ljubljana
11Days, 2 Cities, Business Experts / Lecturers, Company Visits
Application deadline: 31st of May 2019
What is it?
A 11-day programme.
A unique, intensive and extremely fun course providing you knowledge, skills, and techniques needed in the business world.
The occasion to work on real-case studies and solve real business challenges with very successful entrepreneurs.
Opportunity to visit and learn from profitable companies.
Modern teaching methods combined with daily trips, enriching social activities and creation of a great international networking.
Learning entrepreneurship through fun and exciting activities will make you a true FUNtrepreneur, a new form of modern entrepreneurship.
Earn 8 ECTS points
Apply and find out more on our website: https://www.funtrepreneurship.eu
Why?
Learn how to do business. We will give you the SHOW-HOW, not only the KNOW-HOW.
Increase self-confidence and social skills. You will experience a real entrepreneurship lifestyle.
Travel around Slovenia and discover amazing landscapes. You will have a lot of fun during this unique summer experience.
For whom?
Are you young*, full of life, enterprising, eager to experience an entrepreneurial challenge and want to put your knowledge into practice?
Then this programme is made for YOU! not have knowledge background in the entrepreneurial or business field?
You do not have knowledge background in the entrepreneurial or business field?
Do not worry; we are here to teach you!
*preferred age group from 18 to 26 years old.
Programme
30 hours of workshops
business experts/lecturers
successful entrepreneurs
company visits
one-day business challenge
2-weekend trips
Visit of Lake Bled
Visit of the most visited cave in Europe
Location
Why Slovenia? The only country with LOVE in its name
An unexpected revelation.
Wild and beautiful.
Elegant and sophisticated.
source: Lonely Planet
Coddle yourself in green: What better way to spend summer as in a fresh, sunny, green and lively area? This small European country became a popular travel destination especially attractive for young enthusiasts. Slovenia is a country full of surprises and the perfect place for outdoor activities. Come and experience real summer fairy tale!
Piran: the most beautiful town on the Slovenian coast
Ljubljana: the hidden jewel in the heart of Europe
14 € - Average price of a meal in a restaurant
2 € - Average price of a local beer
1.10 € - Price of a coffee
Prices and application
Price: 1.350€
Included in the study fee:
Tuition and study materials, access to library and computer rooms, internet connection, opening and closing ceremony, organized trips for the purpose of case studies and company visits, accommodation, breakfasts, lunches and dinners during the week.
Extra:
Personal expenses, additional entry fees (optional: Postojna cave, visit the salt pans), meals during the weekends.
Stand out from the crowd and get a scholarship!
Scholarships are available: convince us you are the best candidate for this amazing programme.
Save 200€! Do not miss it!

Price with scholarship: 1150€.
Apply and find out more on our website: https://www.funtrepreneurship.eu
Testimonials
Students' testimonials:
Jari Eeckhout, Belgium
"In the first week, we learned how to do business through creative workshops – It was great! In the second week, we were challenged with real business cases in successful companies. I felt that the group was in a particularly creative and resourceful mood at all times, resulting in magnificent ideas that may otherwise never have been unearthed. The afternoons and weekends were reserved to visit some of Slovenia's landmarks.
Now, 2 years later, I still look back to that period as having been a significant course changer of who I am and what I do today."
Partners' testimonials:
Uroš Rošer – Assistant General Manager, MIK Celje
"With organizing a Bootcamp, GEA College ensured an interesting experience for students – participants, as well as for us as a company. We spent a creative day together when students solved practical challenges on the theoretical basis. In my opinion, case study learning is the most successful form of study because it forces students directly to think about concrete situations and relates theory to actual situations while raising the level of general knowledge and enabling to overcome the obstacles of public appearances. "
Uroš Rosa – CEO, Akrapovič"
"We were positively surprised by the solutions the students came up within such a short time. The challenge of entering the South American market that we presented to the students was far from easy, and it triggered a real discussion on the hurdles the company is tackling in expanding its sales network on other continents."
Marko Lotrič – General Manager, Lotrič Metrology
"We are always pleased when we are invited to participate in the project like this. In each project, we were impressed by the results, and again, we were thrilled by the excellent proposals to our case study.
The best mentors and the best students gave us new, innovative ideas about how to manage human resources."
Learning outcomes
Entrepreneurship
Understand the skills of successful entrepreneurs in the 21st century
Understand the process of building a successful small business
Realize why many start-ups fail
Understand growth strategies in companies
Innovation and innovative business models
Understanding the key concepts of innovation
Learn how to use creative and innovative potential
Use prom solving and idea generating tools – techniques
Learn inventive and innovative thinking on business models
Understand the importance of teamwork
Validation of ideas
Learn and use the concept in process of generated idea validation
Business communication
Understand the importance of clear, concise, complete presentation to the potential investors
Know the presentations techniques
Learn and practice elevator pitch
Sales and marketing
Identify and also define the value proposition, unique selling, and emotional proposition
Learn and understand process from idea to opportunity
Learn to develop idea for the testing and entering the market
Know how to prepare sales and marketing plan
Economics
Get the basic grasp an introductory understanding of economics of the firm
Understand the basic ratios of efficiency and success of firm's operations
Finances
Understand differences and similarities in raising capital
Understand who venture capital or business angels are
Identify the potential mistakes in the idea validation from the standpoint of a potential investor
Last updated Jan 2019
About the School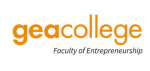 GEA College has been a synonym for business education with focus on entrepreneurship and management since its establishment in 1990. Our study programmes are designed to pursue global trends, internat ... Read More
GEA College has been a synonym for business education with focus on entrepreneurship and management since its establishment in 1990. Our study programmes are designed to pursue global trends, international standards in the field of education and training, and mostly the demand for knowledge and skills, which employees and entrepreneurs manage on market and the increasing complexity of business process.
Read less