Program Description
Create experiences that people will fall in love with. Get inspiration for your current projects and advice on how to build a design team of your dreams. Find out the secrets of what makes products successful and what mistakes companies made when they were building new services. During a whole week, you'll immerse yourself into London's tech and creative industry exploring the hottest trends and latest inventions. You will have a chance to meet the teams behind the most ground-breaking products and learn how they approach design and UX strategy, work with clients and improve their services. This programme consists of keynote presentations, case studies. Fire-side chats, roundtable discussions and mini-workshops all conducted at the actual company offices – that gives an even better perspective on how they work and collaborate. Some people call our format a 'design safari', some say it's a VIP behind-the-scenes experience or a research trip. This is a very fresh way to learn and explore the industry. And the best part is – you will spend this week as a part of a small group of 25 like-minded entrepreneurs, UX designers and product managers from around the globe.
During the week you will experience:
WORKSHOPS & OFFICE VISITS
We will immerse you into the London tech and creative industry, by connecting you with the most influential people in the industry and taking you to the offices of leading UK companies. Each speaker will share their own insights and will be able to answer any questions you might have. By having only 25 participants on this programme, we make sure that each of you will get the most out of this experience.
VISITS TO SECRET LONDON SPOTS
You'll be able to see the best view of London from the top of a skyscraper; you'll get to visit the most exciting exhibitions of the year, and you'll discover where London's creative community spends their free time. We'll have a pint at the oldest pubs in London — 200, 300, 400 and even 500-year-old. In addition, you'll get recommendations to guide your own explorations, with tips on the best places to eat, drink and relax in the capital of Great Britain.
FINAL PARTY
At the end of this intensive week, we are hosting a party for all participants, with lecturers, special guests and people from the industry. After presenting certificates to each participant, we'll have some drinks and a party. It's a great opportunity for everyone to get useful contacts, be introduced and just enjoy the company of inspiring and successful people.
Programme structure:
Morning guest: the first activity of the day includes an informal talk to activate the brain and body to receive the creative stimuli of the day. You will interact with other participants, share your ideas, experiences and expectation for the day and meet local professionals to get to know more about the backstage of the innovation industry.
Morning session: it is the first session of the day, it will take the form of a lecture, fire-side chat or a workshop in one of London's top companies.
Lunch break: between the morning and afternoon sessions we will have a short break when you will have an opportunity to have lunch and enjoy the surroundings of the day programme locations.
Afternoon session: it is the second session of the day, where you will have a chance to visit another top London agency and listen to their team revealing tools and methodologies they use in everyday work.
Debrief and the city: after a long day of absorbing new ways of working, innovating and creative thinking we will debrief the content of the day to better organise them in our minds. This activity will be short and engaging and it will take place straight after the afternoon session in locations that we can then visit as cultural and social activities such as museums, galleries, event spaces or bars.
Who attends this programme?
Creative directors and heads of design departments
Digital product designers, UX and visual designers
Design managers and team leads
UX researchers and analysts
Service designers and product owners
You will learn:
Best practices in conducting research, prototyping, testing, and product launch
The role of DesignOps in the organisation
How human centred design can help your projects
How do the world's best design team and companies work: processes, workspaces and culture
Latest methodologies and tools for digital product design
Product design trends for web, mobile, wearables, and IOT
How to sustain a Design System
How to grow and manage design teams successfully
Best practices in creating a UX strategy for a multi-product company
Course curator
Yury Vetrov, Design Director at Mail.ru Group
Yury heads design team at Mail.Ru Group, one of two largest Russian internet companies that develop 20 multi-platform products. Before becoming a big deal at Mail.ru Group, Yury had his own UX consultancy. He also runs a blog on UX Strategy in Russian, curates one of the most popular UX communities, writes for Smashing Magazine and UXMatters, organises Moscow Dribbble Meetup and teaches at British Higher School of Art & Design.
Schedule
10-14 August, 10am-6pm
We will also have a party/networking event on Friday from 6 pm till 9 pm.
Some of the delegates prefer to stay for the weekend after the official programme finishes and we've selected some exciting exhibitions and places for you to visit in your own time. If you have other commitments and need to travel back home on Saturday morning, that's ok as well.
Cost
GBP 2,200
Price includes:
all talks, office visits, discussions and workshops
exhibition entries and planned cultural activities during the programme
party/networking event at the end of the week
certificates
Price doesn't include banks transfer fees, food, travel, visa, accommodation or any other extra expenses.
Accommodation
We recommend staying in the Shoreditch area, as most of the sessions will be held there. It's the most creative part of London, so there will be a lot to see as well. Nearest tube stations is Old Street.
We partnered with 3 great hotels to give you the best deals, please use the links below:
M by Montcalm (Select: London Shoreditch Tech City or Royal London House)
Ace Hotel (Enter code for discount: FUTURELNDN)
Premier Inn (Select London City Old Street)
How to apply
To apply for the course, please complete the form at the bottom of the page and we will contact you with the information about the payment and the next steps.
Places on the course are limited to a maximum of 25 people.
Last updated Oct 2019
About the School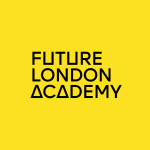 Future London Academy (FLA) is an educational organisation formed in 2013. Our courses cater for professionals across a variety of industries; they consist of talks, lectures and workshops conducted b ... Read More
Future London Academy (FLA) is an educational organisation formed in 2013. Our courses cater for professionals across a variety of industries; they consist of talks, lectures and workshops conducted by industry experts. Our programmes are designed to immerse participants in the creative, commercial and cultural life of London.
Read less