Program Description
FAA Part 141 Flight Training
The FAA Private Pilot Certificate course is the entry course for all pilots, whether you be continuing on to an airline career or wishing to remain as a recreational pilot this is the first course we all undertake. During your training you will learn the basic skills involved in maneuvering an aircraft, navigation techniques as well as basic instrument flying skills for flight in day visual meteorological conditions. Training is normally conducted in a single engine aircraft.
35 hours flight instruction (20 hours with an instructor)
20 hours ground school
FAA Part 141 – Career Pilot Courses
The following courses have been packaged together for the person who wants to come to Naples Air Center and 7 months later leave ready for a Pilot Career.
Our FAA Part 141 Career Pilot Courses give you the best preparation to jump start your Career as a Commercial Pilot.
FAA Part 141 – Commercial Pilot & Instrument Rating
You're probably wondering when am I going to get paid to fly instead of paying for all that flight time? It's time to get serious, it's time to get your commercial pilots license. Once obtained it allows you to fly aircraft for hire. With just a basic commercial license you can do things such as banner towing, pipeline patrol, and aerial surveying to build your flight time.
Naples Air Center (NAC) is the premier Flight School in Florida offering professional and private/ recreational flight training under EASA (formerly JAA) and FAA licensing authorities. From April 2012, European Aviation Safety Agency (EASA) Pilot Training is the newly implemented standard replacing JAA for any pilot aiming to fly in Europe. NAC offers Approved EASA Pilot Training in the USA by EASA licensed and approved highly experienced Flight and Ground Instructors. In addition, NAC also offers FAA training under FAR Part 141 training and FAR Part 61 training programmes. Whether you are fulfilling your dream to become a pilot professionally or privately, we will assist you in achieving your goal.
Naples is located in southwest Florida on the Gulf of Mexico and is well known for its excellent year-round flying conditions.
The tropical weather enables pilots to build hours and gain qualifications in a fraction of the time required in other US states, much of Europe and other fair-weather countries.
The small town of Naples is one of Florida's best kept secrets- sophisticated yet unspoiled. With seven miles of white sandy beaches, 45 golf courses, 140 miles of waterways, you will quickly appreciate all that Naples has to offer.
There's sightseeing, shopping, restaurants, leisure facilities, an abundance of outdoor sports and activities and some of the finest beaches in the world – all within a short distance of Naples Air Center.
Aircraft
NAC owns 24 of the 27 aircraft that are used for Flight Training. There is nothing more important than owning our aircraft as we are interested in their maintenance. Owning our aircraft also offers students the confidence in the economic position of the Company. NAC offers training in various aircraft from original "6 pack" to "glass" and LOFT (Line orientated Flight Training). This training is imperative as it opens your employment prospects on all aircraft.
Our fleet of aircraft have an excellent track record in safety and reliability. Their design combines stability and agility, which are the optimum requirements in the training world.
Service Centers
NAC is allocated by some of the big names in aircraft manufacturing as area maintenance representatives to complete their warranty work on new planes. Our maintenance is of the highest standards allowing us to hold the representations on behalf of Piper and Cirrus for more than 10 years, just to name a few. NAC knows safety is the cornerstone of all operations and these Companies recognize that. Our maintenance facility has been an approved FAR §145 repair station for more than three decades; this holds our facility to higher standards than normal service stations. This means that we are inspected more to guarantee this higher level of certification; our Maintenance crew maintains this standard with ease through their expertise.
Successful Graduates
Our graduates speak for themselves as they successfully reach their goal of working for an Airline. We can put you in touch with already successful candidates to get real life experience.
Results
You're only as good as the pilots we train so we measure ourselves by your success. And with a 96% first first-time pass rate, our graduates are among some of the highest achievers in the industry. Our figures speak for themselves
Class Sizes
It is the many small differences in how we do things that add up to a big difference in our results. One of these features is our belief in training smaller groups, this enables us to offer a much more personalised and beneficial approach for each individual. Also, NAC utilises a synchronous training approach. In other words, when you are learning the theory at the initial stage, you will also be developing your flying skills in tandem. We firmly believe this approach helps our students understand the theory as they are practicing what they are learning.
Our People
NAC provides world class training and instruction to all of its students.
We are dedicated to setting the best values and practices that airlines value most in professional pilots. NAC employs permanent full-time instructors who include both lifelong professional instructors, as well as retired commercial and corporate jet pilots.
We are proud to offer a brand new Redbird FMX certified simulator,!
New Technologically advanced EASA ATPL Theory Learning
We use the next generation of mobile learning and is the first ever app to offer a complete and fully approved EASA ATPL course which integrates into your digital flight bag.
Last updated Dec 2017
About the School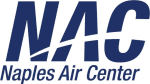 Naples Air Center is the premier Flight School in Florida offering professional and private/ recreational flight training under (formerly JAA) and FAA licensing authorities.
Naples Air Center is the premier Flight School in Florida offering professional and private/ recreational flight training under (formerly JAA) and FAA licensing authorities.
Read less