Program Description
DCT's comprehensive European Culinary Management program was the first international program to be accredited by the American Culinary Federation (ACF). DCT's educational leadership is recognized by the World Association of Chefs Societies (WACS) which designates DCT as an Extraordinary Member, and again most recently by the ACF which awarded DCT its Exemplary Program status – making DCT one of only 22 programs worldwide and the only program outside the US to be recognized in this manner for its consistently high standards and level of excellence.
European Culinary Arts program modules

Foundation in European Cuisine (FEC) will introduce you to European cooking methods, kitchen equipment, machinery and utensils, as well as recipe costing and kitchen procedures. You will learn to use European ingredients; develop your preparation techniques and knife skills; learn to prepare the basic stocks, soups, sauces and bakery & pastry products; and gain an understanding of kitchen terminology. FEC or appropriate prior experience is a prerequisite for EGC.
European Gourmet Cuisine (EGC) will build on to your fundamental understanding of Swiss and European culinary principles and terminology. You will explore European national and regional cuisines, from the traditional to the modern, by preparing a wide range of recipes including typical appetizers, fish, vegetarian and main course dishes. You will learn basic front-of-house skills and the importance of good customer relations. Restaurant projects will provide you with the opportunity to apply your knowledge and also develop your leadership and teamwork.
European Pastry & Chocolate (EPC) will teach you all aspects of the modern pastry kitchen, from traditional Swiss and European cakes, tortes, rolls, breads, cookies and biscuits, through to today's modern recipes and trends in plated desserts. You will learn the best techniques for creating a wide variety of attractive and trendy warm, cold and frozen desserts for both plated and buffet presentation; plus truffles, pralines and chocolates; and artistic sugar and chocolate show pieces.
Introductory Management Studies (IMS) is a part of the Associate's Degree program in which you will enroll in courses focusing on management competencies, such as Computers, Food & Beverage Management, Ethics, and Human Resource Management.
Last updated Jan 2018
About the School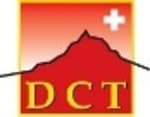 DCT University Center offers you a choice of accredited hospitality management and culinary programs, including advanced diplomas, professional certifications, MBA or post-graduate diploma, and a top- ... Read More
DCT University Center offers you a choice of accredited hospitality management and culinary programs, including advanced diplomas, professional certifications, MBA or post-graduate diploma, and a top-ranked U.S. Bachelor's Degree delivered in Switzerland. All programs at DCT are accelerated to meet the expectations of students wanting to complete an internationally recognized, quality education in less time and at less total cost than traditional university systems. General Program Information DCT offers a unique portfolio of modular programs that blend up-to-date and innovative concepts with time-tested methods and traditional techniques. These programs are taught by a highly qualified faculty using today's most advanced and innovative principles in hotel management education. All programs balance operational and theoretical studies to provide both technical skills and managerial competencies.A qualification earned from DCT demonstrates your successful completion of a high-quality academic program. It further signifies the level of your professional competency and will serve as your passport to a rewarding career in the hospitality or tourism industries.Respected international academic organizations recognize the educational value of our programs and certify their excellence through recognition or accreditation.AccreditationsDCT is accredited by the New England Association of Schools and Colleges (NEASC), earned designation as an "Exemplary Program" by the American Culinary Federation (ACF), and is a member of the Swiss Hotel Schools Association (ASEH). www.dct.edu
Read less