Program Description
About Our Program
INTERLINK Language Centers at the University of North Carolina at Greensboro (UNCG) has been helping students achieve their personal and professional goals since 1997. Located in Greensboro, North Carolina, INTERLINK offers intensive English instruction, academic preparation, and cross-cultural orientation for students, scholars, and professionals on a year-round basis. The program prepares students for challenging careers, and provides the tools and skills needed to achieve success in the 21st century. Upon graduation, many students go on to study in academic programs at UNCG or other area universities. INTERLINK helps with university placement and conditional admission to assure a successful and memorable educational experience in the United States. INTERLINK's curriculum is rigorous. Its six levels, offered in 9-week sessions, involve in- and out-of-class assignments in listening, speaking, reading, writing, and projects which require active student participation. Students enjoy full access to university facilities, including opportunities to meet students and professors, audit or take classes for credit. Program field trips enable students to learn first hand about the state and local community. Of particular benefit to students is the representation of many cultures in the program. In a diverse environment, students learn more about the world, and in the process, about themselves. Academically qualified students enjoy the convenience of receiving conditional admission before starting their language program at INTERLINK. At INTERLINK, we strive to assure a memorable and transformative educational experience for international students. If you are looking for an English as a Second Language program, especially if you plan to study at an American university, we hope you will consider attending INTERLINK at UNCG.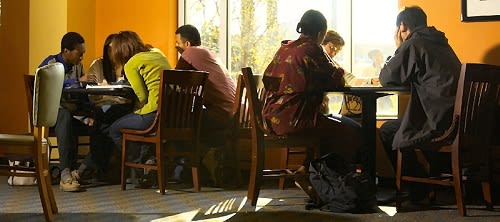 How to Apply
To apply, you need all of the following:
A completed application form
An official copy of your high-school or university grades (highest level completed)
An official bank statement–from you or your sponsor or guardian–showing at least $6,400 U.S. dollars available for your first 9-week session at INTERLINK. (If the document is not in your name, your sponsor or guardian will need to complete an affidavit stating that they agree to cover the full costs of your study at INTERLINK. Please send this form with your other application materials.
A $100.00 non-refundable application fee. If your package will be mailed to an address outside the U.S., please also include the non-refundable $65 express-mail fee.
A copy of your passport (identity page) and passports for your dependents (if applicable)
Before applying to INTERLINK, carefully read the Admission Policy Statement.
1. Fill out the application If you wish to submit your application on the Internet, click here for the On-Line Application. If you prefer, you can download and print the student application here (PDF version or Word version), fill it out with a pen, and send it by fax of post. On the application form, write your name exactly as it appears on your passport. If possible, send or fax a copy of your passport. Apply as early as possible to assure your visa is obtained on time.
2. Complete the Campus Safety Form There is a Campus Safety Form which every student is required to fill out, sign and submit by fax or post.
3. Payment Options Payments can be made using a credit card at https://interlink.edu/online-payment/ or by submitting a credit card authorization form.
Your application will not be processed until the application fee and (non-refundable) express mail fee, if applicable, are received.
4. What happens next? After we receive all your application materials, we will inform you if you have been accepted into the program. Accepted applicants will receive documents and detailed instructions about obtaining a student visa (See also the information in the FAQ section). If you have questions or need assistance during the application process, contact us. Information about things to bring, medical insurance, payments, etc. can be found here. For additional information for international students planning to study in the United States, visit the U.S. Immigration and Customs Enforcement website and click on Department of State visas for information about student visas (F-1).
5. Conditional admission to UNCG Academically qualified students planning to study at INTERLINK may be admitted conditionally to UNCG. Some universities require that students submit application forms, official transcripts from previous study, documentation on finances, and perhaps letters of recommendation while others only need to review official transcripts to decide on conditional admissibility of students. In all cases, one of the conditions will be to achieve a certain TOEFL score or complete the INTERLINK program successfully. Assistance in applying to universities is available free of charge to all INTERLINK students. To apply for an undergraduate or graduate degree program at UNCG at the same time that you apply to INTERLINK, go to http://nc.interlink.edu/about/the-university/ for more information.
6. Affidavit There is an affidavit that your sponsor or guardian financial statement needs to complete. If there is a name other than yours on your financial support statement, we must receive this form before we can review your application. If your financial support statement is in your name, you do not need to complete this form.
DATES
Cost & Fees
Application Fee $100
Tuition $3,000
UNCG Facility Fee $677
Health Insurance $393 (9 weeks)
Total $4,170
On-campus room/meal plan $2,387
The total does not include a $100 refundable security deposit; books (approximately $100/term); personal expenses; transportation; or expenses for dependents (about $500/month each). Please contact the center if you have any questions. The UNCG Facility Fee and Medical Insurance usually increase each year between Summer and Fall. Students may enroll for shorter periods (4 weeks minimum) but must begin at the start of the term. Tuition is $325/week. Refund policy: All students requesting a refund will receive a full-tuition refund during the week of registration. No tuition will be refunded for four-week terms after registration week. During the second week, 50% of all tuition paid for the term is refunded. After the second week, no tuition refunds will be made for the term. Refunds for students who must withdraw because of illness or emergency will be considered on a case-by-case basis. Board refunds will be prorated as per standard UNCG policy. No refund will be given for room, university fees, or insurance.
| | |
| --- | --- |
| Term | Date |
| Summer, 2017 | May 30 - July 28 |
| Fall I, 2017 | August 14 - October 13 |
| Fall II, 2017 | October 16 - December 15 |
Last updated Sep 2018
About the School

The American Consortium of Universities (ACU) facilitates international student admission to graduate and undergraduate programs at its member institutions, which offer a wide range of excellent acade ... Read More
The American Consortium of Universities (ACU) facilitates international student admission to graduate and undergraduate programs at its member institutions, which offer a wide range of excellent academic programs and services. Assistance to students in achieving fluency in English and adjusting to the new academic and cultural environment is provided by the INTERLINK centers on each campus.
Read less
Louisville ,
Terre Haute ,
Greensboro ,
Davenport ,
Valparaiso ,
North Terre Haute ,
Seattle ,
Bozeman
+ 7 More
Less