EASA COMMERCIAL PILOT FROM 0 TO ATPL
Program Description
Today, more than ever, the airline industry needs highly trained and skilled professionals for the growing industry to safely fly over 5 bn. passengers annually to their destinations. Being a Commercial Pilot comes also with a lot of responsibility, complex decision making and the ability to understand and cope with abnormal situations. This program is designed for students with little to no flying experience and that want to pursue a career in aviation according to EASA regulations. Flying Academy is highly specialized in offering training from ab-initio to "frozen" ATPL(A). The trainees of the program will start with PPL(A) and, upon obtaining the necessary flight experience, will continue with IR(A), CPL(A) modules or MEP (multi-engine aircraft) flight programs. After successful completion of the zero to ATPL(A) course, you will be issued an EASA CPL(A) license with ATPL(A) theory completed and will be authorized to act as Pilot-In-Command (PIC) of an aircraft in an airline. The ATPL(A) license is the highest level of aircraft pilot certification.
Course entry requirements
Minimum age of 18 years (16 years to enroll PPL training program)
First class medical certificate (Second class medical certificate untill finishing MEP)
No previous flight experience needed
Sufficient level of knowledge of Mathematics and Physics
English language knowledge - FTO oral and written test
Privileges
The privileges of the holder of an ATPL(A) are to act as pilot-in-command (Captain) or co-pilot (First Officer) in airplanes engaged in commercial air transportation exercise all the privileges of the holder of a PPL(A), a CPL(A) and IR(A).
Learning objectives
Ground Training – during the zero to ATPL course, the trainee will complete theoretical courses for PPL(A), IR(A), MEP(A) and ATPL 650(A) Flight training – the flight training will start with the PPL(A) followed by Night Rating, continues with IR(A) and MEP(A), and finalizes with the CPL(A).
Ground Training
The applicant has to go through ground training covering:
Air law and ATC procedures
Airframes & systems, electrics, power plant, emergency equipment
Instrumentation
Mass and balance
Performance
Flight planning & monitoring
Human performance & limitations
Meteorology
General navigation
Radio navigation
Operational procedures
Principles of flight
Communications
Flight Training
At the end of the training, the trainee must have a minimum of 200 total flight hours (including PPL(A) time):
100 hours as pilot-in-command
20 hours (minimum) of VFR cross-country flight time as pilot-in-command, including a cross-country flight totaling at least 540 km (300 NM) in the course of with full-stop landings at two aerodromes different from the aerodromes of departure
50 hours of instrument training
5 hours of night flying including one cross-country flight and 5 solo take-offs and 5 landings
11 hours on Multi Engine aircraft
5 hours on a complex airplane
Examination - Theoretical
For PPL(A) - The applicant has to demonstrate the theoretical knowledge at the CAA office in the form of written tests. Tests consist of nine subjects (Meteorology, Navigation, Communications, Aircraft General Knowledge, Principles of flight, Air Law, Flight performance and planning, Human Performance and limitations, Operational procedures). For ATPL(A) - An applicant must demonstrate a level of knowledge appropriate to the privileges of the holder of ATPL(A) in accordance with EASA requirements in Part-FCL.
Examination – Practical
The practical skill exams in the airplane with the examiner can be taken after successful completion of the written tests [PPL(A) & ATPL(A)]. The applicant must demonstrate the ability to:
Operate the airplane within its limitations
Complete all maneuvers as smooth and as accurate as requested by EASA
Exercise good judgment and airmanship
Apply aeronautical knowledge
Maintain control of the airplane at all times.
Training fees are covering the following items and services:
All training manuals
Access to the Learning Management System and EASA question bank
Instructor time for ground school & practical training
Planes, including fuel
*All training fees are bound to the actual exchange rates of the local currency of the Flying Academy base where the training or a part of the training is provided.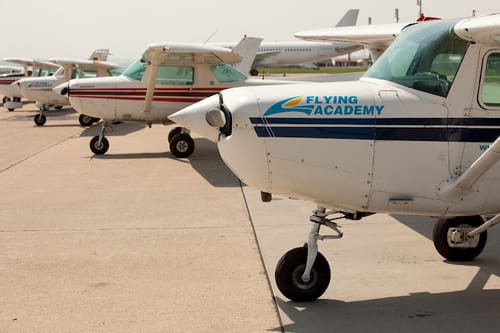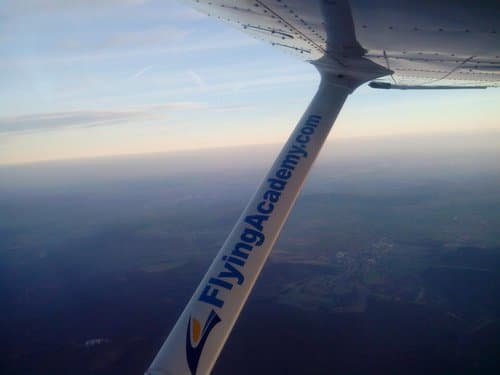 Last updated Feb 2018
About the School

Flying Academy is a flight school authorized by the FAA (Federal Aviation Administration) as well as the EASA (European Aviation Safety Agency). The academy's highest priority is to provide a safe fly ... Read More
Flying Academy is a flight school authorized by the FAA (Federal Aviation Administration) as well as the EASA (European Aviation Safety Agency). The academy's highest priority is to provide a safe flying environment to all its pilots. Whether at the base in Prague, Brno or Miami, Flying Academy puts its customers first, because highest customer satisfaction is one of the school's most important values. Constant innovation keeps us ahead of the competition not only by global presence but also in technology.
Read less