Read more about this program on the institution's website
Program Description
Earn U.S. Credits Virtually This Summer
Get ahead! Earn extra credit through a globally recognized U.S. education program this summer on our Virtual World DiscoverIES program.
Just picture it: one day you're exploring business ethics with a professor in London and the next it's Japanese pop culture from Tokyo, studying alongside classmates from the U.S.'s highest-ranked colleges and universities. This is what it's like to take a course or two (of your choosing!) from IES Abroad's most popular centers around the world this summer.
Learn more about how you can discover the world through IES Abroad.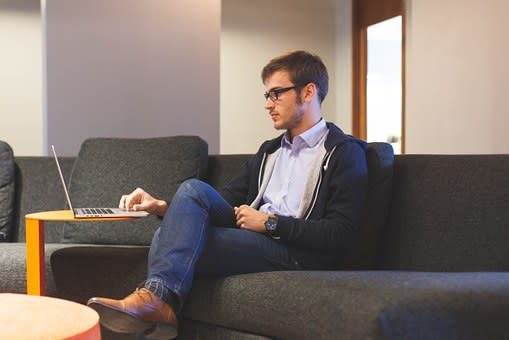 Why Dublin?
Dublin is a global leader in the arts and entrepreneurship. It's also a major media center with excellent opportunities in business, communications, social outreach, and more. With so much to offer, Dublin is the perfect place for a semester-long internship abroad. Build a global network of professional contacts while taking in everything this amazing city has to offer.
Your Internship
Our program guarantees an unpaid, for-credit, 12-week internship placement of up to 32 hours a week in the field of your choice. Develop your professional skills, your ability to communicate across cultures, and gain real work experience that will jump-start your career in today's competitive job market. Before you go, we work with you to find the ideal internship placement that fulfills your career goals. We've placed students in a wide variety of organizations and businesses. If we don't currently work with a business or organization in your field of interest, we will search for a placement that's right for you.
Daily Life
We want you to feel at home in Dublin, so we do everything we can to help you integrate into life in the city. From your work placement to networking events and housing to cultural activities, our job is to make sure you have the best internship experience possible. Depending on your work schedule, you may be able to join IES Abroad-organized cultural events and field trips to experience Irish culture and learn more about your host country and its people. On the weekends, enjoy life in Dublin—spend an afternoon exploring the city's world-class museums and libraries, theaters, and music venues, or getting to know your new Irish and international friends at a local pub. Your time interning in Dublin will not only allow you to grow your professional and social circles and increase your workplace knowledge but also expand your horizons culturally and globally.
Academics
Before you go, we work with you to fine-tune your résumé, perfect your cover letter, and hone your communication and interview skills as we prepare you for working in a new cultural environment. You'll be guaranteed a placement at a local business or organization that fits your professional interests.
Academic Seminar
While working in Dublin, you'll also enroll in a required 3-credit internship seminar with other IES interns, where you'll gain context for your internship placement by examining cultural issues in and outside the workplace. Topics covered include:
Understanding workplace culture
Improving communication
Strengthening work attitude and aptitude
Navigating issues, challenges, and opportunities so you can succeed on the job in Dublin and when you return home
Personalized Placements
Your internship coordinator will work with you to find a placement in the field of your choice. We've placed past interns at companies and organizations in the following fields:
Arts & Culture
Business
Communications
Education Administration
Entrepreneurship
Event Management
Film
Hospitality
Human Resources
Law
Marketing
Media
Non-Profit
Politics
Public Relations
Psychology
Social Entrepreneurship
Social Outreach
Technology
Theater
Don't see your field listed here? Just talk to your IES Internships Representatives—new internships are always being added!
Courses
This is a list of planned course offerings. A final list of course offerings will be made available to you in your MyIESabroad account.
Leading Across Cultures: Internship Seminar
Field Trips & Events
Even though your adventure starts in Dublin, our field trips take you beyond the city to discover the culture and traditions of your host country. You share a portion of the cost with IES Abroad. Here are a few possible destinations.
Northern Ireland
3 days | Fall and Spring
Take a guided tour of Belfast, visit the Giant's Causeway (a UNESCO World Heritage Site) and explore the countryside on a Game of Thrones experience tour.
Causey Farm
1 Day | Fall and Spring
Visit an open farm where you will have the chance to try Irish dancing, bake traditional Irish bread, learn to play an Irish drum called the bodhrán, and jump in a bog.
Celtic Origins of Halloween
1 Day | Fall only
Join a guided tour of historic sites around County Meath where the festival of Samhain (more commonly known today as Halloween) originated more than 2,000 years ago.
Daily Life
Part of making you feel at home in Dublin is doing our best to help you feel safe and cared for. Whether it is an orientation program that makes you feel prepared, housing that is well located and comfortable, or the field trips that take you to places off the beaten path—we're all about our student services. This is just one of the things we're known for.
Orientation
The program begins with an orientation that introduces you to the IES Abroad Dublin staff, your fellow students, and the city of Dublin.
Our Comprehensive Orientation & Re-Entry Experience (CORE™) begins right when you arrive and continues through the semester with activities focusing on academic and cultural adjustment. Detailed information about housing, public transportation, culture, health and safety, and other important topics are also covered.
You also take guided tours around the Center and areas of interest in Dublin as part of your orientation.
Housing
We want to make sure that your greatest challenge is deciding which landmarks to see first or discovering the best café—not finding a place to live where you feel comfortable. We do our best to locate housing that is reflective of how the local students are living. Our goal is that when you leave Dublin, it will feel like home.
Private Student Residence - You live in a private student residence with your own bedroom and bathroom within a four or five-bedroom apartment. Live with other IES Abroad students and share a fully-equipped kitchen and living area. Mixed-gender and single-gender apartments are available. The private student residence is completely furnished and has WiFi along with other amenities. No meals are included.
Extracurricular Activities & Cultural Events
Take advantage of the cultural events we organize in Dublin, such as the following:
Experience Gaelic Games
Traditional Irish Cultural Activity
Cost
Consider these prices as a starting point. We encourage you to contact your study abroad office to determine the actual cost to you when factoring in financial aid, scholarships, your home school policies, and other factors.
Term: Spring 2020
| | | | | |
| --- | --- | --- | --- | --- |
| Term | Tuition | Housing | Insurance | Total |
| Spring 2020 | $4,245 | $4,280 | $230 | $8,755 |
Our Center
The IES Abroad Dublin Center occupies a red-brick Victorian building that was originally a post office and has been completely renovated. The Center is walking distance from St. Stephen's Green and Trinity College.
Features include:
High-speed Internet, printer, photocopier, and scanner access
A student lounge with study desks
4 laptops and 2 desktops
Classrooms
A small library and travel planning area
Last updated May 2020
About the School
Everything we do is about the IES Abroad student. Our profoundly passionate team of study abroad professionals believes in creating once-in-a-lifetime educational adventures that transcend expectation ... Read More
Everything we do is about the IES Abroad student. Our profoundly passionate team of study abroad professionals believes in creating once-in-a-lifetime educational adventures that transcend expectations. Our goal is to rock the world of some 6,000 study abroad students every year.
Read less
Chicago ,
Amsterdam ,
Arles ,
Auckland ,
Barcelona ,
Beijing ,
Berlin ,
Buenos Aires ,
Cape Town ,
Christchurch ,
Dublin ,
Freiburg ,
Granada ,
London ,
Madrid ,
Milan ,
Nagoya ,
Nantes ,
New York ,
Nice ,
Paris ,
Oxford ,
Quito ,
Rabat ,
Rome ,
Salamanca ,
Santiago ,
Shanghai ,
Siena ,
Sydney ,
Tokyo ,
Puerto Ayora ,
Vienna ,
Hong Kong ,
Puerto Baquerizo Moreno ,
Cambridge
+ 35 More
Less