Diploma of Early Childhood Education and Care
Home ›
Diploma ›
Diploma of Early Childhood Education and Care
Program Description
About
This qualification reflects the role of early childhood educators who are responsible for designing and implementing curriculum in early childhood education and care services. In doing so they work to implement an approved learning framework within the requirements of the Education and Care Services National Regulations and the National Quality Standard.
Licensing/Regulatory Information
Work functions in the occupational areas where this qualification may be used are subject to regulatory requirements. Refer to the relevant regulator for specific guidance on requirements.
Course accreditation
This course is nationally recognised under the Australian Qualifications Framework (AQF).
Entry requirements
There are no formal pre-requisites in the training package for course entry, however, ACSE sets a number of its own entry requirements:
LLN – Clients must demonstrate Language, Literacy and Numeracy skills in line with AQF qualification level demands and ACSF skill level. Each client will undergo an LLN assessment during the application process.
Learning (ACSF Level 4), reading (ACSF Level 3), writing (ACSF Level 3), oral communication (ACSF Level 3) and numeracy (ACSF Level 3) are desirable to participate in the course. ACSE administers an LLN test based on the desirable ACSF levels.
Clients must have access to a regulated education and care service facility that provides early education and care services to school-aged and pre-school children. The candidate must be able to fulfil the work placement requirements of the course in a regulated education and care service facility. Work placement requirements will be discussed with all clients' pre-enrolment. ACSE will assist where possible with work placement through its network of Little Oz Kids providers and other partner facilities, but can not guarantee students placement. We encourage students to find a facility which suits them geographically and ACSE will assist to broker the position with you.
All students will be required to have completed the unit HLTAID004 Provide an emergency first aid response in an education and care setting and have a current Working with Children Check (WWCC) https://www.kidsguardian.nsw.gov.au/child-safe-organisations/working-with-children-check .
Due to the course study requirements and individual employer workplace policy, clients must be able to satisfy the above LLN requirements prior to gaining entry to the course and the First Aid and WWCC prior to work placement.
Resource required
You will need access to a computer and the internet to complete this course, as there is a requirement to conduct research and complete formative assessment activities away from the class environment.
Once enrolled, you will be emailed your login details to the learning management system. You can then access your course materials in electronic format and download to a flash drive or USB, or access them during class time through the student portal.
The following is a complete list of items we recommend you need, to complete your study programme:
Broadband Internet Connection (home). Connectivity in class will be provided by ACSE.
Personal laptop or tablet to bring to class (highly recommended)
Microsoft Office 2010 or later (MS Word at a minimum)
Adobe Reader or equivalent
You will also need access to a phone, printer, photocopier and scanner
Adobe Flash Player 10 or higher
Camera (Optional)
Skype or Google Hangouts (Optional)
You will not be required to purchase any further reading material or textbooks. However, if you are new to the industry and dedicated to learning about your new career pathway, we recommend the Karen Kearns range of childcare textbooks. These include Birth to Big School, The Big Picture, The Business of Childcare and Frameworks for Learning and Development.
Most of these textbooks can be purchased from
Course duration
Classroom Face to Face: This is the primary delivery mode for the qualification. All instruction and delivery will take place in a simulated classroom environment and be trainer led. The face to face classroom time will be combined with the mandatory work placement commitment. A complete training schedule will be provided on enrolment, which will give you a week by week training guide and assessment timelines.
Online learning – Self Paced: Your training programme is delivered via online self-paced learning. Candidates are guided through the programme with the assistance of step by step learning materials, and online support from an ACSE trainer/assessor. You will have regular submission dates for assessment, which will be clearly defined in the Schedule of Training provided at enrolment. You will need to provide strong evidence you have completed 240 hours of work placement in an approved care setting which meets Australian Standards. This will be a combination of signed workplace logbooks, pictures, video and live streaming with the assessor.
Recognition of Prior Learning (RPL): A formal online process for recognising existing skills and knowledge both formal and informal and work experience. RPL takes into account previous studies you may have completed, as well as life and work skills. You may be granted credits or exemptions for some units in this course based on the evidence you can provide.
Course materials
You will be provided access to learning materials including:
Learners Guides
Assessment Workbooks
Case Studies
Simulated Work Environment
Other resources including videos and reference material
Assessments
Additional assessment resources
Assessment
To successfully complete the course, you will be required to submit a range of formative and summative assessment items at pre-determined intervals where possible. These include:
Underpinning Knowledge reading and written responses
Case study reading and written responses
Journal and Ledger entry workbooks
Practical projects
Demonstration or observation (via video submission or digital media, mainly for RPL applicants)
Presentation (via video submission as an alternative assessment mechanism)
Assessment is used to provide candidates with feedback on their progress and to measure their skills and knowledge against the training qualification requirements.
Assessment timelines will be provided on enrolment as part of your enrolment information package.
Training award
Candidates successfully completing all units of the programme, will receive a Diploma for the nationally recognised qualification, CHC50113 Diploma of Early Childhood Education and Care.
Candidates who partially complete the course will receive a Statement of Attainment toward CHC50113 Diploma of Early Childhood Education and Care, only for the units of competency that they have completed.
Career pathways
Typically, graduates with CHC50113 Diploma of Early Childhood Education and Care will be able to apply for the following roles:
Lead Educator in Childcare Centre
Family Day Care Educator
Care Educator (Out Of School Hours – OOSH)
Support worker child with needs
Childcare Supervisor
Room Leader
Manager
Director
Last updated Jan 2019
About the School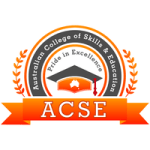 Vocational education plays a critical role in creating a strong economy by equipping people with skills they need to succeed. Through our RTO ( Registered Training Organization). ACSE provides work-re ... Read More
Vocational education plays a critical role in creating a strong economy by equipping people with skills they need to succeed. Through our RTO ( Registered Training Organization). ACSE provides work-ready courses and qualification that help build Australia economy and help graduates reach their potential by equipping them with the skills and can do attitude employers are looking for. ACSE nurtures people to reach their potential and create positive change in individuals, which leads to a better society in which to live and work.
Read less