Program Description
The curriculum is designed to expose students to a varied yet interrelated study program to give each student the skills to enter the industry either as a jewellery designer, manufacturing jeweller, and self employed studio jeweller or to go onto further study.
Entry Criteria
We welcome students who are committed to making careers as jewellers. Maturity and life experience are considered an asset. Applicants are requested to attend an interview and bring with them examples of their art or craft work. Students who successfully complete the Certificate in Jewellery are accepted into year 2 of the Diploma in Jewellery.
Programme Overview
Technical & Practical Skills – Aimed at giving students practical skills in a range of techniques and materials used in jewellery making. It is based in the jewellery workshop where students will acquire skills enabling them to produce work showing high levels of technical expertise.
Jewellery Design Skills – Students will be able to explore their creative processes in a range of techniques and materials through a series of practical projects resulting in original and contemporary jewellery. Students will combine design skills with techniques acquired during the technical and practical workshop skills classes.
Computer Aided Design/Drawing and rendering – This course will introduce the student to a variety of drawing and rendering techniques, both traditional and computer aided. The 2nd year programme will teach the student to render using digital techniques. In the 3rd year the emphasis will be on rendering as a design tool. CAD renderings are able to be printed electronically in 3D modelling material.
Art History – The history of art and craft including pacific craft, New Zealand/Maori craft, contemporary and ancient cultures. History is studied via slide and video lectures. The programme aims to inform the student's creative processes. Students will learn to research art and craft topics and participate in practical exercises.
Design (Diploma Year 1 and 2) – An introduction to theory of design elements, approaches to design and the development of ideas and the creative process. These will be explored in a variety of mediums and materials involving problem solving and technical drawing.
Jewellery Technology (Diploma Year 2) – To support the practical subjects, students will learn the theory of techniques, practises and materials used.
Professional Studies (Diploma Year 3) – Professional Studies covers a variety of skills required to manage a career in the arts. This unit covers areas including: legal contracts (e.g. with galleries and dealers), photographing work, portfolio preparation, exhibiting and promotion, tax laws, funding, bookkeeping and teaching skills.
Last updated February 2018
About the School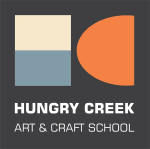 Hungry Creek offers you the opportunity to study and develop your creative abilities in a unique and stimulating environment.
Hungry Creek offers you the opportunity to study and develop your creative abilities in a unique and stimulating environment.
Read less