Program Description
Looking to get started in the creative industries but not sure where to begin? That's where our diploma comes in. During the year, you will get a taste of graphic and interactive design, motion graphics, and 3D modelling. Every journey has to start somewhere, and if you're not sure which degree suits you, then this is a great way to discover which creative path you want to venture down.
Careers & Industry
This course will give you a taste of what it will be like working in the fields of creative and digital technologies. You'll be working in a studio-like environment and will become accustomed to deadlines, managing and collaborating on projects, and presenting your ideas.
You might be aspiring to work in game art and development, post-production and visual effects for film, animation, graphic or motion design, or web and mobile design. This course will put you in a position where you can decide on a career path that most interests you, as well as bridge any knowledge gaps so you can then apply to any one of our degree programmes.
Build a strong foundation in creative technologies to prepare yourself for further study
Students develop skills working in a team to deadlines and refine presentation abilities
Graduates have a portfolio that showcases their work across a range of media
Course Outline
The Digital Creativity course is 36 weeks in total, and has been organised into 6 components:
Graphic Design (7 weeks)
3D Design (8 Weeks)
Web Design & Motion Graphics (7 Weeks)
Digital Video (5 Weeks)
Personal Project (4 Weeks)
Group Project (5 Weeks)
Entry Requirements
Age:
Domestic students must be at least 16 years of age.
Prerequisites
This course is open to anyone who can provide evidence to support their creative ambitions. There are several opportunities to do this when applying, as you'll need to provide:
A basic portfolio
Complete a Digital Creativity Task Sheet
Provide a letter of intent that shows that the applicant understands the time commitment of the course
International Students
International students must be at least 18 years of age and have an IELTS score of 5.5 or equivalent.
Study in Bangkok
Media Design School has partnered with Stamford International University to offer our Foundation Course in Digital Creativity in the heart of Bangkok, Thailand.
The Foundation Course in Digital Creativity is taught as either a bilingual (Thai and English) or an International programme, which is solely instructed in English. Students who complete this course receive both a Bachelor's degree from the Stamford International University and a certificate of completion from the Media Design School.
Last updated Feb 2018
About the School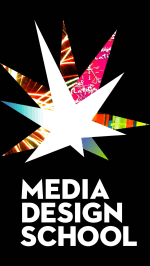 Media Design School is New Zealand's most-awarded tertiary institute for digital and creative technology qualifications
Media Design School is New Zealand's most-awarded tertiary institute for digital and creative technology qualifications
Read less