Program Description
One of New Zealand's most nationally and internationally awarded schools, the AdSchool works as a simulated creative department in which the accepted currency is ideas for print, film, apps, games, content and social media that people notice, love, play with and share. It's a combination of challenge, hard work and fun that has not only seen us ranked in the top five most creative advertising schools on the planet, it has also seen our grads working as art directors and copywriters all over the world.
Careers & Industry
The Creative Advertising programme prepares students to enter the creative departments of advertising agencies by arming them with the core skills of creative problem solving and how to talk about ideas to others in a concise and compelling manner; both of which are lifelong skills infinitely transferable across any number of disciplines, particularly those associated with commercial creativity.
Places are limited, so this sought after qualification is aimed at determined people who yearn to have a career doing something creative. They should be playful, curious people who often find themselves thinking about things in a different way. They might be confident about their abilities to have ideas, or slightly less so, but one thing they must have is a dogged obsession with generating lots of great ideas.
Whilst the majority of our AdSchool graduates have gone on to work as art directors and copywriters, AdSchool graduates may also work in:
Ad Agency creative department;
TV/radio stations, creative/promo departments, corporate in-house promotions/marketing department, Design consultancies/studios, Public Relations companies, and publishing;
Direct marketing/promotional companies;
Freelance practice (usually after a few years of establishment in the agency scene).
Course Outline
The diploma kicks off with an introduction to the foundation elements of visual communication and techniques for generating ideas.
Then a series of live briefs and competition will prepare you to work effectively and creatively to deadlines as you would in an agency- with senior creatives and industry guests providing insights along the way.
A show of work by the students will be presented at the end of the course. This takes the form of an Industry Show to which creative directors, senior creative and past graduates are personally invited to view your portfolio. We view the show as your first stepping stone into setting up work experience placements – with the best students usually scoring their own internships on the night.
Entry Requirements
Age
Minimum 18 years
Prerequisites
An ability to demonstrate a unique and insightful view of the world that will translate into the ability to make great ads. We consider people with backgrounds in art, design and/or writing, humanities and social sciences and are looking for proof of determination, problem solving, lateral thought, motivation, and most importantly, creativity.
International Students
International students must be at least 18 years of age and have an IELTS score of 6.0 or equivalent.
Portfolio Requirements
Complete a pre-interview and complete a Creative Advertising Task Sheet.
Study in Milan
Media Design School has partnered with fellow Laureate Design University, Naba Milan New Academy of Fine Arts (Naba Milano Nuova Accademia Di Belle Arti) in Milan, Italy, to offer our internationally acclaimed Creative Advertising programme. The Masters in Creative Advertising at Naba Milano takes place over one academic year, beginning in October, and is instructed solely in English, so that you can find out more about the latest and greatest a campaigns created by advertising agencies across Europe.
As well as the Academic Masters Degree from Naba Milano, you will also receive a certificate of completion from the Media Design School. For more information about studying a Master in Creative Advertising in Milan, Italy, visit the Naba Milano Website.
Last updated Dec 2017
About the School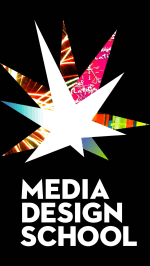 Media Design School is New Zealand's most-awarded tertiary institute for digital and creative technology qualifications
Media Design School is New Zealand's most-awarded tertiary institute for digital and creative technology qualifications
Read less