Diploma in Business Music Industry
Program Description
Program Overview
The music and entertainment industry is witnessing strong growth spells with the rise of music streaming services and music online downloads. Navigating in this tough and unyielding industry requires know-how and specific skills.
This program is the answer to musicians and music enthusiasts alike who wish to work in the professional music and entertainment industries. Building on the College's connection with the music industry, this program has music business practitioners actually teaching the core modules. The full time program is highly career-centric and prepares you for a rewarding music business career.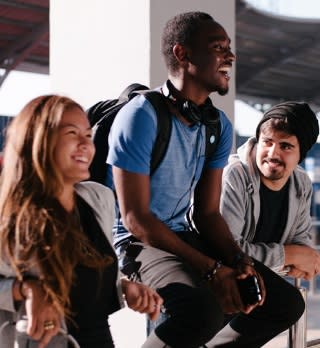 In the general business studies, you will learn the basic principles of marketing, financial accounting economics and management and apply the knowledge of these in practical coursework across the duration of the program. You will develop skills to use the 4Ps of marketing in developing, positioning and promoting your music product. Creating accurate cash flows and profit & loss statements are the backbone of ethical financial practices and you will develop these when showing return of investment for your projects.
You will also study statistics and data management, entrepreneurship and e-commerce to develop skills to output statistics, plan your own business enterprise and conduct an effective online online business model.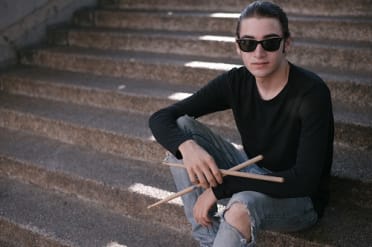 In the music business core, you will explore a range of music business practices and environments and visit record labels, music publishing houses, copyright law firms, event management companies and music retail outlets to experience the vibrancy of the entertainment industry as a whole. You will train under artist and event manager to develop management skills to lead and manage artists, album launches, concert tours and the like. You will study entertainment law that governs both the traditional and digital realms. From copyright protection and music publishing to digital rights management and royalty payment, you will investigate the various legal aspects applicable to protection and promotion of commercial works. You will evaluate contractual agreements and write a few in your coursework assessments.
You will engage in a semester-long work placement in your final semester to gain real world professional work experience in any one area of the music business. Also, you will develop a large portfolio of works to demonstrate your level of graduateness in this program. This portfolio of works may serve as your personal calling card to present to future employers.


In the liberal arts component you will develop English language skills through writing, comprehension and speaking, and will investigate academic writing norms to hone your skills towards writing term papers. You will survey popular music from the birth of the Blues to present day popular music, exploring the artists and compositions against the socio-cultural environment that contributed to the development of pop music across the decades. You will also take requisite courses such as Moral and Ethics, Malaysian Studies and engage in a semester-long community music service program. International students will take a basic Malay Language Communications course as part of your graduation requirement.
If you have prior knowledge of these courses you need to inform our admissions counselors at the point of your application to the program. All students will attend an entrance placement examination for English and music theory and those who score a minimum grade of B (83%) in these tests would be given credit exemptions from taking these courses at ICOM. In replacement of the exempted credits, you will be required to take elective courses such as Fundamentals of Audio Systems, Live Sound, Music Performance Lab, Acoustics for Musicians, Private Instruction and/or Electronics and Computer Systems.

Why Choose This Program
The 2-year diploma in music business is the only program available in Malaysia, specially tailored to produce human capital for the professional music industry.
You will have hands-on experience using the College's RM40 million state of the art facilities
You will learn from a team of qualified and experienced faculty
You will engage directly and frequently with music industry professionals in closed-door master classes, workshops, interviews and filed visits
You will have professional work experience while studying on the program and have opportunities to expand your network with industry professionals
The tuition fees are affordable compared to other music business programs outside Malaysia
You will be able to do a 1-year top up degree at the University of Hertfordshire upon completion of the diploma
You will be able to secure jobs in both private and government sectors
Entry Requirements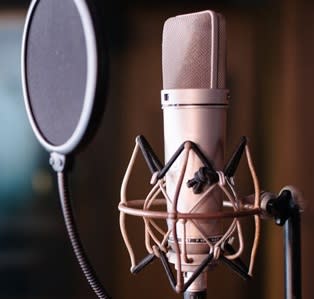 Minimum SPM certification (requisite pass in Bahasa Melayu and History) or other high school completion equivalent, with minimum 3 credits. Refer to the high school qualifications table to check if you have the minimum qualification to enroll in the program OR
<li>Minimum UEC certification (Senior Middle Level Exam), with minimum grade of B6 and above in 2 subjects</li> <li>For International Students who did not sit for English as their compulsory subject must obtain a TOEFL score of 550 or IELTS score of 6.0</li> <li>Pass the interview process</li> <li>*Malaysian students who do not have an SPM credit in Bahasa Malaysia will be automatically enrolled in LN014-Bahasa Kebangsaan A (3) at extra cost</li>
Year 1
AP010 – Introduction to Audio Production
FP101 – Fundamentals of Music Theory
GE001 – Preparatory English for College
HM010 – Survey of Pop Music
MB101 – Introduction to Music Business
MB111 – Principles of Economics
MB112 – Business Communications
MB200 – Principles of Marketing
MB201 – Principles of Financial Accounting
MB202 – Record Company Operations
MB203 – Legal Aspects of the Music Industry
MB212 – Music Publishing
MT106 – Computer Applications in Business
Year 2
GE013 – Academic Writing in English
LN115 – Malaysian Studies 2
LN116 – Malay Language Communications 1
LN311 – Morals and Ethics in Society
LN411 – Community Music Service
MB211 – Principles of Management
MB213 – Statistics and Data Management
MB214 – Project Management
MB 301 – Artist and Event Management
MB302 – Entrepreneurship
MB303 – E-Commerce
MB316 – Internship
MB318 – Graduation Portfolio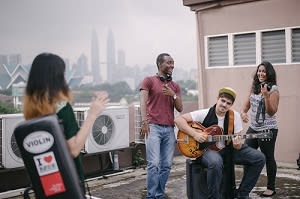 Teaching Methods
You will receive interactive lectures, seminars and tutorials, with much field visit. You will have opportunities to collaborate with professional musicians, producers and managers and to benefit from their master classes and workshops held at the College on a regular basis.
Last updated Oct 2018
About the School

The College's vision is to be THE music educational hub in Asia for music and entertainment industries. The College's primary mission is to discover and develop music talents.
The College's vision is to be THE music educational hub in Asia for music and entertainment industries. The College's primary mission is to discover and develop music talents.
Read less