Diploma in Business Management
Program Description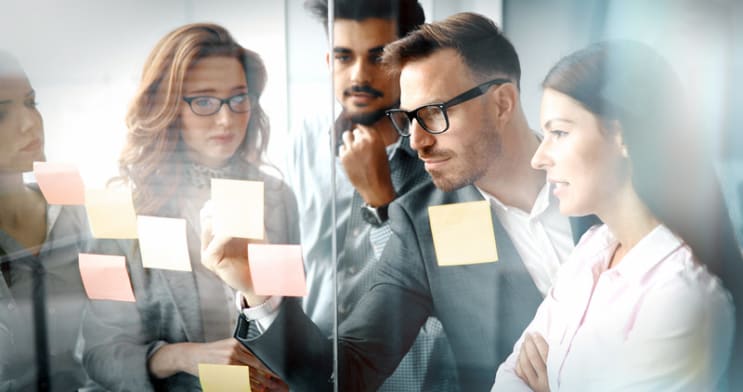 objective
Agilely integrates a complete vision of the most important elements for making decisions in an organization, based on technological tools that will guarantee success in your position.
Benefits of the program:
You will apply cutting-edge methodologies that will allow you to better address your collaborators by proposing measurable and challenging goals.
You will practice the best techniques for project management.
You will acquire knowledge and skills that will help you to develop your skills in the business intelligence topic.
You will learn to project a powerful executive image, you will use body language in your favor and you will know the fundamental elements of the social and executive protocol.
You will acquire tools for the impeccable management of service marketing for the benefit of your organization.
You will develop knowledge and skills to achieve a leadership focused on the person based on a coaching and empowerment that contributes to the development of the talent of its personnel.
You will understand the essence of the financial success of any organization that seeks profitability as one of its main objectives.
Addressed to:
High and managerial managers of the business and public sector, preferably with a bachelor's degree, although not limited, with a minimum year of experience in managerial or managerial positions and with personnel under their charge.
Content of the program
The Diploma in Business Management consists of seven modules , totaling 112 hours of study in total.
Module 1. Successful Models of Leadership and Coaching (16 hours)
Historical background of 2 successful institutions
Diagnosis of leadership style
Leadership models that remain despite the time
Relationship of leadership and coaching
Building the skills of a coach
Coaching methodology
Accompaniment and motivation towards effectiveness
Module 2. Corporate Strategic Formulation (16 hours)
Analysis of the global situation
Strategic thinking
Surrounding analysis
The strategic planning process
The Balanced Scorecard in the administration and strategy center
Initiatives aligned throughout the company
Control and monitoring actions
Module 3. Project Management (16 hours)
Introduction
Basic concepts of project management
Starting a project
Planning a project
Project control
Project closure
Module 4. Business Intelligence (16 hours)
Introduction and history of business intelligence.
Life Cycle of Business Intelligence.
Current providers (vendors) in business intelligence.
Success stories in business intelligence.
Case study on a computational tool
Module 5. Executive Image (16 hours)
Impact of the physical image in the business world
Executive image and dress codes
Smart cloakroom
Psychology of color as a tool of persuasion
Body language and verbal communication
Social and executive protocol
International protocol (USA, China, Japan)
Module 6. Marketing of Services (16 hours)
Characteristics of the services
Strategies designed to deal with each of the characteristics
The 3 types of marketing required for the service industry
The importance of identifying and evaluating moments of truth
Evaluation of the need to evaluate the processes and the quality of the service performed
The difference between transactional and relational marketing
Pure products, pure services and the importance of the combination
Services and its base in labor and equipment
The correct pyramid of the organization
The mix of expanded marketing for the Services Industry
Marketing focused on the strategy of the company
How to treat difficult customers
How to deal with the complaints of angry customers
Module 7. Strategic Finance (16 hours)
Global trends and vision of the future.
Understanding the finances of a company.
Investment projects and long-term financing
How to generate value in an organization
Last updated Dec 2019
About the School
El Tecnológico de Monterrey es una institución de carácter privado, sin fines de lucro, independiente y ajena a partidos políticos y religiosos. Fue fundado en 1943 gracias a la visión del empresario ... Read More
El Tecnológico de Monterrey es una institución de carácter privado, sin fines de lucro, independiente y ajena a partidos políticos y religiosos. Fue fundado en 1943 gracias a la visión del empresario mexicano Eugenio Garza Sada. Su labor es apoyada por asociaciones civiles integradas por destacados líderes de todo el país, comprometidos con la calidad de la educación superior y con el desarrollo de México.
Read less
Monterrey ,
Buenavista ,
Mexico City ,
Zapopan ,
Puebla City ,
Mexico City ,
Santiago de Querétaro ,
Mexico City ,
Tampico ,
San Luis Potosi ,
Ciudad Juarez ,
Leon ,
Saltillo ,
Cuernavaca ,
Toluca ,
Chihuahua ,
Aguascalientes ,
Culiacán ,
Hermosillo ,
Tijuana ,
Morelia ,
Torreón ,
Cancún ,
Heroica Veracruz ,
Ciudad Obregón ,
Pachuca ,
Reynosa ,
Irapuato ,
Mexicali ,
Mérida ,
Oaxaca ,
Villahermosa ,
Nogales ,
Campeche ,
Mexico City
+ 34 More
Less