Digital and Leadership Summer School in Barcelona
Home ›
Business ›
Digital and Leadership Summer School in Barcelona
Program Description
COVID-19 Response:

Do not postpone your study plans. Start an educational journey by enrolling in our Online campus and come to Barcelona or Madrid in Autumn or Winter. Blended learning is available for July and October Intakes.
Digital and Leadership Summer School in Barcelona
Join us this summer in Barcelona! GBSB Global's Summer School in Spain provides a great opportunity for students from all over the world to utilize their summer holidays to get a head start on their education and excel academically. For two consecutive weeks in July 2020, students will explore the topic of digital business and will have the occasion to experience what life feels like as an entrepreneur or a business leader in an innovative organization.
Key Facts
Duration – 2 weeks
Language – English
Topic – Digital and Leadership
Format – Mornings and Afternoons
Location – Barcelona, Madrid


What Will You Learn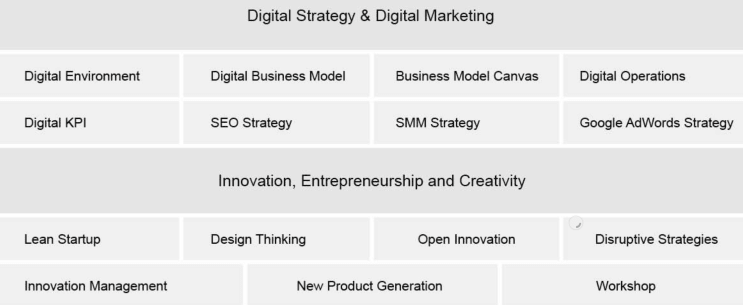 Summer School Highlights
Faculty with industry experience:
Learn from GBSB Global's exceptional faculty that are not only professors but business leaders themselves. During the summer school in Spain, learn about our faculty's real-life business and professional experience. Feel empowered by the wisdom they share about the state of current trends, understand where the markets are heading, and the advancements in technology as well as how technology affects business nowadays.
Company visits:
Summer school students will take part in several industrial visits. GBSB Global Business School organizes instructive outings to a variety of companies not only for students to gain hands-on knowledge in the field, but also to offer them important networking opportunities with professionals in digital business and innovation.
Learning by doing and innovative teaching methodologies:
GBSB Global Business School offers students a learning-by-doing environment where professors incorporate theoretical knowledge with practical exercises. Students will participate in various practical workshops, including Lego Serious Plays – an innovative teaching methodology to develop creativity.
Spanish classes:
For those only beginning to learn Spanish or those that want to brush up on their language skills, GBSB Global offers summer school students the chance to take Spanish classes on campus at level A1-A2.
Career consulting:
Sit down one-to-one with one of our professional career consultants who can advise students on their academic program and the next steps they need to take towards a successful career.
Excursions:
GBSB Global Business School organizes cultural visits and excursions during the summer school in Barcelona or Madrid.
Accommodation:
We will do our best to help you find the best place to live but remember that Barcelona and Madrid are very popular among the tourists in summer and places are limited.
For-credit courses:
After successful completion of the Summer School in Spain, Barcelona, and Madrid, students will receive a certificate and accumulate 4 ECTS credits which can be further transferred to other business schools or universities.
Why Participate In Digital and Leadership Summer School?
Digital technologies are changing every day and the importance of online marketing has changed our lives completely. Just think about it, how has social media and Google AdWords changed your life and buying behaviors? Learn how to manage digital business strategies and become a successful leader. Join GBSB Global's Summer School in Spain, Barcelona, and Madrid, and delve into a course titled Digital and Innovation in Focus.
Take a closer look at digital strategies and digital marketing. Students will learn about KPI's, SEO strategies, SMM and Google AdWords, innovation, entrepreneurship and creativity, the lean startup environment and how to manage it, Design Thinking and Innovations, examining open versus disruptive innovative strategies.
GBSB Global Business School In Barcelona
GBSB Global Business School's campuses in Spain are located in the center of the two vibrant, international cities: Barcelona and Madrid. Campuses are lodged in a contemporary, bespoke building that has been intellectually designed to encourage an efficient and comfortable learning environment that is technologically advanced. GBSB Global is proud to be recognized as the first Microsoft Showcase Business School in Spain dedicated to implementing a digital transformation to improve and bring innovation into the classroom. Students will enjoy these technologies that many other schools do not offer.
How to Apply
Fill Out the Application Form
Prove English Proficiency
Contract & Payment
Entry Requirements
Students must prove sufficient knowledge of the English language to be able to read and comprehend the material being taught.
Last updated Aug 2020
About the School
GBSB Global is an educational organization created to challenge new economic circumstances and changing times. The business school has been ranked #1 in Europe in the Guide to Sustainability Schools a ... Read More
GBSB Global is an educational organization created to challenge new economic circumstances and changing times. The business school has been ranked #1 in Europe in the Guide to Sustainability Schools and has been recognized as a Leader in Global Education by Newsweek Magazine in December 2012. GBSB Global has been the only graduate school in Spain invited to participate in the International Ethics Case Competition in California, along with such universities as Oxford, INSEAD, the University of California - Irvine, etc, where its students became finalists and won first place in the competition, thus achieving international recognition of the quality of education provided at GBSB Global.
Read less