Program Description
Delta College takes its name from the ancient Greek symbol for change because it provides an unconventional education that equips students with the knowledge and skills to be the agents of change in an ever-changing world.
GRADUATE IN 3 YEARS!
Interested in saving time and money?! Who wouldn't be? Joining Delta College could save you as much as $20,000! Delta College began in the 1970's as a time-shortened degree option and continues to maintain that identity for a variety of majors. A student with one of the following majors can graduate in as little as three years (or 99 credits instead of the traditional 120 credits) as long as they have completed the Delta requirements and their major requirements.
Anthropology
Art (studio)
Criminal Justice
Dance
English
French
Healthcare Studies
History
International Studies
Journalism & Broadcasting
Liberal Studies
Philosophy
Political Science
Psychology
Public Health (Liberal Arts)
Social Work
Sociology
Spanish
Theatre
Women & Gender Studies
The requirements for Brockport's other majors have become too extensive to fit into six semesters. However, some fit into 7 semesters, allowing students to graduate a semester early.
Experiential Learning
We believe in the power of the traditional classroom but we also believe there are some lessons best learned through experience. For this reason, we require our students to embrace adventure and engage the world around them.
Delta College students complete two short practicums and a Capstone experience. The way students complete these requirements is dependent on their major and future career goals. Some majors have experiential learning built into their curriculum. Students can count such credits towards the Delta requirements. Some examples of these are:s
Internships
Study Abroad
Research
Clinical
Student Teaching
Students can set up customized internships in their hometowns, across the country, or around the world. They can utilize established programs such as the Disney Internship Program, Brockport's Washington DC program, or any number of study abroad programs. They can do original research with campus professors. Our experiential learning courses are intentionally flexible because we know that students' needs differ depending on their future career goals.
Professional Preparation
It's no secret that today's job market has become increasingly competitive. The college diploma is no longer the distinguishing factor that it used to be. So how can you set yourself apart from the thousands of other college grads? Delta College answers this question in two ways; professional development courses and internships.
Professional Development Courses
The Delta curriculum includes three professional development courses that provide students with a competitive edge because they begin developing their professional skills early in their academic careers. These courses provide students with the tools needed to enter and thrive in today's job market. Some of the topics covered include:
writing résumés
writing cover letters
interviewing skills
oral presentations (speeches)
networking
negotiation skills
ethical dilemmas and more!
Last updated Mar 2019
About the School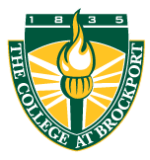 Brockport is a selective, nationally recognized and accredited public institution. We are the engaged SUNY campus and one of the most engaged college campuses in the country.
Brockport is a selective, nationally recognized and accredited public institution. We are the engaged SUNY campus and one of the most engaged college campuses in the country.
Read less