Data Analytics Bootcamp Course
Program Description
The course is offered online and on-site.
Become a data analyst in 9 weeks. Learn to load, clean, explore and extract valuable insights from a wide range of datasets as well as cultivate tools and languages such as Python, SQL and Tableau. Develop the statistical knowledge to conduct rigorous analyses, transform data into astonishing visualizations, and present your findings in thoughtful, focused and engaging presentations.
Who is Ironhack's Data Analytics Bootcamp for?
Recent graduates
Need to enrich your resume with hard-hitting projects? Trying to develop real-world skills that are valued in the data industry? Our bootcamp will help you secure your spot in the data industry.
Career changers
Has your career hit a bottleneck? Switch to the data world! Every single industry is beginning to incorporate — now is the moment for you to leverage your current expertise and evolve your career! Enter the data industry with this course, which has been specifically designed to teach you the necessary knowledge and skills.
Career boosters
Looking to break away from the pack? Read into the secret knowledge of analytics by developing cross-disciplinary expertise in data. With this course, not only can you propel your career forward, you can also take it in a new direction.
Entrepreneurs
Discover how data can give your company that extra edge against the competition in a world that's accelerating every minute. This course offers you a deep understanding of the current data tech and practices that'll be essential to growing your company.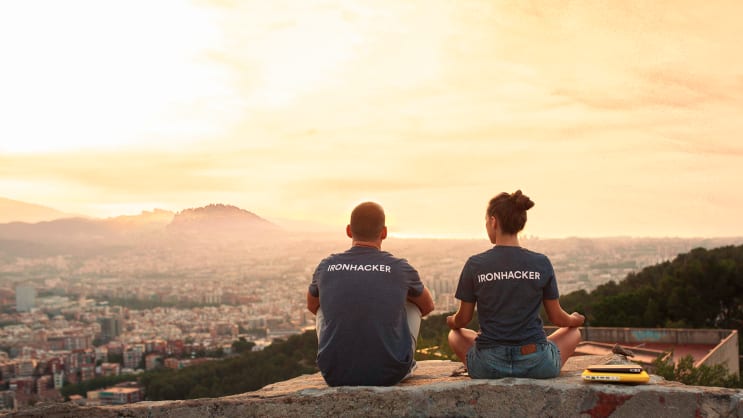 Data Analytics Course Syllabus & Structure
Prework
During your first 60 hours as an official Ironhack Data Analytics student you will be laying the foundation for success in . During the prework phase you will:
learn the fundamentals of command line, Git, Python, MySQL and statistical analysis
familiarize yourself with the basics of programming and statistics and
connect with your peers and expert academic staff by utilizing our Slack channel.
Once you've completed the prep materials and synced up with your class, you'll be ready to dive into the course!
Module 1: Introduction to and Python
The first two weeks will introduce you and your classmates to the world of data analytics. Then you will establish your development environment for the classroom as you settle into our tight-knit data community. Topics include:
Introductions to data wrangling/cleaning.
APIs and web scraping.
Intermediate levels of Git, SQL and Python.
Week three calls for your first project as an apprentice data analyst! Apply your new Python skills by conducting data analysis with real datasets.
Module 2: Advanced
In weeks four and five you'll take a deeper look into the mathematics behind data analytics. Topics include:
Utilizing Python to understand inferential statistics and probability.
Incorporating Python into the fundamentals of business intelligence.
Learning story-telling techniques in order to visualize your data and insights in presentations.
Week six will mark the start of your second project: a complete data analysis. This will be constructed from data that you will have processed, cleaned and visualized from real datasets!
Module 3: Get a handle on the fundamentals of machine learning
The final module will introduce you to the fundamentals of machine learning in weeks seven and eight. We'll start things off by teaching you to understand the machine workflow, and the lessons will only expand from there. Topics include:
Both supervised and unsupervised learning.
The essentials of popular machine learning algorithms.
Building, training and evaluating models with the Scikit-Learn machine learning library.
For the last week of this module and course, you will face your final and most challenging task: building an end-to-end machine learning project. You will need to process a dataset, extract features, train a model, and use that model to make predictions on new data. When your project is complete, you will compete alongside your fellow students in our Hackshow.
Career Services
Portfolio & Resume Building
Build a portfolio and resume with support and feedback from experts throughout the course.
Job Interview Preparation
You will face design challenges every week to assure you are prepared to face a real interview.
Networking & Alumni Events
Ironhack hosts some of the most important Meetups in each city. Dive into the community through workshops, events, and conferences hosted on campus.
Hiring Fair & Job Support
Companies trust our training and come to interview you after the course during our Hiring Fair. We'll give you tools and opportunities to land your dream job.
Financial options
Need payment assistance? Our financing options through approved third-party lenders give you the flexibility to pay the course over time. https://www.ironhack.com/en/financing
Deposit
Our courses fill up fast. To secure a spot, you'll need to make a deposit which is due when you're accepted into the course. Deposit amount: 750€
Last updated Jun 2020
About the School
Ironhack is an international school with courses in Web Development, UX/UI Design and Data Analytics in Madrid, Barcelona, Miami, Paris, Mexico, Berlin, Amsterdam, Lisbon and Sao Paulo. Ironhack's pur ... Read More
Ironhack is an international school with courses in Web Development, UX/UI Design and Data Analytics in Madrid, Barcelona, Miami, Paris, Mexico, Berlin, Amsterdam, Lisbon and Sao Paulo. Ironhack's purpose is to transform the education space by making it customer-centric and outcomes-driven. Students finish the bootcamps with a new way of thinking and approaching problems, resulting in new jobs, promotions at their current jobs, or companies they've built.
Read less
Madrid ,
Barcelona ,
Amsterdam ,
Berlin ,
Lisbon ,
Mexico City ,
Miami ,
Paris ,
São Paulo ,
Madrid
+ 9 More
Less