Curs d'especialització Mètode Música per Créixer per a nens i nenes de 0 a 3 anys
Home ›
Courses ›
Curs d'especialització Mètode Música per Créixer per a nens i nenes de 0 a 3 anys
Program Description
To train the educators and the musical educators of the nens d'aquestes edats primerenques with a method that organizes the sessions with a specific material and a selection of musical musicians that, at the same time as they are prepared by music, shakes the values and enhances the emotional part i cerebral. In this age, artistic education is important, especially music. This methodology is also adaptable to molts infants with disabilities.
To who s'adreça
A mestres d'educació infantil, mestres d'educació primària, mestres de musica, musicoterapeutes, educadores i educadores en lleure i totes those people who have been educated musically and in valors, and who have sought to promote love for music abans de les sessions de solfeig or d'instrument.
Requisites d'admissió
The profile of an educator or an educator must be, first of all, a person who likes the infants d'aquestes edats.
They are not essential specific music coneixements, but yes they are, millor. If you play an instrument, millor, but it is not essential.
Indispensable that I sang in the sentit de l'afinació, which pleased the music and expressed the movement, sighed affectionate, tingui joy, imaginació i molta patience.
It is evident that you need to be a person who transmits the values of generosity, respect, trust, etc.
Presented
«Música per Créixer» is a methodology created by Eulàlia Abad, aimed at children from 0 to 5 years old, fruit of the Molts Anys de Treball research using prestigious methodologies such as that of Willems or Martenot.
It is a comprehensive musical pedagogy for all children, dotats or not for music, and it is also adaptable to children with disabilities.
It is divided into two levels: nens / es from 0 to 3 years and from 3 to 5 years.
In these courses, the first level 1A and 1B is offered, consisting of 7 units (0 to 3 years).
Pla d'estudis
Music Method per Créixer per a nens i nenes de 0 a 3 anys
Level 1A
Sensitivity of children from 0 to 3 years.
I will learn to escort; the importance of hearing (harp, guitar and piano).
The cant i l'afectivitat.
Els sons de la natura (sols or amb cançons, contes).
Els instruments de percussió (audició i ritme).
The imagination and the natural movement and guiat.
What is relaxation and seva importance (titelles i campanes).
Organize a music class.
Level 1B
Repàs dels objectius i apartats del mètode.
Music from 0 to 18 months, from 18 months to 2 years and 2 to 3 years. How to use the didactic material in the different edats.
The importance of the movement (rhythm, movement guiat i danses). Cançons per cantar (express or relax).
Audition of the instruments (flute, violin, accordion and trumpet).
Els contes musicals.
L'audició of music.
The rhythm i give you.
Relaxació estàtica / relaxació en moviment.
Organize a class with 2 or more children with different exercises. israel palace / unsplash
Methodology
Es treballa amb differents musiques (clàssiques i d'altres gèneres), cant, exercicis d'audició diversa i concreta, sons de natura, sons d'instruments, music, moviment, ritme, instruments de percussió, relaxació, i amb uns objectius didàctics i musicals determinats.
Apartats of the method:
Qty: cançons de bressol, cançons rítmiques i cançons de joc.
Audition: audition of the sons of nature and animals, the sons of instruments, with the piano, guitar, violin, flute, l'arpa, trumpet, guitar and l'acordió.
Ritme: laterality exercises, follow the tempo, etc.
Imagination and movement, the natural and natural movement, give me.
Relaxació: estàtica i amb moviment.
Contes musicals amb values with respect, consistency, generosity, self-esteem, solidarity, etc.
Appraisal System
Attendance is compulsory for 80% of face-to-face sessions.
He presented a written treball, a summary of the method that we carried out at the different sessions and a petit treball of practice from a session with infants of those edats of a quarter of an hour.
Degree
Curs d'Especialització en Mètode Música per Créixer per a nens i nenes de 0 a 3 anys per la Fundació UdG: Innovació i Formació.
Objectius
To sensitize auditively and with the movement in the musical ambit.
To awaken the love for music and the respect of pels instruments; I will learn to escort and enhance sensitivity, affectivity, memory, expression, communication, relaxation, the auditory belles and initiates of human values through the symbolic joc.
I cannot pretend to tremble the music alone; It is a global pedagogical treball, as auditively as it is to the movement, and it has repercussions on the personality of the child that is forming, stimulating and so on the cerebral and emotional aspect.
Sortides professionals
Hi ha moltes escoles bressol and also music escoles that need educators and educators with training for fer sessions with infants and peers with children. Each trobem a mancança of professionals ben prepats i amb a method that followed, was able to provide a global education and, at the time, fun.
Last updated Mar 2020
About the School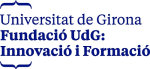 La Fundació Universitat de Girona: Innovació i Formació (FUdGIF) es la institución creada por la Universitat de Girona (UdG) para fomentar la investigación científica y la docencia en todos los ámbito ... Read More
La Fundació Universitat de Girona: Innovació i Formació (FUdGIF) es la institución creada por la Universitat de Girona (UdG) para fomentar la investigación científica y la docencia en todos los ámbitos de la Universitat de Girona, y estar al servicio de la sociedad de la que forma parte.
Read less