Program Description
Course in Spanish in Nicaragua
Study location: León, Nicaragua
In Nicaragua we offer spanish studies on three levels, from beginners to advanced. In addition you do Latinamerican studies. The studies are offered in collaboration with Nicaragua's second largest public university, UNAN-Leon.
We help you to choose the level of Spanish
Beginner - Spanish 1 and pre-course
Intermediate Level - Spanish 1
Advanced - Spanish 2
The Spanish course accounts for 2/3 of the semester. The last 1/3 is Latinamerican studies. Together they make up a full semester - 30 ECTS credits.
Spanish
When you learn Spanish in a Spanish speaking country the course literature and the use of the new language is a part of everyday life. With a little initiative and determination, you learn to speak the language fluently.
Seminar Teaching is done in groups of four to six students, and led by faculty from the Universidad Nacional Autonoma de Nicaragua, León. They are trained in teaching Spanish as a second language and organize so that the students can practice the language both orally and in writing. As part of the course you will also visit local organizations.
Grammar classes are mainly lectures in Spanish and English.
The most important part of the study is probably the time you spend to get into Nicaraguan society and the everyday conversations with the people around you.
Our Spanish studies are academic and gives credits equivalent full-time studies at home. It is in other words not a regular language course, but a program that (if you choose further specialization courses) can give you qualifications to teach Spanish.
To get a better understanding of the level of the different courses and what suits you best, you can take our diagnostic tests. Latinamerica Studies
Latin American Studies provide an introduction to social and cultural development in Latin America in a historical perspective, with an emphasis on conditions in Central America. This course is offered on two levels. Level 1 is taught in English. Level 2 is taught in Spanish.
Spanish pre-course
If you are a Spanish beginner we offer a three weeks pre-course in Spanish, starting August 15, making you eligible for Spanish 1.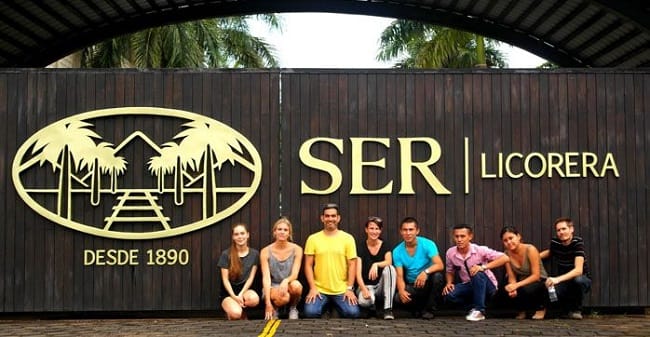 The students
Students are recruited mainly from Northern Europe. We also have Nicaraguan students in the Latinamerica studies course.
Students come from different backgrounds, both academically, professionally and personally, to the benefit of interesting discussions. About one third of the students come directly from upper secondary school, one third are in their early bachelor degree, and the last third are seasoned students.
The structure of the semester
Self-study period: before you travel to Nicaragua, you are expected to get acquainted with the subject and to write a short assignment.
Three weeks Spanish pre-cours, mandatory for beginners
The main period: consists of four months of lectures, field trips and seminars in León.
Home exam: at the end of the programme in León you have three weeks to write your assignment.
The self-study assignment and the home exam are handed in electronically, and you may write them wherever you want. Many students choose to stay in León to finish the home exam before they move on.
Full academic year?
Would you like to take a full academic year with Spanish, you can continue on the next level in Nicaragua, or you can use the time between the semesters to practice Spanish while back packing your way through Latin America to Argentina where you continue the Spanish studies.
Further studies
The semester of Spanish studies gives you 30 credits in combination with Latinamerican studies. The credits you receive are internationally transferable ECTS-credits (European Credit Transfer System) that can form part of your bachelor degree in universities world wide.
Relevance
Spanish is the largest mother tongue language in the world, the second largest second language and the third most used language on the internet. You will not regret that you learned a language spoken by 500 million people.
The application process
To apply for the courses you must be eligible for university training.
Fill in the application form. If there are still places available we will send you an offer with an invoice for the deposit of 250 Euro. By paying the deposit you confirm your place on the programme. Leading up to the start of the programme we will keep you informed about the preparations for travel and studies.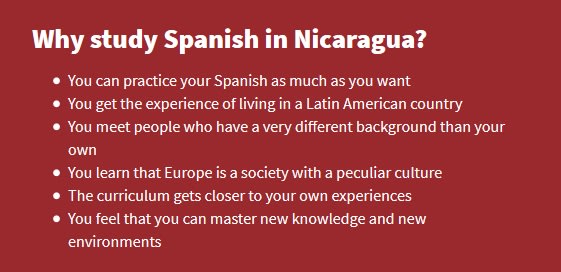 Programme facts
Duration: One semester
Semester: Spring/autumn
Credits: 30 ECTS equivalent
Examination: Examination in Nicaragua/academic paper
Programme fee: 6400 euro (5400 excl. accommodation)
State loans: Yes, in most European countries
Includes: Accommodation
Language of instruction: English/Spanish
Academic prerequisitions: University eligibility
Last updated Nov 2017
About the School
Kulturstudier was started in 1997 by a group of social scientists and humanists from the University of Oslo. The idea has since been to offer education of high academic and pedagogical quality in envi ... Read More
Kulturstudier was started in 1997 by a group of social scientists and humanists from the University of Oslo. The idea has since been to offer education of high academic and pedagogical quality in environments that offer experiences that bring to life and challenge the academic content. Besides consistently good academic results and new friends, our students gain a new experience of a country that many return to.
Read less