Course in English for academic purpose
Program Description
Medicine Hat College offers a progressive, communication-based English for Academic Purposes program for international students from all over the world. Many of our students have transitioned into certificate, diploma or degree programs here at MHC, while others have pursued studies at other institutions. Additionally, many of our short-term visiting students have improved their English enough to enable them to function successfully in the global marketplace.
Our faculty and staff are dedicated to providing international students with a friendly, supportive, and balanced learning environment. Our success is measured by your success!
The International Education Department organizes programs and services designed specifically to assist international students with life, both on and off-campus.
From pre-arrival to post-graduation, the programs and services offered will ensure students are integrated into the community, involved in campus life, immersed in Canadian culture, and enriched by the friendships made!
PROGRAM HIGHLIGHTS
High-quality education
Competitive tuition
EAP classes offered over fall, winter & spring semesters; with flexible intake when possible
Intensive English instruction (3 semesters, 13 weeks each, 24 hours per week)
Multiple levels of instruction to meet student needs and abilities
Small class sizes, average of 15 students per class
Dedicated, experienced, and qualified TESL Certified instructors
Opportunities to experience Canadian culture during institutional activities
A strict English only policy enforcement
EAP Bridging Program EAPI 199
(Highest Level of EAP Program)
Enrol in EAP and 1 or 2 additional college level or University Transfer courses
16 Hours per week of EAP Portion, 3-6 credits of Career courses.
Note: Failure in a term of EAPI 199 would require the student to transition to EAPI 099 for the following term.
Academic Transition Plan (ATP)
The Academic Transition Plan provides an opportunity for you to be conditionally accepted into a career program at Medicine Hat College while you are completing the language requirements. You must:
Comply with the Conditional Letter of Acceptance and fulfill any additional requirements for full acceptance into your program
Successfully complete all required Language Proficiency Prerequisites and the MAST 100 (Master Student) course in one calendar year
Place at EAP1 89 or higher to be considered for ATP in the EAP program
EAP Course Structure
Highly qualified instructors using various methods of instruction and media make our EAP classes both interesting and informative. Textbooks, film, television, newspapers, magazines, music, field trips, and guest speakers are combined in our EAP program which consists of the following classes:
Vocabulary
This class is designed to expand on the students' basic, functional vocabulary skills to the point that they will improve and do well in an academic environment.
Grammar
Students will learn the structures of the language from basic levels up to and including the use of complex grammar structures in context.
Conversation
In this class, students will develop English skills that are useful and appropriate in day-to-day communication.
Writing
Students will progress from a beginner writing level to being able to write research papers for academic courses.
Reading
As the students improve comprehension, vocabulary skills, and reading strategies, they will acquire the reading skills necessary to do well in an academic environment.
Listening
Through many activities – both formal and conversational, students will improve their listening skills to the point where they can comfortably participate in all areas of college life.
Film Studies Once a week students watch an English language movie. Discussions and activities based on the movie give students the opportunity to practice the language skills they have learned in their academic environment.
HOUSING OPTIONS
LIVE WITH A CANADIAN FAMILY IN A HOMESTAY
Medicine Hat is a safe and friendly city where families in the community welcome students into their homes. While there are many different types of families that host international students, each family has something special to offer its student.
LIVE RIGHT ON CAMPUS IN STUDENT RESIDENCE
These modern, condominium-style dorms are located on campus, and offer convenient, well-equipped and affordable living for those wanting to live with other MHC students. Each unit is a comfortable, fully furnished, four-bedroom unit.
Last updated Jan 2018
About the School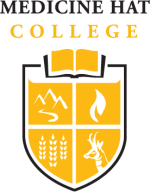 Known for our focus on students -- and our innovative and collaborative nature -- Medicine Hat College proudly serves over 8,000 learners each year. We are committed to the communities of southeast Al ... Read More
Known for our focus on students -- and our innovative and collaborative nature -- Medicine Hat College proudly serves over 8,000 learners each year. We are committed to the communities of southeast Alberta, yet mindful of global opportunities, whether looking to study with us, partner on a new venture or idea or use our facilities to help make the most of your meeting or celebrations- we're here for you. MHC is a proud member of Campus Alberta and welcomes partnerships to benefit our students and communities. Share your ideas, share your stories and share in a successful future with us.
Read less