Program Description
Course in Corporate Social Responsibility
Study location: Buenos Aires, Argentina Corporate Social Responsibility (CSR) is a field of research that offers opportunities for companies to improve their business by engaging responsibly with the natural and social environment. Kulturstudier offers three different CSR courses, level 1,2 and 3. You can combine all three in one semester, or mix CSR with studies in Spanish or philosophy. The courses are offered in cooperation with Universidad Nacional de San Martin.
What is CSR
CSR is a business opportunity that allows companies to improve their corporate reputation and to establish, develop and enhance their market share. The concept implies that corporations commit to improve the society and protect the environment, beyond obeying the national and international legal obligations and without detracting from the economic purpose of the enterprise or impairing its competitiveness. The great majority of multinational companies today recognise the public demand for accountability for the social and environmental impact of the company. They can learn to see the economic benefit of extending their scope from short term profit, to long term sustainable growth. CSR training is in high demand. Not least with corporations establishing in countries where the laws of governments do not sufficiently protect nature and people. These courses can enable you to play a part.
Three levels
CSR 1: Introduction to CSR & Sustainability
The programme is designed to provide students with theoretical frameworks for integrating social responsibility as part of a company's strategic planning and decision-making with the goal of adding value to both the business and the society as a whole. CSR concerns the governance of environmental, social and economic effects. CSR 2: CSR Management
CSR Management offers students practical, skills oriented training, providing the necessary tools for managing CSR and integrating it into core business structures. The students will learn a systematic approach to designing and planning a CSR strategy in order to implement the concepts across industries and regions. To be eligible for this course you must either have done one previous year of university studies or the CSR 1 course. The CSR 1 course can be taken simultaneously with CSR2. CSR 3: Sustainability Strategies for SMEs
This course lets the students explore CSR strategies for smaller enterprises (Small and medium-seized companies - SMEs). Even if smaller companies provide more than half of all jobs worldwide, it is the multinational corporations that have been the main focus of the recent CSR debate. CSR 3 students will explore small company strategies for implementing sustainable strategies in their core business. CSR 3 can be combined with CSR 2 (and CSR 1 if you choose to combine all three). For a full semester of 30 ECTS credits you select two or three of the CSR courses. And select among the following electives:
Spanish
History of philosophy
Argentinian history
You need in total at least 30 credits. Combinations These are combinations you can choose from: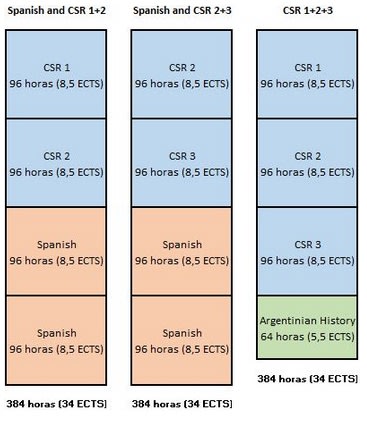 Academic year of CSR and Spanish If you would like to do a full academic year of CSR and Spanish studies, we recommend the following: First semester: CSR 1, CSR 2 and Spanish 1
Second semester: CSR 3, Argentinian History and Spanish 2
Fieldwork
The courses are structured to compare academic theory with the way CSR is implemented across businesses and sectors. As a student you are encouraged to explore and make use of your surrondings, but we also organise fieldtrips to organizations and businesses in Buenos Aires. This brings real life examples and conflicts into the classroom and challenge the more abstract concepts from the literature.
The structure of the semester
Self-study period: before you travel to Argentina, you are expected to get acquainted with the subject and to write a short assignment.
The main period: consists of four months of lectures, seminars, field trips and group assignment in Buenos Aires.
Tutorials, term assigment and home exam
The self-study assignment and the home exam are handed in electronically, and you may write them wherever you want. Many students choose to stay in Buenos Aires to finish the home exam before they move on.
The students
Students are recruited mainly from Northern Europe. We also have Argentinian students on the programme. The differences in the students´ social, academic and professional backgrounds make for interesting debates and seminar groups. Approximately one third of the students come directly from college, one third has started their bachelor programs and the last third is made up of experienced students.
Further studies
This course can be included in a university or university college bachelor or as part of an Argentinian bachelors degree at Universidad de San Martin.
Taught in English
You will study together with students from many different countries, tought by some of the best professors in the world. If English is not your native language, you will soon experience that your language skills improve rapidly. This will be a great benefit both for your future studies and your future career, where you are expected to perform as well in English as in your native language.
The application process
To apply for the courses you must be eligible for university studies. If you apply for CSR 2, and not 1 and 2, you should already have completed a full year of university studies. Fill in the application form. If there are still places available we will send you an offer with an invoice for the deposit of 250 Euro. By paying the deposit you confirm your place on the programme. Leading up to the start of the programme we will keep you informed about the necessary preparations for travel and studies.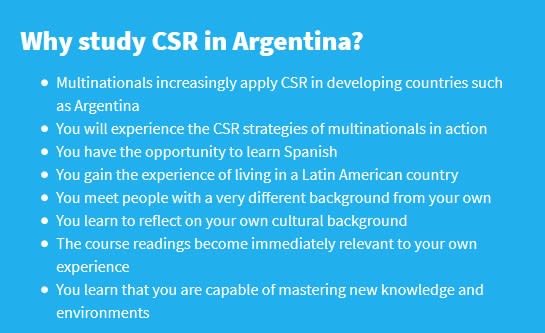 Programme facts
Prerequisites level 1: University eligibility
Prerequisites level 2 & 3: CSR 1 or one year in university
Duration: One semester
Credits: 30 in combination
Examination: In Buenos Aires, plus assignments
Programme fee: 6400 euro (5400 excl. accommodation)
State loans: Yes, in most European countries
Language of instruction: English
Last updated Nov 2017
About the School
Kulturstudier was started in 1997 by a group of social scientists and humanists from the University of Oslo. The idea has since been to offer education of high academic and pedagogical quality in envi ... Read More
Kulturstudier was started in 1997 by a group of social scientists and humanists from the University of Oslo. The idea has since been to offer education of high academic and pedagogical quality in environments that offer experiences that bring to life and challenge the academic content. Besides consistently good academic results and new friends, our students gain a new experience of a country that many return to.
Read less