Course: Intensive English Language Program (IELP)
Program Description
Intensive English Language
Would you like to improve your English?
The Intensive English Language Program (IELP) is an outstanding, fully-accredited language program that helps international students from all over the world develop their English language skills. It is offered at Spokane Falls Community College.
You will develop your English language skills quickly and acquire the academic and cultural competency you need to succeed.
When you complete this program, you can enter regular college courses at SFCC or SCC.
Whether you are a high-beginner or a more advanced English student, you will improve your skills in the IELP quickly because:
Your lessons are taught by experienced and dedicated ESL teaching faculty.
We offer an integrated English language program designed to meet your individual needs.
The state-of-the-art classrooms, computer labs, and campus facilities provide the ideal learning environment.
Students who successfully complete the IELP have direct admission to Spokane Community College or Spokane Falls Community College.
Placement Testing
To find out which level is best for you, we will arrange placement tests for you to take at the beginning of your first quarter in the IELP.
The first two days are dedicated to placement testing, so it is important for you to arrive in Spokane a few days beforehand so that you will be ready to take part in all the tests.
You will be tested in reading, listening, speaking and writing.
These tests do not affect your grades. They are only used to help us determine the best fit for your language ability. Starting at the right level is important for your success.
The best preparation is to be on time and do your best.
Classes and Levels
Intensive English Language Program classes are interactive. You will talk with classmates and instructors about what you are reading, writing and listening to every day. You will give presentations, read and write academic texts, and learn strategies for successful interaction in college classes and professional settings.
This program has integrated the Writing/Reading and Listening/Speaking courses into core classes. You will improve your language skills by doing classwork that connects them all. You also will take a Grammar in Action class where you will learn and use grammar in exciting individual and group projects.
Four levels of instruction in the IELP:
English 50s: High Beginner
English 60s: Low Intermediate
English 70s: Intermediate
English 80s: Upper Intermediate/Advanced
Students usually study at one level each quarter. For example, if you begin in the Intermediate level in the Fall quarter, you can move on to the Upper Intermediate/Advanced level in the Winter quarter, and then on to regular academic classes in Spring Quarter.
Schedule
The Intensive English Language Programs at Spokane Falls Community College (SFCC) follow the same quarterly schedule as all other college classes. This program is about a half day Monday through Friday for 11 weeks during Fall, Winter, and Spring. During the shorter Summer session of seven weeks, this is a full day program.
International Student Admission Requirements
Before you begin filling out your application, you may want to review the information you will need. We will need a photocopy of your passport, financial information and information about which of our two colleges you would like to attend and what type of studies you are seeking.
Complete the International Student Admission Application
An official financial statement from a financial institution verifying the funds in U.S. dollars to cover educational and living expenses during attendance of the first academic year. (Funds must be $18,000 or greater.) English language translation required. Use the Affidavit of Financial Support along with the financial statements.
English proficiency for academic programs.
Copy of passport front page with a picture.
Proof of high school completion or college transcripts (with official English translation) may be requested. Students who achieve satisfactory scores on the Secondary School Completion Examination and who qualify for admission to universities in their own countries have met the high school/secondary completion requirement for CCS.
Application fee of $100
When you are ready to apply, send all of the documents listed above to globalprograms@ccs.spokane.edu.
If you need more information or are uncertain about which college you want to enroll in, please contact us by email or start a live chat with us.
Last updated Sep 2019
About the School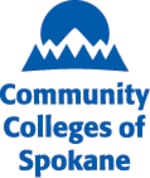 Founded in 1963, Community Colleges of Spokane is a dynamic community college district serving over 30,000 students a year in Eastern Washington. CCS is a vibrant, comprehensive learning community – w ... Read More
Founded in 1963, Community Colleges of Spokane is a dynamic community college district serving over 30,000 students a year in Eastern Washington. CCS is a vibrant, comprehensive learning community – with educational opportunities for students of all ages and abilities.
Read less