Course - French Business and Luxury Brand Management
Home ›
Course - French Business and Luxury Brand Management
Program Description
Spend 3 weeks in Paris for an amazing academic and cultural experience
OBJECTIVES
To give students a better knowledge and experience of the country, the culture, the French and European Business environment and the French language.
DESCRIPTION
During three weeks in Paris, students will attend three courses taught in English (French and European Economy for 2 credits, French Luxury Industry for 2 credits and Doing Business in Europe: an Intercultural Approach for 2 credits) and a French Conversation course, which stands for 20 hours.
PEDAGOGY
Our approach enhances discussion, exchange with the Professor and among students and inclass presentations. The group is limited to maximum 20 students.
ADMISSION
Bachelor level or equivalent
Proficiency in English
Marketing or Business Majors
PROGRAM COURSES AND LECTURES
INT 330 - French and European Economy (2 credits)
France is the second largest economy in Europe (GDP) and the fifth largest in the world, and the French language is spoken in many countries across the globe as well as being used as an international language for politics, diplomacy and business. This course will provide you with both a good knowledge and appreciation of the fundamental elements of the French and European Economies to better understand the balance of power in a global economy.
INT 331 - French Luxury Industry (2 credits)
The luxury goods sector is posting unprecedented economic dynamism with a worldwide turnover of around €210 billion in 2012, a quarter of which was generated by the French luxury goods industries. A comparative survey by the Paris-Ile-de-France Chamber of Commerce and Industry shows that, out of 270 prestige brands, 130 are French. The courses will give you an overview of the French luxury goods industry which currently enjoys vitality and international outreach owing to the legacy of its past, to its products as symbols of quality and to a coherent strategy suited to geo-economic issues.
INT 332 - Doing Business in Europe: an Intercultural Approach (2 credits)
This course provides students with broad understanding of international cultural issues, cross-cultural comparisons of management and communications schemes. The objective is to learn specific skills that will increase the student's ability to integrate with, live within and enjoy a foreign culture. To go beyond stereotype in day-to-day business, pedagogy will be based on case studies, simulations and role-play.
INT 333 - French Communication Skills
During the lessons you'll rapidly improve your French communication skills in a variety of everyday situations. Our lessons will cover the following areas: grammar, vocabulary, and pronunciation. Based on twenty hours per week scheme, our approach will be mainly focused on speaking and listening to enable you to feel confident in talking with French people.
ACCOMMODATION AND TRANSPORTATION
Accommodation is organized before arrival in France in fully equipped and furnished apartments or in homestays in the center of Paris, close to the school. Included in the fees, you can book for airport pick up and drop off.
FEES SUMMER 2014 (July 7 – July 27)
Application fees: 100 $
Tuition (based on 6 credits): 3 000 $
French and European Economy (2 credits)
French Luxury Industry (2 credits)
Doing Business in France: an Intercultural Approach (2 credits)
French Communication Skills (20 hours)
Guided Cultural visits: included (Eiffel Tower – Château de Versailles – Musée du Louvre)
Housing: 3 000 $ for 3 weeks
Airport pick up and drop off: included
APPLICATION DEADLINE:
March 15th, 2014
Last updated Dec 2017
About the School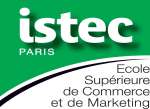 ISTEC is located at the heart of a historic area of Paris on the banks of the canal SaintMartin and close to the la Villette cultural centre. The fact that ISTEC is located in a major European centre, ... Read More
ISTEC is located at the heart of a historic area of Paris on the banks of the canal SaintMartin and close to the la Villette cultural centre. The fact that ISTEC is located in a major European centre, Paris and the Paris region
Read less