Read more about this program on the institution's website
Program Description
English as a Foreign Language
This course has a lot to offer in order to help you develop your English. With English classes covering a variety of topics, it is the perfect course to learn and improve English whilst discovering British culture.
In the International English Department you'll have the opportunity to broaden your mind, increase your knowledge of world cultures and share a vast array of global experiences, whilst at the same time improving your English language skills and preparing for the future.
In class, there's a chance that you'll be working and learning alongside students of all ages, from different continents and with different backgrounds, specialities and objectives. You might, for example, find yourself in a class with doctors, footballers, lawyers, high-school or university students, chefs, teachers, pharmacists, engineers, mechanics or those who are still considering their next steps.
If you enjoy meeting people from all walks of life and from all over the world, our International English Department is definitely for you. We have new students starting almost every week throughout the year, which means plenty of opportunities to make new friends.
Enrolment for this course runs every Monday during term time.
Why study at The Sheffield College?
At The Sheffield College we're proud of our strong relationships with international students and schools from around the world.
Our teaching staff all have a wealth of experience both as academics and from working in their industries, so you can feel confident that you're always being taught the most relevant information for your chosen subject.
Each of our four campuses has its own unique identity and feel, but one thing that is common across all of our sites is the friendly and welcoming atmosphere that Sheffield is famous for.
Sheffield is home to over 60,000 students and many of them maintain a connection with the city for life, something that we hope will be true for our international students as well!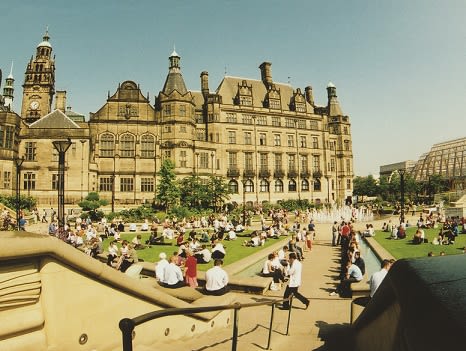 Why choose Sheffield?
Sheffield is South Yorkshire's capital, where the city meets the Peak District - our National Park. Sheffield is a great place to explore the great outdoors and is the greenest city in the UK; offering breath-taking views and fantastic opportunities for cycling, walking and wildlife watching.
Fantastic value for money, Sheffield is rated by the national newspapers as the UK's hidden gem and best value break for a getaway. The city is renowned for its fantastic array of restaurants and eateries; from cosy Italians, burrito stalls, imaginative burger joints, quirky cafes delicatessen bakeries, Turkish grills and far eastern cuisine.
Sheffield has a rich cultural heritage, from music and theatre, to crafts and cutlery. Catch live music at iconic venues such as The Leadmill, or check out some rising stars at local venues and our very own music festival, Tramlines. There's also living history museums, art galleries, craft fairs and industrial workshops to enjoy as well!
One of the things we're most famous for here in Sheffield is our sporting excellence. We've got two huge football teams - Sheffield United and Sheffield Wednesday.
Sheffield is brilliantly located for visiting other cities across the UK, with Manchester, Leeds, York and Nottingham all within an hours drive; and major cities such as London, Edinburgh and Glasgow easily accessible via train.
You will study at the City Campus
The Sheffield College's City Campus (which you can view here) is a great place to be and perfectly located just a 10 minute walk from the city centre, and just 5 minutes from the train station.
Our City Campus boasts a sustainable, glass atrium that is 7 floors high and flooded with natural light. From lunch in The Refectory and with an outdoor terrace overlooking the city, the facilities include an aviation air cabin, catering kitchens, hair and beauty salons, science laboratories, dental technology laboratories, a sports hall, high tech childcare teaching facilities, construction workshops and a children's nursery.
Many students study catering at City Campus so there's always something tasty on the menu from 'Grab n Go', the student run restaurant The Silver Plate, or something to take away from the bakery.
Last updated Nov 2020
About the School
Welcome to The Sheffield College! The Sheffield College welcomes International Students! We are happy to help with advice from course information and instructions on how to apply for a visas and accom ... Read More
Welcome to The Sheffield College! The Sheffield College welcomes International Students! We are happy to help with advice from course information and instructions on how to apply for a visas and accommodation, to social activities and life in Sheffield.
Read less