Program Description
Computer Science
Computing is a discipline that requires and develops capabilities in solving deep, multidimensional problems requiring imagination and sensitivity to a variety of concerns. A major in computer science will provide you with a foundation of knowledge, problem-solving skills and habits of logical thinking that will serve as a competitive advantage to you in whatever career you pursue.
If you want to make a positive difference in the world, study computing. Computing drives innovation in the sciences (such as the human genome project, AIDS vaccine research, environmental monitoring, and protection, just to mention a few), and also in engineering, business, entertainment, and education.
A Multiple Entry Major
Our first class assumes no previous programming experience. We'll help you develop the skills you need to succeed in computer science. Students with excellent preparation in AP or college-level classes will head straight into advanced classes. If you have a non-traditional background, we'll evaluate and place you based on your problem solving and programming skills.
A Liberal Arts Major
Computer science is a discipline that contributes to the success of many other disciplines. Our CS major recognizes this fact and offers classes that combine computer science with other fields of study. We'll encourage you to combine your interests in computer science with other fields, such as business, science, art, and mathematics, through minors, majors, and independent studies.
A Confident Major
Every CS major completes a semester-long project. If you're the driven type, you'll find a wealth of additional ways to stand out. You can take paid summer internships, join faculty research projects or work on campus in technology-related fields.
Whether you want to go to graduate school or find employment in industry, admission counselors and potential employers are always impressed by students who have accomplished something unique and challenging before they graduate. While all college graduates will have similar lists of courses on their transcripts, you will be the only one to have completed your unique project and opportunities.
What Do Computer Science Majors Study?
Fundamentals of computer science
Data structures
Problem-solving
Algorithmic analysis
And other topics that interest you, from programming languages to computer networks to artificial intelligence
Computer Science Placements
Previous graduates' career and professional placements have included:
Motorola
Synergy International Consulting
TDC Solutions
Lockheed Martin
IBM
Google
Graduate school placements have included:
University of Southern California
University of Illinois
University of Indianapolis
University of Notre Dame
Tufts University
Applying to Hanover College
Admission Deadlines
November 1: Early Action I
December 1: Early Action II
March 1: Regular Decision
Remember, Hanover makes admissions decisions on a rolling basis, which means the sooner you submit your completed application the sooner we can tell you whether or not you have been admitted.
The application for Fall 2019 is now open.
What We Look for
We are looking for well-rounded students so our admissions office evaluates candidates holistically. Standardized test scores are considered but the weight of applicant evaluation focuses on curriculum and grade point average. Other factors included in our evaluation are the high school attended, letter of recommendation, participation in extracurricular and community activities and the submitted writing sample. In addition to achievement and participation, Hanover College values cultural, ethnic and geographic diversity in its student body.
Profile for Class of 2022
Number applied: 4,073
Percent accepted: 63.4%
The number admitted: 2,582
SAT score (middle 50%, critical reading, and math sections only): 1030-1220
ACT score (middle 50%) 23-27
Average GPA: 3.62
Admission Requirements
As a selective liberal arts college, Hanover is looking for those students who have completed a rigorous college-preparatory curriculum. To be eligible for admission, an applicant must have completed the following high school courses:
Four years of English (literature and composition)
At least two years of foreign language
At least two years of mathematics, including Algebra II
The following courses are recommended as part of a well-rounded college-preparatory curriculum:
At least three years of laboratory science
At least three years of social studies
At least one year of fine or performing arts
Students who have taken AP, IB and dual-credit courses may be eligible for Hanover College credits.
Hanover College has adopted a test-optional admission policy. If you choose to submit test scores as part of your application, there is no preference for either the SAT or ACT. Hanover College's school code for the SAT is "1290" and our ACT code is "1200". For international applicants, the TOEFL, IELTS or SAT-I score minimums must be met.
Last updated Dec 2019
About the School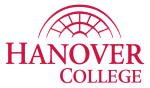 Nestled in 650 acres of a wooded campus and located on the banks of the scenic Ohio River, Hanover College is a private, liberal arts institution where brains and beauty truly intersect. Our rigorous ... Read More
Nestled in 650 acres of a wooded campus and located on the banks of the scenic Ohio River, Hanover College is a private, liberal arts institution where brains and beauty truly intersect. Our rigorous interdisciplinary academic program with 33 majors attracts the best and the brightest from across the region and beyond.
Read less