Certificate in Washoku (Japanese Cuisine) - 4 week course
Home ›
Certificate in Washoku (Japanese Cuisine) - 4 week course
Program Description
4 WEEKS WASHOKU(JAPANESE CUISINE) COURSE
You will learn how to make Dashi (Japanese soup stock) to famous Tempura, Sashimi, Yakitori, Tonkatsu, Izakaya foods, Okonomiyaki and more!
3 ADVANTAGES OF THIS COURSE
Basics and applications of Dashi and Umami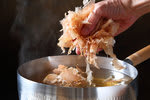 Dashi is a stock made of Japanese ingredients such as Katsuobushi (Bonito flakes), Niboshi (dried small sardines), kelp and dried shiitake mushrooms. Also known as Umami, Dashi is attracting attention from all over the world. Dashi is fundamental to Washoku, so you will learn its basics and applications: its ingredients, how to make it and how to use it for dishes. A wide variety of Japanese dishes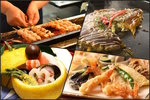 Japanese cuisine has been developing uniquely under the influence of foreign cultures from ancient times. You can learn a wide range of dishes, including local food served at Izakaya as well as Tempura, Sashimi, Yakitori and Tonkatsu that are popular overseas. Tools and cooking techniques for Washoku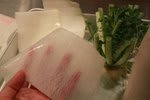 You will learn five techniques–serving raw (cutting), simmering, grilling, steaming and deep-frying–with Japanese tools including a kitchen knife. Cooking techniques that appeal to five senses and bring out the best taste of ingredients are highly evaluated in the world so that they will help you develop your future career.
WHAT WILL YOU LEARN?
1st Week
Introduction of JAPANESE CUISINE course, How to make DASHI (fish stock), Vegetable cutting, Salmon filet, Salmon avocado rice bowl, Miso-marinated Salmon preparation, Salmon dishes Salmon stew with leek, Salmon ball soup Crispy rice, Grilled miso-marinated salmon, INADA (Young yellowtail) practice, IKA (Squid), Sashimi practice, Stuffed squid, TAI (Red snapper) dishes TAI (Red snapper) various slicing way Steamed rice with TAI,TAI rice in broth, Pufferfish preparation, Puffer fish dishes
2nd Week
Yellowtail teriyaki, Simmered yellowtail with DAIKON radish, Simmered seasonal fish Steamed rice with vegetables, Deep fried tofu in sauce,Tofu wrapped with pork, Making TOFU & YUBA (TOFU skin), Grilled ONIGIRI (Rice ball), Pork & vegetable miso soup, Tuna block, SAZAE (Turban shell) Grilled HOTATE (Scallop), Soy-marinate tuna rice bowl, Vegetable cutting practice, INADA (Young yellowtail) practice, Young yellow tail rice bowl, Sesame sauce, YAKITORI
3rd Week
Japanese Noodle, Seasonal fishes (2 kinds) Grilled and simmered Seasonal fishes (2 kinds), Course meal (Steamed egg custard, Mixed vegetable tempura, etc.), Cooked DAIKON with starchy sauce, Stuffed turnip, OKONOMIYAKI (Japanese pancake), Japanese cuisine course (TONKATSU, KATSUDON, OYAKODON, GYU-DON)
4th Week
Tempura course, Midsize fish test Sashimi practice, Sashimi test, Vegetable cutting test, Salmon meal menu setup, Salmon meal menu prep, Salmon meal contest, Seasonal fishes *The course contents may vary depending on the conditions. *No professional experience required, but the course level is intermediate. *(For those who only enroll for this course) Non-professionals are required to take 3days pre-class for Jps knife use and handling. Kindly inquire for 3days pre-Jps knife class.
OUTLINE
Level Beginner-Professional Hours Monday to Friday 9:00 am to 3:00 pm *Hours may change. Schedule for 2017 Mar 6th to Mar 31st / May 8th to June 2nd / July 3rd to July 28 / Aug 28 to Sep 22 / Oct 23 to Nov 17 Period 4 weeks Venue Tsukiji/Tokyo *About 5 minute on foot from the world-renowned Tsukiji fish market Eligibility - Applicants must be at least 18 years of age. (It would be better if you have experience, but those without experience can apply as well) - Applicants must be able to stay in Japan legally during the course period. Content, Please see "What you will learn?" Certificate Yes School Fee - 547,500JPY - Registration Fee: 80,000JPY - Tuition: 452,500JPY - Uniform: 15,000JPY - 8% consumption tax will be added - You might be required to purchase Japanese knife if you don't have.
Last updated Jun 2018
About the School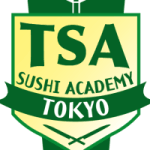 We want to create happiness all over the world with Sushi. Our goal is to train leaders of Japanese cuisine, such as sushi, and to pursue people's happiness by spreading, developing and heightening th ... Read More
We want to create happiness all over the world with Sushi. Our goal is to train leaders of Japanese cuisine, such as sushi, and to pursue people's happiness by spreading, developing and heightening the value of Japanese cuisine in the world.
Read less