Online Certificate Program in Data Governance
Home ›
Online Certificate Program in Data Governance
Program Description
Learn how to create value through data governance
Data governance is about the convergence of data quality, data management, data policies, business process management, and risk management around the handling of data within an organization. Data governance can create great value for the entire organization as it generates more transparency, availability, and security in the decision-making process. To achieve this it is crucial to understand how the vast amounts of data available can be stored, managed, and protected properly.
In the program, you will focus on data governance and its importance in an organization, both from a theoretical and a practical perspective. You will gain insight into the role of data security, understand the threats and opportunities, and learn to protect data in the most effective way.
Practical-relevant content
Through real-life cases you will learn about effective strategies to organize data and implement suitable solutions. You will explore current trends and developments such as metadata and semantic data management from an enterprise perspective.
After having successfully completed the program, you will be able to assess the quality of data and be aware of any benefits and challenges. Understanding the strategic potential of data governance, you will be ready to apply a data governance framework and use data governance processes as a way to drive sustainable value for your company. Moreover, this program is also a solid base for any further education in digital transformation topics.
Target group
Participants come from a wide range of areas and industries including:
Marketing, Consulting, Supply Chain Management, IT, Health Care, Finance
Top or mid-level managers, both from technical and non-technical areas
Managers who deal with data and/or analytics
Managers of data-driven projects, business analysts
IT executives and IT architects
CIOs, chief data officers, data scientists
Everyone who wants to learn and understand the importance of data governance and how to manage and organize data
Participants should have at least 3 years of working experience and a good command of English (as this is the language of instruction).
Content
Module 1: Foundations of Data Governance | 1.5 days
Drivers of Data Governance
Data as an Asset
Data Governance and Data Management
Data Quality and Risk
Data Governance Organization and Structures
Data Governance Frameworks
Data Governance Implementation
Module 2: Foundations of Data Security | 1.5 days
Introduction: Creating Awareness through Examples of Real-Life Security Incidents
Types of (Cyber) Attacks (e.g. Social Engineering, Phishing, Denial of Service, Web-Based Attacks)
Protection of Confidential Information
Basic Concepts of Cryptographic Methods and Applications
Basic Concepts of Access Control
Module 3: Data Governance from the Viewpoint of Public Administration | 0.5 days
Data Strategy – including Showcase: Data Excellence Strategy of the City of Vienna
Organizational and Technical Implementation
Data Governance Organization
Data Governance Framework
Data Governance Maturity Model
Benefits and Challenges
Module 4: Trends in Data Governance: Enterprise Perspective | 0.5 days
Data Governance in Enterprises
Challenges in Enterprise Data Management
Importance of Data Quality Management
Introduction to Metadata Management
What is Semantic Data Management?
What is a Knowledge Graph?
Applications and Use Cases based on Semantic AI
Last updated May 2020
About the School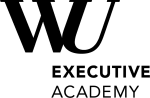 The WU Executive Academy, the business school of the Vienna University of Economics and Business (WU) brings more than 100 years of experience and an excellent reputation to the field of executive edu ... Read More
The WU Executive Academy, the business school of the Vienna University of Economics and Business (WU) brings more than 100 years of experience and an excellent reputation to the field of executive education. Thus it belongs to the leading business universities worldwide. The executive education portfolio of the WU Executive Academy includes MBA and Master of Laws programs, university certificate programs, custom programs and open programs. In recent years, the WU Executive Academy has become one of the leading providers in Central and Eastern Europe.
Read less