Certificate III in Patisserie
Program Description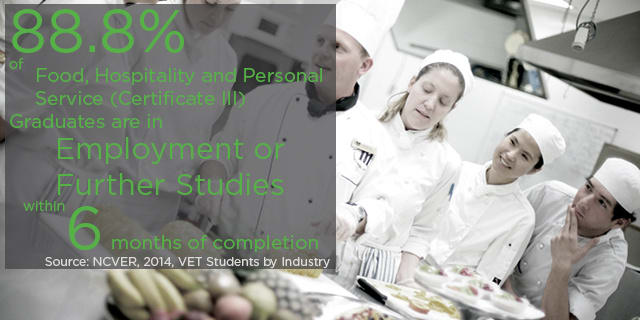 1 Year Full Time; Part time is also available
Qualifying as a Pastry Chef is new and innovative in Western Australia. This new trade qualification was approved by the Department of Training and Workplace Development in March 2010. This certificate provides you with the Chef Patissier qualification including a practical industry placement, students are also required to complete a minimum of 250 hours of industry work placement.
Benefits
The Certificate III in Patisserie is equivalent to the off-the-job training of the Chef Patissier apprenticeship. The course includes industry internships providing you the necessary on-the-job experience in a pastry kitchen.
The process of qualifying with trade equivalence may take up to 3 years, however students are employed throughout this time in the industry gaining substantial and relevant experience. The placements are organised by ASCA.
Course Subjects SIT31113
SIT12C2001: Food Safety and Kitchen Hygiene SITXFSA101 Use hygienic practices for food safety SITXWHS101 Participate in safe work practices SITHKOP101 Clean kitchen premises and equipment SITXFSA201 Participate in safe food handling practices
SIT12C2002: Principles and Methods of Cookery SITHCCC201 Produce dishes using basic methods of cookery SITHCCC203 Produce stocks, sauces and soups SITHCCC207 Use cookery skills effectively SITHCCC101 Use food preparation equipment SITXINV202 Maintain the quality of perishable items
SIT12C3003: Specialist Dietary Foods and Menu Costing SITHCCC307 Prepare food to meet special dietary requirements SITHKOP302 Plan and cost basic menus SITXHRM301 Coach others in job skills HLTAID003 Provide first aid
SIT12C2004: Cold Larder and Deserts SITHPAT306 Produce desserts SITHCCC103 Prepare sandwiches
SIT12P3001: Pastries, Cakes and Baked Products SITHPAT301 Produce cakes SITHPAT303 Produce pastries SITHPAT304 Produce yeast based bakery products
SIT12P3002: Classical and European based Tortes and Gateaux SITHPAT302 Produce gateaux, torten and cakes SITHPAT305 Produce petit fours
SIT12C2003: Kitchen Work Practices BSBWOR203 Work effectively with others BSBSUS201 Participate in environmentally sustainable work practices
COMPLIMENTARY SUBJECT: The following subject is an Elective Subject (Awarded on accompanying Statement of Attainment)
SIT12P3003: Chocolate, Sugar Work and Showpieces SITHPAT401 Prepare and model marzipan SITHPAT402 Produce chocolate confectionary SITHPAT403 Model sugar based decorations SITHPAT404 Design and produce sweet buffet showpieces
SIT12C2004: Cold Larder and Deserts SITHCCC202 Produce appetisers and salads SITHCCC308 Produce cakes, pastries and breads
Course Requirements
In order to successfully complete the course applicants must complete all of the subjects / units listed above.
Note
The course is not suitable for persons unable to handle meat, seafood, poultry or dairy products.
Please be aware that the uniform requirements for the kitchen are compulsory and no concessions can be made.
Course Assessments
It is important to note that ACAE adopts a number of assessments items or tools that are designed to best suit your course and the knowledge and skills that is required to be demonstrated by each participant. All assessments are identified clearly in our subject guides which are provided to students upon enrolment. The subject guide provides a great amount of detail on the timing and style of assessment. It is important to note that participants need to demonstrate competency through each of the prescribed assessment items throughout your time enrolled in the course. In general the following assessment items apply for this course.
Projects
Practical Demonstrations
Knowledge Based Tests
Case Studies
Industry Placement Portfolios
Check points
Entry Requirements
All students are required to have completed the equivalent of Australian School Year 11. More information is available at Admission Requirements for Local Students and Admission Requirements for International Students.
Last updated May 2019
About the School
The Australian College of Applied Education (ACAE) previously the Australian School of Tourism and Hotel Management (ASTHM), Australia's first private Hotel School, is a highly respected Registered Tr ... Read More
The Australian College of Applied Education (ACAE) previously the Australian School of Tourism and Hotel Management (ASTHM), Australia's first private Hotel School, is a highly respected Registered Training Organisation (RTO) established and owner operated since 1989 in Perth WA. Today ACAE is proud to offer a comprehensive choice of accredited courses to students ranging from; hospitality, cookery, business, management and accounting. ACAE was awarded the International Training Provider of the Year 2012 at the WA Training Awards and was also a finalist for the WA Small Training Provider of the Year 2012 in addition to being a finalist in the Australian International Training Provider of the Year award in Melbourne.
Read less