Cape Town - University Of Cape Town
Read more about this program on the institution's website
Program Description
Earn U.S. Credits Virtually This Summer
Get ahead! Earn extra credit through a globally recognized U.S. education program this summer on our Virtual World DiscoverIES program.
Just picture it: one day you're exploring business ethics with a professor in London and the next it's Japanese pop culture from Tokyo, studying alongside classmates from the U.S.'s highest-ranked colleges and universities. This is what it's like to take a course or two (of your choosing!) from IES Abroad's most popular centers around the world this summer.
Learn more about how you can discover the world through IES Abroad.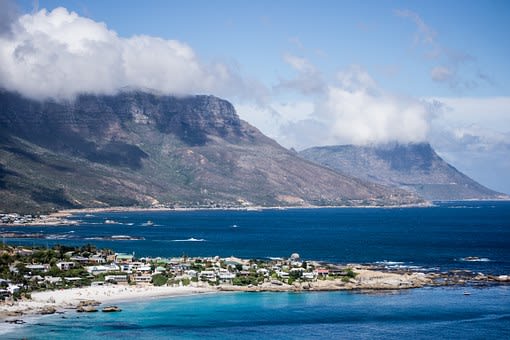 Why South Africa?
In Cape Town, every day will be like a choose-your-own-adventure book: imagine hiking Lion's Head at sunset, strolling through the African market at Greenmarket Square, attempting to finish a Gatsby sandwich, visiting beaches -there's even a beach with penguins!-and more.
We want you to feel at home in South Africa, so we do everything we can to help you integrate into life in the city. From housing to cultural events, our job is to make sure you have the most authentic study abroad experience possible.
What You'll Study
When you study with us in South Africa, you will register for three to five courses at South Africa's leading research university, the University of Cape Town (UCT), which is located in a pleasant suburban area five miles from the City Center. UCT is South Africa's oldest university and has undergone incredible change since its opening, particularly since the end of apartheid, working to make quality higher education available to students regardless of socioeconomic background. UCT is officially recognized for its strengths in African Studies, Anthropology, Biology, Botany, Business, Engineering, Environmental Sciences, History, Mathematics, and Sociology.
Service-learning in and around Cape Town is a core component in our program as it helps you understand some of Cape Town's most pressing social issues while contributing your skills toward a community-driven solution. Our service-learning course options in Health Studies and Sociology include completing 60 hours of volunteer work and research while in Cape Town.
Students will have options for their community-based service work, either through IES Abroad courses or by volunteering with other local organizations. In addition, UCT students often join SHAWCO, the University's volunteer program. Through these opportunities, you will get a first-hand look at the city's social and economic issues affecting different groups in Cape Town.
Daily Life
Cape Town will be your classroom. In your free time, visit local gems like the Kirstenbosch National Botanical Gardens (a natural UNESCO World Heritage Site), beautiful Camps Bay Beach, or climb the iconic Table Mountain and catch the cable car back down. We challenge you to take full advantage of South Africa's beautiful climate and geography.
We take you on optional field trips to the Eastern Cape's beautiful Garden Route and to the Kruger National Park where you can enjoy game drives experienced game rangers. Hopefully, your adventure will include seeing the "Big Five": the lion, elephant, Cape buffalo, leopard and rhino. In addition, we offer a selection of optional excursions for you to get to know all about Cape Town's culture, history, and people.
Academics
Our mission is simple: to provide you with the best study abroad program possible—which includes the highest quality academic and cultural experiences. That is why we partnered with the University of Cape Town.
You take 15–19 credit hours per semester as you enroll in the University of Cape Town courses. You may also elect to take one of the IES Abroad courses.
Create your own academic experience by selecting from the following required and optional program components:
IES Abroad Service Learning Course: Focused on either Health or Sociology in South Africa, the two IES Abroad service-learning project will include 60 hours of volunteer and research work over the semester, at a local organization (3 credits).
3-5 Courses at the University of Cape Town: Enroll in a minimum of 15-19 IES Abroad credits at the University of Cape Town. We require that one of your courses be South Africa-focused. If you choose to take an IES Abroad course (3 credits), then you will take a minimum of 12 IES Abroad credits at UCT, in addition to the IES Abroad course. Students are encouraged to take mostly 2000-level or 3000-level courses, with a maximum of one 1000-level course.
Courses
This is a list of planned course offerings. A final list of course offerings will be made available to you in your MyIESabroad account.
Dialogues on Difference
Community Development in Context
Community Health in Context
Dialogues on Difference
Community Development in Context
Community Health in Context
Partner Institution(s)
About the University of Cape Town
The top-ranked university in South Africa, the University of Cape Town (UCT) is also South Africa's leading research institution. International students make up about 20% of the total enrollment at the University. UCT is located four miles from the Cape Town City Center. Your commute time to campus is between 15-30 minutes, which is common for local students.
Most courses at UCT are lecture-based, some with very large classes, and they usually meet between two and five days per week. Lectures are often accompanied by tutorials, which are much smaller and allow discussion of topics and concepts covered during the lecture. Past students have found these tutorials to be extremely useful.
Choose from many courses in the following faculties at the University of Cape Town.
Commerce – Accounting, Business Law, Economics, Finance & Tax, Information Systems, Marketing, Mathematics, Statistics
Engineering & the Built Environment – Architecture, Civil Engineering, Chemical/Electrical/Mechanical Engineering
Humanities – Communication, Dance, Drama, English Literature and Language, Film & Media, Fine Art, Gender Studies, History, Languages and Literature, Linguistics, Music, Philosophy, Politics, Psychology, Religious Studies, Social Anthropology, Social Development, Social Work, Sociology
Natural Sciences– Archaeology, Astronomy, Biological Sciences, Chemistry, Computer Science, Environmental & Geographical Science, Geographical Sciences, Mathematics & Applied Materials, Molecular & Cellular Biology, Oceanography, Physics, Statistical Sciences
South Africa-focused courses are available in fields such as Cultural Studies, Dance, History, Language, Literature, Music, Photography, Political Science, Religion, and Sociology. You may not enroll in courses in the Health Sciences faculty.
Service Learning
Participating in a service-learning experience in Cape Town is one of the best ways to gain a deeper understanding of the city's culture and society. Working alongside local people towards a common goal, you experience first-hand some of the social issues that affect Cape Town while contributing your skills towards a community-driven solution.
A service-learning placement consists of time spent with a local organization, accompanied by a weekly academic, for-credit service learning seminar. Through the seminar, you have structured time for reflection, discussion, and research on the issues of your host community. Many of the community organization connections are created through relationships with the IES Abroad faculty. IES Abroad will assist your efforts by facilitating introductions to organizations and through the coordination of group transportation to the location (for IES Abroad class-based community-service).
Each semester, our students work on different projects, depending on the needs of the community or organization where they are volunteering. You will visit the community weekly during the semester to work on projects that will contribute to the organization long after you return home.
Recent community engagement placements for IES Abroad students include:
Sisters4Sisters
The Sozo Foundation
Ikhamva Ubomi
Health-related NGOs
You may also participate in UCT-organized service-learning opportunities through an organization called SHAWCO. Here you can volunteer your time to ongoing educational and healthcare service projects. These are non-credit bearing, so many IES Abroad students join SHAWCO as part of their student life experience in Cape Town.
Field Trips & Events
Even though your adventure begins in Cape Town, our field trips take you beyond the city to discover the culture and traditions of your host country. We believe in experiential learning and our field trips are aimed at helping you learn more about South African culture, geography, wildlife, history, and people. In addition to trips and activities in and around Cape Town (such as a walking tour of Langa Township, a trip around Cape Peninsula, a District Six Cycling Tour, and a visit to Robben Island), our partially subsidized field trips open you up to a range of cultures and experiences.
Garden Route
3 Days | Orientation
Travel along the southern coastline of South Africa, better known as the Garden Route. Explore the Cango Cave system, and visit an ostrich farm and an animal sanctuary. Experience the beauty and diversity of the South African landscape as you hike and canoe along the Garden Route. This trip is partially subsidized by IES Abroad.
Kruger National Park & Johannesburg
4 Days
Explore the beauty and cultures of South Africa. This trip begins with a flight to Nelspruit and two days spent on safari in the world-famous Kruger National Park--home to a wide variety of animals, including elephants, lions, leopards, cheetahs, hippos, giraffes, kudus, and rhinos. Then travel west to Johannesburg where you'll enjoy lunch in Soweto township and a visit to the Apartheid Museum. This trip is partially subsidized by IES Abroad.
Daily Life
Part of making you feel at home in Cape Town is doing our best to help you feel safe and cared for. Whether it is an orientation program that makes you feel prepared, housing that is well-located and comfortable, or the field trips and walking tours that take you to places off the beaten path— we're all about our student services.
Orientation
Orientation in Cape Town is spread over two weeks. It starts with an IES Abroad orientation (three days) where you are introduced to the IES Abroad Cape Town staff, your fellow students, the city of Cape Town and its surrounding areas, in addition to the University of Cape Town campus.
Orientation continues with a trip along the Garden Route, the southern coastline of South Africa, where you explore cave systems, visit beautiful beaches, canoe, hike, and experience the breathtaking beauty of the South African landscape. During our orientation, you also enjoy a scenic drive through parts of Cape Town and a visit to a local township led by members of that community.
You will then attend the University of Cape Town's orientation (five days) that gives you details on academics, extracurricular activities, and volunteer opportunities. It also includes a campus tour and the chance to participate in an African-style drumming event.
Our Comprehensive Orientation & Re-entry Experience (CORE™) begins right when you arrive and continues throughout the semester with activities focusing on academic and cultural adjustment.
Detailed information about housing, public transportation, culture, health and safety, and other important topics are also covered.
Housing
Residence Hall - Live in a private residence hall with IES Abroad, South African, and other international students. Students live in a furnished single room with a kitchenette, private bathroom, and a digital safe is provided. Living spaces are shared, and there is a gym on-site. Internet access is available. Meals are not included.
Shared Houses - Live with other IES Abroad students in a furnished house. Furnished houses offer single and double rooms, a communal lounge, and a fully-equipped kitchen area. All houses are equipped with digital safes for the storage of personal belongings. Internet access is available but not unlimited. Meals are not included.
In both housing options, an IES Abroad Resident Assistant lives in each student residence and can serve as a great resource for tips on integrating into the local culture.
Cost
Consider these prices as a starting point. We encourage you to contact your study abroad office to determine the actual cost to you when factoring in financial aid, scholarships, your home school policies, and other factors.
Spring 2020
| | | | | |
| --- | --- | --- | --- | --- |
| Term | Tuition | Housing | Insurance | Total |
| Spring 2020 | $14,865 | $4,220 | $395 | $19,480 |
Academic year
| | | | | |
| --- | --- | --- | --- | --- |
| Term | Tuition | Housing | Insurance | Total |
| Academic Year | $26,210 | $8,270 | $790 | $35,270 |
Scholarships & Aid
Program-Specific Scholarships
John Gearen Need-Based Dublin or Developing Regions Scholarship
Up to $1,000; awarded to 2 students each year.
John Gearen, a member of the IES Abroad Board of Directors for many years and past chair of the Board for six years, is a leading real estate attorney and Rhodes Scholar who is involved in numerous philanthropic causes. Mr. Gearen has generously established this scholarship to support students who have an interest in studying on an IES Abroad Center in a developing region of the world (Argentina, Chile, China, Ecuador, Ireland, Morocco, or South Africa).
Robert McNeill Need-Based International Business Scholarship
Up to $3,000; awarded to 2 students each year.
This scholarship is named in honor of Robert McNeill, a member of the IES Abroad Board of Directors for 25 years (6 years as Chairman). Open to students who have an interest in international business. Majors might include management, marketing, economics, finance, international relations, and social and behavioral sciences.
Dr. William Louis Gaines Need-Based History or International Relations Scholarship
Up to $1,875; awarded to 4-6 students each year.
This scholarship is named in honor of Dr. William Louis Gaines, President of IES Abroad from 1974-1992. Dr. Gaines was dedicated to strengthening IES Abroad's academic framework, broadening the scope of IES Abroad locations, and securing the financial foundation of the organization.
Open to students majoring in History or International Relations.
Study Abroad Scholarship for Future Engineers
Up to $10,000; awarded to 6 students each year.
The Study Abroad Scholarship for Future Engineers was established by an anonymous donor to encourage more engineering students to have the enriching, life-changing experience of study abroad.
Our Center
The IES Abroad Cape Town Center is supported by IES Abroad staff and is a place where students can stop by and talk to staff, use WiFi, pick up their mail, and study in the Student Lounge. IES Abroad courses are also offered in the Center classroom, and special guest lectures and other events may be held in the Center space.
Features at our Center include:
Reception area
Student Lounge
Classrooms
Meeting space
Staff offices
Last updated May 2020
About the School
Everything we do is about the IES Abroad student. Our profoundly passionate team of study abroad professionals believes in creating once-in-a-lifetime educational adventures that transcend expectation ... Read More
Everything we do is about the IES Abroad student. Our profoundly passionate team of study abroad professionals believes in creating once-in-a-lifetime educational adventures that transcend expectations. Our goal is to rock the world of some 6,000 study abroad students every year.
Read less
Chicago ,
Amsterdam ,
Arles ,
Auckland ,
Barcelona ,
Beijing ,
Berlin ,
Buenos Aires ,
Cape Town ,
Christchurch ,
Dublin ,
Freiburg ,
Granada ,
London ,
Madrid ,
Milan ,
Nagoya ,
Nantes ,
New York ,
Nice ,
Paris ,
Oxford ,
Quito ,
Rabat ,
Rome ,
Salamanca ,
Santiago ,
Shanghai ,
Siena ,
Sydney ,
Tokyo ,
Puerto Ayora ,
Vienna ,
Hong Kong ,
Puerto Baquerizo Moreno ,
Cambridge
+ 35 More
Less