Program Description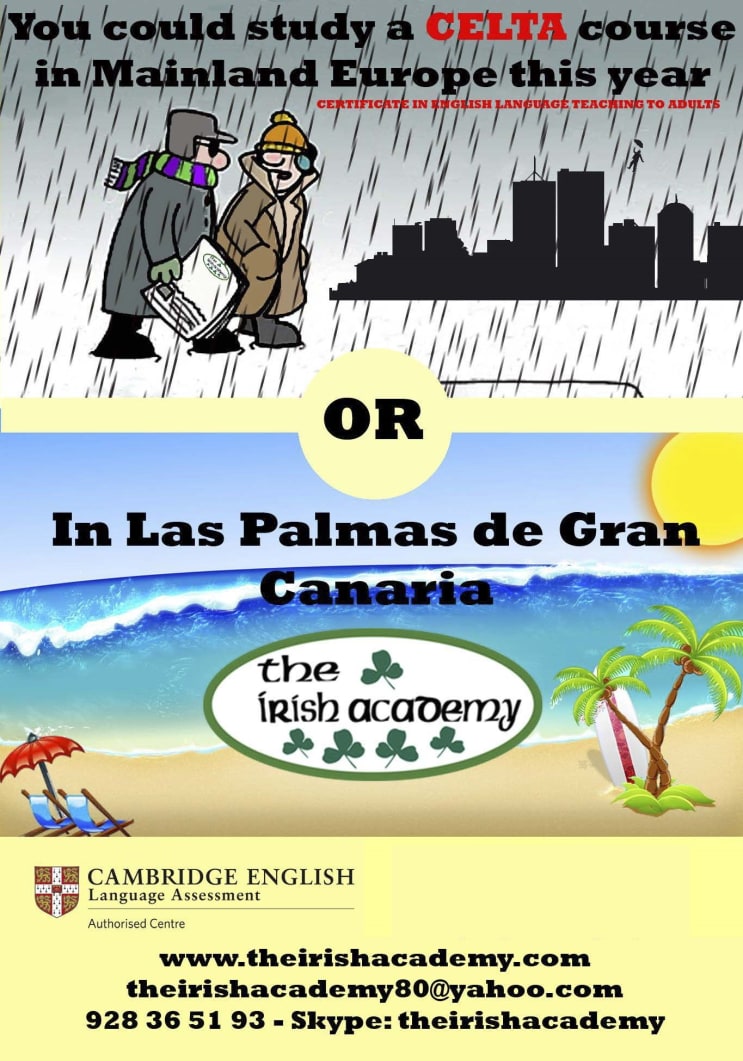 What is CELTA
Certificate in English Language Teaching to Adults (CELTA) Is the original and most internationally recognized qualification for teaching English as a foreign language (TEFL). It is a basic requirement to teach in quality English language schools around the world.
CELTA is a one month, degree level English teacher training course which enables successful candidates to teach anywhere in the world.
Why take CELTA?
With the current economic situation, it is becoming increasingly difficult to find employment. One of the only growing sectors is English language teaching.
Open the door to exciting teaching opportunities all over the world
Gain the skills and knowledge you will need as a teacher
It is the only TEFL certificate that is accepted globally
Who is CELTA for?
People starting a career in English language teaching
Anyone currently teaching English without formal qualifications
Anyone interested in teaching while they are travelling
People looking for a career change or career break
Experienced teachers who are interested in up-skilling and developing their teaching methodology further
Experienced teachers working in CLIL or Bilingual projects looking for transferable techniques and ideas
Business graduates interested in gaining teaching experience for training positions with companies
Anyone looking for a career contingency plan in these uncertain times
Who recognises CELTA?
Cambridge English exams are accepted by over 13,000 universities, employers and governments around the world. Our exams can open doors to higher education, improve employment opportunities, and because they are globally recognized, can increase learners' choices for study or work.
Using Cambridge English exams for employment and admissions by accepting our exams, not only do you make it easy to describe the language skills your institution or organisation needs, but it can also raise your profile with hundreds of thousands of candidates who already have those skills.
Our CELTA can improve employment opportunities, and because it is globally recognised, it can open up opportunities for working with the following type of organizations:
Language Centres and Academies on every continent
Private Bilingual Schools in Spain
Government and European Union Language Projects
British Colleges
British and Irish University Summer Schools
Multinational companies looking for Business Trainers
Thinking about doing our CELTA?
We know that this is an important step for you and that you are considering investing in your future. That's why we have tried to provide a comprehensive guide to doing the CELTA; from the point, you start to find out more information about the course and accreditation, right up until the point where you are accredited and are ready to go out in the world and start teaching to the CELTA standard.
Our CELTA centre has a family atmosphere and we welcome candidates from all over the world and from all walks of life. We train and support people who have just finished formal school or university education, who are working as teachers already and wish to up-skill or refresh their English Language Teaching methodology, or for people who are considering a temporary career break or permanent career change. Whatever your needs, our Cambridge CELTA training course will provide you with the skills you need to start teaching English to the professional Cambridge standard at home or abroad.
We also attract candidates with different learning and educational backgrounds and by observing your colleagues teaching and working closely with them in groups of six, means you learn from each other at the same time as you learn from us. So far, candidates have come to us from Senegal, the USA, Sweden, Finland, Russia, Wales, Ireland, England and of course Spain and specifically The Canaries.
And as we are a family, the support continues after you have completed the course. We provide you with letters of recommendation, updates on jobs posted around the world, ongoing career advice and references for when you've found your next job and support with continuing your teacher training…whether that's training on the CELTYL Young Learner component or further up-skilling to the DELTA (Diploma in English Language Teaching for Adults).
Contact us through the inquiry form to find out more about more about what we can offer you…
Entry Requirements
What do I need to be able to do the CELTA?
1,530 euros course fees
An open mind, flexibility and a desire to try new things
The ability to dedicate yourself entirely to the CELTA process for a whole month
Minimum age of 18 years old
A standard of education suitable for entry into higher education
English good enough to teach at a range of levels so…native, or near-native at CEFR C1 or C2 or equivalent
You don't need to be a native speaker to take the course however we don't offer places to candidates whose level of English is not suitably proficient.
You also need to clear your diary of commitments for a month to give yourself the best possibility of development without external interference so we recommend that you make alternative arrangements for childcare and household duties and that you don't embark on the CELTA if you are working on any other academic studies or are going through any life-changing events.
Last updated Feb 2018
About the School
Our Language school in Las Palmas is a leader in the world of education, employing bilingual native graduate teachers of the University of Cambridge ESOL and Teaching Exams. We strive to achieve the b ... Read More
Our Language school in Las Palmas is a leader in the world of education, employing bilingual native graduate teachers of the University of Cambridge ESOL and Teaching Exams. We strive to achieve the best educational outcomes for our students efficiently, in the shortest time possible and at a fair and competitive price. By helping our students study towards and achieve a standard of English in line with the Common European Framework (CEFR), we are committed to empowering people to find employment and to take advantage of their right to mobility within Europe.
Read less