Buenos Aires - Latin American Societies & Cultures
Home ›
Courses ›
Buenos Aires - Latin American Societies & Cultures
Read more about this program on the institution's website
Program Description
Earn U.S. Credits Virtually This Summer
Get ahead! Earn extra credit through a globally recognized U.S. education program this summer on our Virtual World DiscoverIES program.
Just picture it: one day you're exploring business ethics with a professor in London and the next it's Japanese pop culture from Tokyo, studying alongside classmates from the U.S.'s highest-ranked colleges and universities. This is what it's like to take a course or two (of your choosing!) from IES Abroad's most popular centers around the world this summer.
Learn more about how you can discover the world through IES Abroad.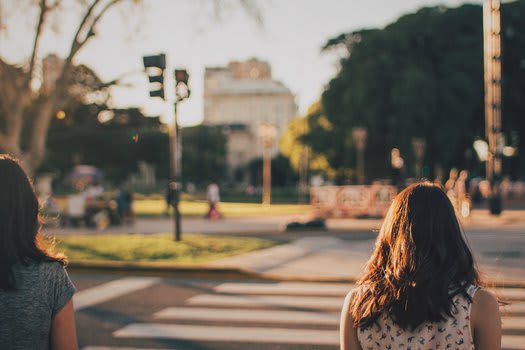 Why Buenos Aires?
If you're ready for an urban adventure, Buenos Aires is your city. With endless city districts and neighborhoods to explore, you will get lost in the sights and sounds of Buenos Aires. Tango the night away as you learn the country's popular dance, attend one of the many soccer games, and browse the local art scene—all this and more awaits you as a study abroad student in Buenos Aires.
What You'll Study
Open to students of all language levels, the Latin American Societies & Cultures Program allows you to improve your Spanish language skills while taking courses in Business, Humanities, and Social Sciences, all of which feature an academic emphasis on Latin America.
While in Buenos Aires, you enroll in an English-taught course Argentina Today at the prestigious Pontificia Universidad Católica Argentina (UCA). If you have advanced-level Spanish language skills, you'll choose from a wide variety of Spanish-taught courses at our local university partners and at the IES Abroad Center.
If you have a beginning- or intermediate-level Spanish language skills, you'll enroll in English-taught IES Abroad courses in areas like Literature, History, Anthropology, International Business, and Political Science. All students enroll in a Spanish language IES Abroad course and have the option to participate in the Center's Academic Symposium, which gives you an opportunity to present your research paper (in English or Spanish) and have it published!
Daily Life
Buenos Aires will be your classroom. During your term, you'll enjoy more than 30 cultural events and trips with IES Abroad. Learn about visual arts in the city and then meet with local graffiti artists before seeing their work. Study the impact of globalization in Latin America, and then enroll in an internship, which includes working at your placement and an academic seminar that helps you contextualize what you're learning.
We want you to feel at home in Buenos Aires, so we do everything we can to help you integrate into life in the city. From housing to cultural events, our job is to make sure you have the most authentic study abroad experience possible.
Academics
Our mission is simple: to provide you with the best study abroad program possible—which includes the highest quality academic and cultural experiences.
We offer unique courses that explore Argentine language, history, and culture, as well as other topics, through an in-depth and hands-on approach. Our world-class professors and course options at prestigious local universities enhance your academic experience and provide you with new perspectives each day in class.
While in Buenos Aires, you must take 15–19 credit hours per semester and all courses are worth 3 credits unless otherwise noted. Language courses are taught in Spanish. Advanced-level Spanish students with four or more semesters of Spanish or the equivalent can take a maximum of two English-taught courses.
You customize your own academic experience by selecting from the following required and optional program components:
IES Abroad Spanish language course (required, 4 or 6 credits)
Argentina Today or another UCA course (required*, 2 credits)
IES Abroad English-taught area studies courses (optional, 3 credits each)
IES Abroad Spanish-taught area studies courses (for students with advanced language skills; optional, 3 credits each)
Spanish language reading/writing workshop (optional, 3 credits)
Spanish-taught courses at local university (optional, credits vary)
Pontificia Universidad Católica Argentina (UCA)
IES Abroad internship placement and seminar (optional, 3 credits)
Service-learning placement and seminar (optional, 3 credits)
*Required unless enrolled in another UCA course
Academic Symposium
Throughout the semester, you may choose to work with faculty on a specific research project and are invited to present your paper (in English or Spanish) to the entire Center community. Papers can be based on specific academic course-related projects or on students' study abroad experiences and are published at the end of the semester. This is a wonderful opportunity for you to hone your research, writing, and public presentation skills that will be a good experience, both academically and professionally.
Courses
This is a list of planned course offerings. A final list of course offerings will be made available to you in your MyIESabroad account.
The Making of Patagonia: An Interdisciplinary Approach
Drugs & Violence in Latin American Literature and Arts
Argentine Environment and Society: Perceptions and Challenges
Contemporary Argentine History: Politics and Culture in the Construction of a National Identity
Business Strategies in Latin America
Managing Behavior in Organizations: A Cross-Cultural Perspective
Internship seminar
Populism and Neo-populism: Latin American Politics in a Changing World
Drugs & Violence in Latin American Literature and Arts
20th Century Argentine Poetry: From Written Culture to Popular Song
Argentine Literature and the Formation of National Identity
Managing Behavior in Organizations: A Cross-Cultural Perspective
Marketing in Latin America
Populism and Neo-populism: Latin American Politics in a Changing World
Cross-Cultural Psychology
Service Learning Seminar
Spanish Language in Context: Novice Abroad
Spanish Language in Context: Emerging Independent Abroad
Spanish Language in Context: Independent Abroad
Spanish Language in Context: Emerging Competent Abroad
Spanish Language in Context: Competent Abroad
Partner Institution(s)
The following universities release their official course offerings just before the start of each semester. For this reason, you will not be able to register for university courses until you arrive on-site. Course offerings vary by semester. Eligibility depends on language level and, in some cases, your previous academic experience in the discipline.
When you enroll in a course at a partner university, you will commute to class just like the local students do.
Universidad de Buenos Aires (UBA)
Founded in 1958, Pontificia Universidad Católica Argentina is a leading internationally recognized university. UCA enrolls approximately 22,000 students, hosting about 700 international students each year from 40 countries. You will enroll in the Argentina Today course for 2 credits, or in at least one other university course. Additional courses are available in the disciplines below:
Art & Music
Business & Economics
Humanities
Philosophy
Psychology
Social, Political & Communication Sciences
Location & Commute Time
The university's Buenos Aires campus is located in the trendy Puerto Madero neighborhood, which is the historic waterfront area along the Rio de la Plata. The commute time from UCA to the IES Abroad Buenos Aires Center is normally 20-30 minutes by public transportation.
Service Learning
Participating in a service-learning experience in Buenos Aires is an opportunity to give back to the community while gaining a much deeper understanding of the city's culture and society. Working alongside local people toward a common goal, you experience first-hand some of the social issues that affect Buenos Aires while contributing your skills toward a community-driven solution.
A service-learning experience consists of time spent with a local organization, accompanied by an academic, for-credit service learning seminar. Through the seminar, you have structured time for reflection and discussion, and even research, on the issues of your host community.
Possible placements may include organizations focusing on advocacy for the disabled, community health, at-risk youth, homelessness, and other social issues present in Buenos Aires.
You fulfill a minimum of eight hours per week or a total of 112 hours throughout the semester at the Service Learning placement.
Volunteer Opportunities
When you volunteer in Buenos Aires, you have the chance to make a difference in the local community while meeting new people and gaining a new perspective on the world. If you are passionate about volunteering abroad, just let the on-site staff know at the beginning of your term. Past opportunities in Buenos Aires include volunteering at an NGO whose mission is to fight poverty by helping improve living conditions and providing homes for underprivileged people. You can participate once or throughout your semester.
Field Trips & Events
Even though your adventure starts in Buenos Aires, our field trips take you beyond the city to discover the culture and traditions of your host country. (Some of these trips may require an additional cost.) IES Abroad also organizes more than 30 cultural events and trips each term.
Possible destinations may include:
Jujuy
4 Days | Fall & Spring
Experience the Jujuy Province, near the Bolivian border, and engage in activities like trekking in the Andean foothills and the salt flats of Salinas Grandes. While there, enjoy the unique local cuisine and culture, including the local folklore music and dance.
Colonia
1 Day | Fall & Spring
Travel across the River Plate to Uruguay to visit the 300-year-old town of Colonia. A UNESCO World Heritage site, the historic quarter of Colonia reflects the old Spanish and Portuguese colonial styles, with its narrow cobblestone streets and remnants of its original fort, and dotted with quaint cafes, some overlooking the river toward Buenos Aires in the far distance.
Luján & Local Estancia
1 Day | Fall & Spring
Visit the city of Luján, with its famous cathedral where pilgrims come from all over the country. Enjoy the open fields of the greater Buenos Aires province, then spend the following day at an estancia (cattle ranch).
San Isidro
1 Day | Fall & Spring
Tour San Isidro, one of Buenos Aires' most beautiful suburbs known for its wealth and tradition. Take a guided walking tour through the main town square with its Neo-Gothic cathedral and handicraft fair. Take a tour of the Villa Ocampo Museum, the house of the writer Victoria Ocampo, and one of UNESCO's World Heritage Sites.
Note: IES Abroad field trip destinations, activities and lengths of stay may vary according to term and availability.
Course-Related Trips
Course-related trips are academic trips associated with courses. They are organized to complement IES Abroad courses and contribute to a general knowledge of Argentine culture and society. Participation is based on course registration.
Past examples of short course-related trips include:
Urban graffiti walking tour
Key museums in Buenos Aires
Historic neighborhood tours
Theaters in Buenos Aires including the Colón Opera House
El Zanjon Archaeological Site
Extended Course-Related Trip
Students in The Making of Patagonia course travel to the city of Bariloche in Patagonia, a region in southern Argentina, that is famous for its picturesque beauty in the form of deserts, steppes, and grasslands. During this multiday, course-related trip—which is available at an additional cost—students study indigenous communities and cultures of the region.
Daily Life
Part of making you feel at home in Buenos Aires is doing our best to help you feel safe and cared for. Whether it is an orientation program that makes you feel prepared, housing that is well-located and comfortable, or the field trips that take you to places off the beaten path—we're all about our student services.
Orientation
The program begins with an orientation that introduces you to our Buenos Aires staff, your fellow students, and the city of Buenos Aires.
Language instruction and an introduction to colloquial Spanish in Argentina are additional components of the orientation.
You also receive academic advising and register for IES Abroad and partner university courses.
Our Comprehensive Orientation & Re-Entry Experience (CORE™) begins right when you arrive and continues through the semester with activities focusing on academic and cultural adjustment. Detailed information about housing, public transportation, culture, health and safety, and other important topics are also covered.
Housing
We want to make sure that your greatest challenge is deciding which landmarks to see first or discovering the best café—not finding a place to live where you feel comfortable. We do our best to locate housing that is reflective of how the local students are living. Our goal is that when you leave Buenos Aires, it will feel like home.
Homestays - You live with a family or señora in a private homestay. These residences are centrally located throughout Buenos Aires. Living in a homestay is a great way to improve your language fluency and immerse yourself in the local culture. Twelve meals are provided per week, and each student will have his or her own room.
Apartments – Live with another IES Abroad student in a centrally located, furnished apartment within easy distance of your IES Abroad Center. No meals are included but basic kitchen facilities are available. WiFi is also available.
Extracurricular Activities & Cultural Events
DiscoverIES
Redefine the way you live and learn in Buenos Aires through our cultural events and activities, such as:
A visit to a lively, local market in the Mataderos neighborhood
Guest lectures on history, politics, and contemporary issues
Tours of San Telmo, Recoleta, and Teatro Colón
An exciting evening at the Madero Tango Dinner and Tango Show
Cost
Consider these prices as a starting point. We encourage you to contact your study abroad office to determine the actual cost to you when factoring in financial aid, scholarships, your home school policies, and other factors.
Summer 2020
| | | | | |
| --- | --- | --- | --- | --- |
| Term | Tuition | Housing | Insurance | Total |
| Summer 2020 | $13,345 | $3,155 | $230 | $16,730 |
Academic year
| | | | | |
| --- | --- | --- | --- | --- |
| Term | Tuition | Housing | Insurance | Total |
| Academic Year | $23,530 | $6,180 | $550 | $30,260 |
Scholarships & Aid
Program-Specific Scholarships
John Gearen Need-Based Dublin or Developing Regions Scholarship
Up to $1,000; awarded to 2 students each year.
John Gearen, a member of the IES Abroad Board of Directors for many years and past chair of the Board for six years, is a leading real estate attorney and Rhodes Scholar who is involved in numerous philanthropic causes. Mr. Gearen has generously established this scholarship to support students who have an interest in studying on an IES Abroad Center in a developing region of the world (Argentina, Chile, China, Ecuador, Ireland, Morocco, or South Africa).
Robert McNeill Need-Based International Business Scholarship
Up to $3,000; awarded to 2 students each year.
This scholarship is named in honor of Robert McNeill, a member of the IES Abroad Board of Directors for 25 years (6 years as Chairman). Open to students who have an interest in international business. Majors might include management, marketing, economics, finance, international relations, and social and behavioral sciences.
Dr. William Louis Gaines Need-Based History or International Relations Scholarship
Up to $1,875; awarded to 4-6 students each year.
This scholarship is named in honor of Dr. William Louis Gaines, President of IES Abroad from 1974-1992. Dr. Gaines was dedicated to strengthening IES Abroad's academic framework, broadening the scope of IES Abroad locations, and securing the financial foundation of the organization.
Open to students majoring in History or International Relations.
William E. & Mary M. Dwyer Need-Based Spanish Scholarship
Ranges up to $1,000; awarded to 4-6 students each year.
These scholarships are intended for students interested in studying in a Spanish-speaking country.
Our Center
The IES Abroad Buenos Aires Center is located in downtown Buenos Aires within walking distance of Plaza San Martin and Recoleta Cemetery.
Features include:
Classrooms
Student lounge
Library and group study room
Kitchenette
Staff offices
High-speed Internet and printer access
Last updated May 2020
About the School
Everything we do is about the IES Abroad student. Our profoundly passionate team of study abroad professionals believes in creating once-in-a-lifetime educational adventures that transcend expectation ... Read More
Everything we do is about the IES Abroad student. Our profoundly passionate team of study abroad professionals believes in creating once-in-a-lifetime educational adventures that transcend expectations. Our goal is to rock the world of some 6,000 study abroad students every year.
Read less
Chicago ,
Amsterdam ,
Arles ,
Auckland ,
Barcelona ,
Beijing ,
Berlin ,
Buenos Aires ,
Cape Town ,
Christchurch ,
Dublin ,
Freiburg ,
Granada ,
London ,
Madrid ,
Milan ,
Nagoya ,
Nantes ,
New York ,
Nice ,
Paris ,
Oxford ,
Quito ,
Rabat ,
Rome ,
Salamanca ,
Santiago ,
Shanghai ,
Siena ,
Sydney ,
Tokyo ,
Puerto Ayora ,
Vienna ,
Hong Kong ,
Puerto Baquerizo Moreno ,
Cambridge
+ 35 More
Less