Program Description
Duration of training: 2 years Communication Option and optional print media or communication and digital media Contrary to popular belief, the "Graphic Design" is not limited to simple treatment "Chart" and aesthetics of different media, either "Print" or "Digital" . The "Design" in itself has always been a process of conceptualization. Already since the early 18th century, the Graphic Design combines the "Project and Graphics" (Shaftesbury - 1712). Today, it has four essential characteristics. By analogy with the 4 Ps of Marketing Mix, the 4 C can evoke the "Design": Creativity / complexity / compromise / choice. The combination of two words: "Design" and "Graphics" can thus be translated this way:
Graphic Design + = + Purpose Drawing.
Training BTS Graphic Design (print and digital option option) proposed by ITECOM naturally focuses on conceptualizing ideas and projects as well as their practical and professional application. It also ensures the control of strategic languages ​​and graphics as well as the acquisition of all the fundamental knowledge to ensure a perfect match between the bottom (Design) and shape (Figure).
Articulated around the "Design Studio", the different peripheral materials (general education, artistic, theoretical and technical) become over the formation of the prerequisites necessary for the implementation of operational projects. Thus, this course draws its effectiveness in the complementarity of knowledge and knowledge creation processes and implementation whether intellectual or practical.
This education is provided by active professionals whose role is threefold: - To ensure a good understanding of the conceptualization of mechanisms to ensure optimal consistency.
Bring out the creative direction while respecting the personality and sensitivity of each student.
Transmit a strong graphic and technical expertise for the development of various communication media.
Opportunities
Graphic designer
model maker
assistant DA
DA Junior
Activity area
Publishing, Printing, Advertising, Communication agency, Audiovisual, Events ...
TRAINING PROGRAMME
plastic and graphic practice
Technology of creation and realization
Creative Studio
Storyboard / Design Intent
Culture of graphic design and typography
Culture Communication
semiotics
General Education
SOFTWARE
Indesign
Photoshop
Illustrator
Dreamweaver
Animate
After Effects
ADMISSION TO SCHOOL
MANAA
Bac PRO AMA / bin STD2A or equivalence
Good level of general culture / issues & maintenance
TRAINING AVAILABLE
Initial training
Further education (CIF / CPF ...)
linked training (professional contract)
VAE (Validation of acquired experience)
The BTS Graphic Design is a state diploma.
After the BTS, you have the ability to integrate our training Visual Communication in 2nd year.
Last updated Mar 2020
About the School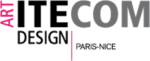 Situated in Nice, in Cimiez area, between the Matisse and Chagall museums, our institution covers an area of 1000 square meters.
Situated in Nice, in Cimiez area, between the Matisse and Chagall museums, our institution covers an area of 1000 square meters.
Read less